Taliban Attacks Spike in Afghanistan
Taliban Attacks Spike in Afghanistan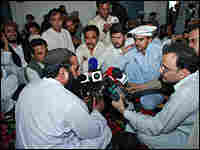 In Afghanistan, NATO-led troops say recent peace agreements between the Taliban and the government of neighboring Pakistan are already having a negative impact on security on the Afghan side of the border.
NATO officials say over the past three to four weeks, Taliban attacks along Afghanistan's eastern border have jumped from 60 to 100 incidents a week.
A spokesman for the NATO-led coalition in Kabul says the spike in insurgent attacks is the result of decreased activity by the Pakistani army on the Pakistan side of the border.
There, the Pakistan government has been negotiating cease-fire agreements with Taliban militants. Islamabad hopes to bring an end to more then a year of bloody fighting in the country's troubled border regions.
On Saturday, Baitullah Mehsud, a Taliban commander in Pakistan, called for an end to the war with the Pakistani government. But, he told journalists, Islam does not recognize frontiers. Jihad in Afghanistan will continue, he said.
That's an ominous warning to the shaky Western-backed Afghan government and to the NATO-led force of some 70,000 foreign soldiers currently deployed in Afghanistan. NATO's top commander, Gen. John Craddock, says he worries about the border with Pakistan.
"If the safe haven is not taken away," he says, "whenever the insurgents are under duress, then they can leave, reconstitute and come back at the time of their choosing."
The United Nations estimates that more then 8,000 people were killed last year by the conflict in Afghanistan.