Senators Grill Regulators on Subprime Loans
The Senate Banking Committee grills top regulators and several of the nation's largest lenders about problems with sub-prime mortgages — and what regulators did and did not do to address them.
The session represented the first time that some of the central figures in the current mortgage meltdown gathered in one place. It included representatives from the Comptroller of the Currency, the Office of Thrift Supervsion, the FDIC and the Federal Reserve, along with at least one state regulator.
Federal regulators like to point out that most of the subprime lending takes place outside of federal jurisdiction. But the Federal Reserve's Roger Cole acknowledges the central bank should have done more to prevent reckless lending.
The latest figures show 14 percent of outstanding subprime loans are now more than 30 days delinquent.
But consumer lawyer Irv Aklesberg said that figure may be just the tip of the iceberg.
"The closing foreclosure crisis should not be a surprise to anyone," Aklesberg said, "expect perhaps for the magnitude.
"What we're seeing, I believe, is a runaway train that is only starting to gather speed. These recent foreclosures reflect large numbers of early payment defaults — that is, homeowners defaulting before the fixed-rate periods on their loans expire and the adjustments kick in."
For now though, the mess in the subprime market remains fairly well contained. There is still a downturn in the broad housing market, but there is not much evidence that the subprime problems are spilling over in a way that could push the overall economy into a recession.
People in the financial markets — and millions of homeowners — will be watching nervously to see if that remains true.
Subprime Mortgages: A Primer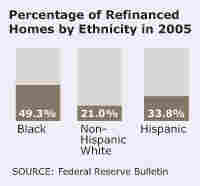 Lawmakers on Capitol Hill are demanding answers from regulators and lenders about subprime mortgages. Many worry that rising mortgage defaults and lender failures could hurt America's overall banking system. Already, the subprime crisis has been blamed for steep declines in the stock market. But just what is a subprime loan — and why should you care? Here, a primer:
What's a subprime loan?
Generally, subprime loans are mortgages given to borrowers with credit scores of 620 or below. Such low scores result from a history of paying debts late or not paying debts at all.
Because subprime borrowers are seen as "higher risk," their loans carry interest rates that are at least 2 percentage points higher than those offered to borrowers with better credit. So, for example, while a credit-worthy borrower could get a mortgage at 5 percent interest, the same mortgage would cost a subprime customer 7 percent interest or more.
About 20 percent of U.S. consumers have credit scores of 620 or below, on a 300-850 scale. But of that group, only 13 percent have mortgages, according to Experian, a credit reporting bureau.
What kinds of loans do subprime borrowers get?
The vast majority — about 80 percent — have adjustable-rate mortgages, or ARMs, says Susan Wachter, a professor at the University of Pennsylvania's Wharton School who specializes in real estate. (It's worth noting, however, that not all ARMs are subprime loans.)
ARMs typically start out with an interest rate that's lower than the rate on a comparable fixed-rate mortgage. But after the introductory period — often two or three years for subprime borrowers — is over, the interest rate goes up, which can result in payments that increase by hundreds of dollars each month.
Who are these borrowers?
"A typical subprime borrower is not someone buying a house, but someone refinancing," says Mary Moore, a spokeswoman from the Center for Responsible Lending, a nonprofit that advocates curbs on predatory lending. "A typical subprime borrower is someone who has a lot of credit-card debt, and is refinancing to pay some of it off."
Studies have found that subprime borrowers tend to live in low-income neighborhoods. They're less likely to have a college education and more likely to be a minority, especially black or Hispanic. According to Freddie Mac, about 10 percent of subprime borrowers could have qualified for a prime loan.
Where do they live?
"Historically, they have been in declining cities, the weak cities of the Rust Belt — Philadelphia, Baltimore, Detroit," Wachter says.
She says those subprime borrowers were concentrated in distressed neighborhoods, where banks felt defaults were too high. That's why lenders chose to expand to places they thought would be better risks: rural areas and small cities in the West and Southwest, she says. But now, subprime borrowers in these areas are also finding themselves in trouble.
Why do they go into default?
Most subprime borrowers take out a loan to pay off creditors, but it may not be enough to solve their financial problems. Some loans were given to people who just couldn't afford the payments — even before their rates increased — but weren't savvy enough to turn them down.
"Some of these loans require an accounting degree to understand," Wachter says.
Others' financial situations may have changed since they took out the loan — they lost a job or got divorced, for example.
Why did lenders make loans that borrowers couldn't repay?
It can make sense for a bank to underwrite an ARM for a couple with modest incomes who are moving up the corporate ladder. The expectation is that, by the time the interest rate readjusts, the borrowers will have a higher income. However, some ARMs were sold to people on fixed incomes — retirees and those on disability.
"It's legal. Right now, nothing prevents them from doing that," Moore said. "[Lenders] know that increase is coming, yet they're underwriting the loan at the start rate." She says lenders shouldn't approve borrowers unless they can afford their loans at the higher interest rate that's to come, not the low "teaser" rate.
But oversight of such loans has been patchy — "if it exists at all," adds Wachter.
Mortgage brokers are paid for writing loans, and aren't docked if those loans fail. Finance companies bundled subprime loans and sold some of them off to investors in other financial markets. But these firms miscalculated the likelihood of defaults in a housing downturn; they're now holding a bunch of bad loans that no one wants to buy.
Why are foreclosures and defaults growing among subprime borrowers?
"It's because the overall [real-estate] market has turned," Wachter says. When prices are flat, or down, borrowers can't refinance to lower their payments, because they don't have enough equity. They also can't sell to get out from under, because the house is worth less than they paid for it. The only option left is to bring in more income, or to miss payments.
Nationwide, more than 13 percent of subprime borrowers were late on payments in the fourth quarter of 2006, according to the Mortgage Bankers Association.
What does it all mean for the housing market?
If all the subprime loans currently in default were to go all the way to foreclosure, that would still be a small part of the overall mortgage market.
Even in states with the most foreclosures — Ohio, Michigan and Indiana — those foreclosures still represent just 0.5 percent of all mortgages. In regions with the most subprime lending that also have struggling local economies, foreclosures may rise to 1.5 percent or 2 percent of all mortgages, Wachter predicts.
But with lending standards now tightened, fewer borrowers will qualify for loans. That's a double whammy for housing — more homes on the market and fewer buyers. For example, in markets where home prices might have fallen 3 percent because of the general housing downturn, the presence of a lot of subprime borrowers in trouble could magnify that to a 6 percent price drop, Wachter says.
"Six percent of a $200,000 home may not sound like a whole lot," Wachter says, and it's not for a lot of people.
But for those who bought recently, and who need to move quickly, they're going to be in trouble, she says.