Excellence in Ohio: Teens Play the Classics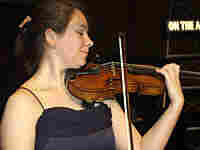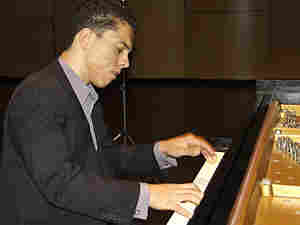 This week, from New Albany, Ohio, an 18-year-old pianist plays the opening movement of Beethoven's "Waldstein" Sonata, a teenage violinist from Boston plays Wieniawski, and an 18-year-old soprano who is brave enough to admit when she's wrong (and her parents are right), sings music for spring.
If it weren't for a random turn of events, Nicholas King, 18, might have become a video game champ rather than an accomplished young pianist. When King was three, his dad drove into town, looking to buy little Nick a Nintendo set. But he got lost on the way and found himself driving past a piano store. In a burst of inspiration, he scrapped the Nintendo idea and bought a piano instead. King began taking lessons, and has been playing piano ever since.
It wasn't long before King began using his musical talent to raise money for charity. He raised $30,000 for L.A. Children's Hospital by playing piano at his local supermarket and mall. Someone who had contacts at the Rosie O'Donnell Show saw him play, and King made an appearance on the show.
King, a Jack Kent Cooke Young Artist , performs the first movement of Beethoven's "Waldstein" piano sonata.
Eighteen-year-old Philippa "Pippa" Jarvis was destined to play the violin. Not only does her father own a violin shop, he is also the concertmaster of Symphony by the Sea and conducts three orchestras at the New England Conservatory's Prep School. Jarvis' mom, also a violinist, is a Suzuki teacher at the conservatory's prep school. Jarvis' musically-inclined brother decided to rebel — he plays the cello.
Jarvis says practicing under the watchful eyes of her violin-playing parents has its pros and cons.
"On the one hand, it's wonderful having access to so much information," says Jarvis. "On the other hand, they grew up using different fingerings and they have different teaching styles, so it can get a bit confusing."
Jarvis performs Obertas in G major by Henryk Wieniawski.
When soprano Julia Mendelsohn was little, she hated the idea of taking singing lessons, despite her parents' insistence that she had a wonderful voice that should be nurtured.
"They wouldn't stop bugging me about it until I finally agreed to take a lesson," recalls Mendelsohn, 18. "Of course I loved it and have been taking voice lessons ever since."
Flash forward a few years to when Mendelsohn was deciding on which summer music school to attend. She wasn't sure where she wanted to go, but her parents kept pushing her to choose Tanglewood. Finally, to make them stop nagging, she agreed to apply and was accepted. "And of course," she confesses, "I absolutely loved it! Once again, my parents were right."
Mendelsohn sings Spring by Dominick Argento.
Sixteen-year-old double bassist Nathaniel West was inspired to play music listening to his older sister play the violin.
"The more I listened, the more music seemed like the ultimate way of expressing yourself," he recalls. Then, in the fourth grade, West chose the double bass.
"I remember thinking it was so cool that I'd be playing this huge instrument," he says.
These days, West has a lot of fun playing the bass, despite occasional frustrations: traveling with such a huge instrument can be difficult, and playing in an orchestra has its challenges as well.
"Sometimes when you're sitting in the back holding a single note while listening to all this great music around you it can be frustrating," he admits. "On the other hand, you get to listen and enjoy the moment more."
West plays A Carmen Fantasy by Frank Proto.
The Reiziger Trio features 18-year-old violinist Eric Gratz, violist Stephanie Price, 17, and 16-year-old double bassist Nathaniel West. The word "Reiziger" means traveler in Dutch.
"Our name has to do with the fact that I live in Cleveland, and Nate and Stephanie have to travel here to practice," says Gratz. But all that traveling doesn't necessarily motivate them to buckle down when they get together.
"Most of our rehearsals consist of Eric and Nate playing different violin concertos or sonatas, and me yelling in order to get them to practice," says Price.
Somehow, though, they manage get the work done, which was evident in the Trio's performance of Charles Washington's Midnight Child.
This program originally aired on May 28, 2008