Roundtable: GOP Minority Recruitment Lagging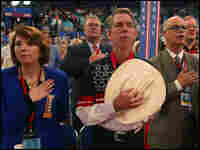 On this week's bloggers' roundtable: Does the GOP have a diversity deficit? And why are black bloggers concerned about getting access to this summer's Democratic National Convention?
Plus, rapper Ricky "Slick Rick" Walters, who faced deportation following an attempted murder conviction, was pardoned last week by New York Gov. David Paterson.
NPR's Tony Cox guides a conversation with bloggers Pam Spaulding of Pam's House Blend, Eric Brown of the Detroit News, and Debra Dickerson of Mother Jones.