Navajo Nation Pushes for Uranium Cleanup
Navajo Nation Pushes for Uranium Cleanup
Related Resources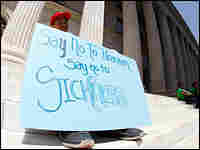 Despite the lure of potentially big money, the Navajo Nation has banned uranium mining on its reservation, which spans parts of Arizona, New Mexico and Utah. In part, the decision reflects deep Navajo concerns about how past mining activities have damaged health and the environment.
Note: A longer version this text story appeared is this space earlier. It has been removed for further review.
Glow of Uranium Boom Attracts U.S. Miners
Glow of Uranium Boom Attracts U.S. Miners
More on U.S. Mines
Since the 1980s, the world has had huge stockpiles of uranium ore as a result of the U.S.-Soviet nuclear arms race and little interest in new nuclear power plants.
But now, there's money to be made in mining uranium.
The price of uranium ore has shot up 10-fold in the past three years because demand has outstripped supply.
Countries like China and India have plans to open dozens of new nuclear power plants, which require enriched uranium for fuel. Major producers — like Australia, Canada, Russia and Namibia — are the major suppliers.
And now the U.S. uranium industry wants to get in on the boom.
Mining companies have staked tens of thousands of claims in five Western states. Those who are in charge of established mines, such as the Mt. Taylor mine in northern New Mexico — the country's largest — want to reopen them.
Since Mt. Taylor closed 17 years ago, Joe Lister has been managing it pretty much alone. He says he'd like to have his 450 colleagues back and working.
But startup costs — up to $150 million for the mine — are an inhibiting factor.
So are federal and state rules regulating the radioactive mineral. Regulations on mine safety, uranium waste and environmental impact are tough and numerous.
Plus, after decades of little activity, the glut of new applications has overwhelmed officials who regulate the industry. The situation is even worse because many of the officials who knew the regulations have retired, according to Patrick Donnelly, a mining analyst with Salman Partners in Toronto.
"And now you're seeing a new generation of scientists and bureaucrats, and ... dealing with these permits and licenses, and these people are inexperienced," Donnelly says. "They're going to be a lot more careful, a lot more rigorous in the permitting process. No one wants to make a mistake."
There are plenty of nuclear industry opponents watching.
But why aren't more mines open in the U.S.?
"When we say uranium, when we say nuclear, what are your first thoughts?" Mt. Taylor's Lister says. "What is the first thing you think of? Do you think atomic bomb? Do you think Three Mile Island? Most people do."
There have been no reported nuclear power plant incidents that threatened public safety since the accident at the nuclear power plant Three Mile Island in Pennsylvania 29 years ago.
There is an issue of what to do with spent fuel, but with petroleum prices soaring and carbon-emitting coal plants under scrutiny, Donnelly says more mines will open. The need for energy is just too big and there's too much money to be made supplying it.
"You will see a uranium mining renaissance in the U.S.," Donnelly says. "Are you going to see it this year? A little bit. Next year, a little bit more."