In 'Stuck,' Sticky Situations for All Concerned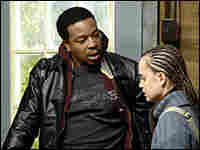 Stuck
Director: Stuart Gordon
Genre: Thriller
Running Time: 94 minutes
A laid-off executive (Stephen Rea) has just been thrown out of a flophouse, then out of a public park. Dejected, pushing his worldly possessions in a shopping cart, he crosses a deserted street against the light.
Brandi (Mena Suvari), having celebrated a possible job promotion with a night of drinking and pill-popping, approaches that same intersection in her car. Attentive to her cell phone, she looks up just as the homeless businessman comes through her windshield head-first. This, Brandi figures, will not be good for her job prospects.
So rather than going to the hospital or the cops, she drives home, parks in her garage, and goes inside to wait for a boyfriend, who calms her with a few more pills. The next day, she checks the garage and finds the businessman still alive — but stuck.
So far, so accurate: Stuck was inspired by a headline-making tabloid story of a few years ago. But horror director Stuart (Re-Animator) Gordon has come up with some sardonic notions about how such a situation — with one character clinging tenaciously to life, the other just as tenaciously to lifestyle — might play out more interestingly on screen than it did in real life.
His inventions — vivid, gruesome and occasionally quite funny — offer a just-deserts ending and make both characters surprisingly active participants in their fates. Even when, for one reason or another, they can barely move.