Senate Panel Studies Subprime Loan Woes
The Senate Banking committee examines the problems in the ailing subprime lending market. They fear a wave of foreclosures caused by irresponsible subprime lending.
RENEE MONTAGNE, host:
And on Fridays we focus on your money. Today we report on mortgage lenders coming under scrutiny on Capitol Hill. As more homeowners face foreclosure, lawmakers are looking into the practices of subprime lenders who specialize in risky home loans to people with weak credit.
At a hearing yesterday, lawmakers leveled criticism at banking regulators as well. NPR's Chris Arnold reports.
CHRIS ARNOLD: Consumer advocates say irresponsible subprime lending has sparked a wave of foreclosures that will put more than a million Americans out of their homes. Most of the subprime loans or what they call exploding ARM loans, where even if overall interest rates in the market stay flat, the borrowers' payments still jump up, often 40 percent or higher after a couple of years.
Senate Banking Committee Chairman Christopher Dodd.
Senator CHRISTOPHER DODD (Democrat, Connecticut): The sort of frenzy that gripped the market over the past several years as many brokers and lenders started selling these complicated mortgages to low-income borrowers who they knew or should have known, in my view, would not be able to afford to repay these loans when the higher payments kicked in.
ARNOLD: Federal officials a few years ago were encouraging lenders to expand mortgages options to lower income people to enable homeownership. But it turns out the vast majority of these subprime loans or refinancings that often put people who already own a home into a riskier position.
Sen. DODD: These loans are made on the basis of the value of the property, not the ability of the borrower to repay. This is, in my view, the fundamental definition of predatory lending.
ARNOLD: Senators at the hearing wanted to know what regulators have been doing about all this. New Jersey Senator Robert Menendez.
Senator ROBERT MENENDEZ (Democrat, New Jersey): It just seems to me that you're all asleep at the switch.
ARNOLD: Menendez questioned Roger Cole, the director of the Federal Reserves Division of Banking Supervision.
Sen. MENENDEZ: The size of this problem leads me to question, regardless of everything that you're telling me, how it could it be this big and you have done your job?
Mr. ROGER COLE (Director, Federal Reserve's Division of Banking Supervision and Regulation): I will say that given what we know now, yes, we could have done more sooner.
ARNOLD: Regulators have sought to deflect some blame by saying that many subprime lenders are not mainstream banks and many are regulated at the state level. But Dodd said the Federal Reserve in particular had brought authority. He says the fed could've required all lenders to determine that borrowers could afford to repay these loans after they adjusted upwards. He pressed Cole on this point.
Sen. DODD: It seems common sense that you'd want to determine whether or not the borrower was in a position to financially pay at the fully indexed rate. This is not terribly complicated.
Mr. COLE: That's right.
Sen. DODD: Why didn't you do that?
ARNOLD: For their part, some regulators and company executives downplayed the damage. They said they did not see the subprime defaults creating serious problems for the economy. Sandy Samuels is an executive with Countrywide Financial Corp, one of the largest U.S. lenders. He said it's his company's policy that borrowers understand how much their payments could increase.
Mr. SANDY SAMUELS (Executive Managing Director, Countrywide Financial Corp): From our perspective, from Countrywide's perspective, we win when we have an educated borrower. And that's very important to us, because we want the borrower to know exactly what they're getting into so that we can make sure that they can stay in their home.
ARNOLD: That was hard to swallow for some struggling homeowners at the hearing. One said his mortgage broker lied to him and overstated his income on his loan application. Another homeowner, 77-year-old Jenny Halliburton(ph) from Philadelphia, said she had no idea that the payments on her Countrywide loan would end up being three quarters of her fixed income. She can't make the payments and doesn't want to lose her house.
Ms. JENNY HALLIBURTON (Homeowner): I feel like they took advantage of me because I'm 77. And they figured, oh well, she'll die soon and we'll take over. But there's so many elderly people like me are suffering and they're losing their homes.
ARNOLD: Lawmakers in the House and the Senate are pledging to find ways to assist struggling homeowners and to beef up regulations. But some in the industry warned that if they clamp down too hard, they'll cut lower-income people off from homeownership with good lenders.
Chris Arnold, NPR News.
MONTAGNE: If you're still unclear on just what a subprime loan is, check out our primer at npr.org.
NPR transcripts are created on a rush deadline by Verb8tm, Inc., an NPR contractor, and produced using a proprietary transcription process developed with NPR. This text may not be in its final form and may be updated or revised in the future. Accuracy and availability may vary. The authoritative record of NPR's programming is the audio record.
Subprime Mortgages: A Primer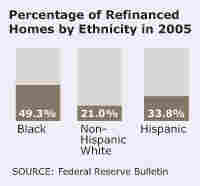 Lawmakers on Capitol Hill are demanding answers from regulators and lenders about subprime mortgages. Many worry that rising mortgage defaults and lender failures could hurt America's overall banking system. Already, the subprime crisis has been blamed for steep declines in the stock market. But just what is a subprime loan — and why should you care? Here, a primer:
What's a subprime loan?
Generally, subprime loans are mortgages given to borrowers with credit scores of 620 or below. Such low scores result from a history of paying debts late or not paying debts at all.
Because subprime borrowers are seen as "higher risk," their loans carry interest rates that are at least 2 percentage points higher than those offered to borrowers with better credit. So, for example, while a credit-worthy borrower could get a mortgage at 5 percent interest, the same mortgage would cost a subprime customer 7 percent interest or more.
About 20 percent of U.S. consumers have credit scores of 620 or below, on a 300-850 scale. But of that group, only 13 percent have mortgages, according to Experian, a credit reporting bureau.
What kinds of loans do subprime borrowers get?
The vast majority — about 80 percent — have adjustable-rate mortgages, or ARMs, says Susan Wachter, a professor at the University of Pennsylvania's Wharton School who specializes in real estate. (It's worth noting, however, that not all ARMs are subprime loans.)
ARMs typically start out with an interest rate that's lower than the rate on a comparable fixed-rate mortgage. But after the introductory period — often two or three years for subprime borrowers — is over, the interest rate goes up, which can result in payments that increase by hundreds of dollars each month.
Who are these borrowers?
"A typical subprime borrower is not someone buying a house, but someone refinancing," says Mary Moore, a spokeswoman from the Center for Responsible Lending, a nonprofit that advocates curbs on predatory lending. "A typical subprime borrower is someone who has a lot of credit-card debt, and is refinancing to pay some of it off."
Studies have found that subprime borrowers tend to live in low-income neighborhoods. They're less likely to have a college education and more likely to be a minority, especially black or Hispanic. According to Freddie Mac, about 10 percent of subprime borrowers could have qualified for a prime loan.
Where do they live?
"Historically, they have been in declining cities, the weak cities of the Rust Belt — Philadelphia, Baltimore, Detroit," Wachter says.
She says those subprime borrowers were concentrated in distressed neighborhoods, where banks felt defaults were too high. That's why lenders chose to expand to places they thought would be better risks: rural areas and small cities in the West and Southwest, she says. But now, subprime borrowers in these areas are also finding themselves in trouble.
Why do they go into default?
Most subprime borrowers take out a loan to pay off creditors, but it may not be enough to solve their financial problems. Some loans were given to people who just couldn't afford the payments — even before their rates increased — but weren't savvy enough to turn them down.
"Some of these loans require an accounting degree to understand," Wachter says.
Others' financial situations may have changed since they took out the loan — they lost a job or got divorced, for example.
Why did lenders make loans that borrowers couldn't repay?
It can make sense for a bank to underwrite an ARM for a couple with modest incomes who are moving up the corporate ladder. The expectation is that, by the time the interest rate readjusts, the borrowers will have a higher income. However, some ARMs were sold to people on fixed incomes — retirees and those on disability.
"It's legal. Right now, nothing prevents them from doing that," Moore said. "[Lenders] know that increase is coming, yet they're underwriting the loan at the start rate." She says lenders shouldn't approve borrowers unless they can afford their loans at the higher interest rate that's to come, not the low "teaser" rate.
But oversight of such loans has been patchy — "if it exists at all," adds Wachter.
Mortgage brokers are paid for writing loans, and aren't docked if those loans fail. Finance companies bundled subprime loans and sold some of them off to investors in other financial markets. But these firms miscalculated the likelihood of defaults in a housing downturn; they're now holding a bunch of bad loans that no one wants to buy.
Why are foreclosures and defaults growing among subprime borrowers?
"It's because the overall [real-estate] market has turned," Wachter says. When prices are flat, or down, borrowers can't refinance to lower their payments, because they don't have enough equity. They also can't sell to get out from under, because the house is worth less than they paid for it. The only option left is to bring in more income, or to miss payments.
Nationwide, more than 13 percent of subprime borrowers were late on payments in the fourth quarter of 2006, according to the Mortgage Bankers Association.
What does it all mean for the housing market?
If all the subprime loans currently in default were to go all the way to foreclosure, that would still be a small part of the overall mortgage market.
Even in states with the most foreclosures — Ohio, Michigan and Indiana — those foreclosures still represent just 0.5 percent of all mortgages. In regions with the most subprime lending that also have struggling local economies, foreclosures may rise to 1.5 percent or 2 percent of all mortgages, Wachter predicts.
But with lending standards now tightened, fewer borrowers will qualify for loans. That's a double whammy for housing — more homes on the market and fewer buyers. For example, in markets where home prices might have fallen 3 percent because of the general housing downturn, the presence of a lot of subprime borrowers in trouble could magnify that to a 6 percent price drop, Wachter says.
"Six percent of a $200,000 home may not sound like a whole lot," Wachter says, and it's not for a lot of people.
But for those who bought recently, and who need to move quickly, they're going to be in trouble, she says.