Warming Arctic Boosts Snow Geese Flocks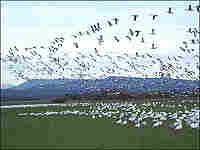 A decade of milder weather in the Arctic has led to larger snow geese populations, and the migrating birds are showing up in droves in the Pacific Northwest. But the snow geese are eating pasture grass and crops, making life difficult for some farmers.
Growing Flocks
In a field at the edge of Skagit Bay in northwest Washington state, snow geese descend by the thousands. They graze until a bald eagle flies overhead — then the huge flock spooks and takes flight again.
It's a picture wildlife photographers would die for: a swarm of white bodies with snazzy black wingtips dip and wheel in unison against a winter mountain backdrop.
What's not obvious in the captivating scene is the hidden hand possibly played by global warming. Snow geese numbers are way up in northwest Washington and British Columbia's Fraser Delta.
Washington state waterfowl manager Don Kraege says the goose population is very sensitive to the weather on its breeding grounds in the high Arctic.
"Some years the weather is so extreme there they can't nest at all," Kraege says. "If they have a series of those years, the population can decline. That's really a driving factor."
Warmer Weather
But in the last 10 years, temperatures at the breeding grounds for this flock have risen steadily, and with it, snow geese numbers.
Russian scientist Vasiliy Baranyuk monitors gosling survival on Wrangel Island in Siberia. He says an early spring and early snowmelt are good for the geese.
Come autumn, the birds head south to spend the winter near Vancouver, British Columbia and northwest Washington, while some go further to Oregon and California. The flocks are huge; the wildlife agency counted 80,000 snow geese in the Skagit and Fraser deltas this season.
"Repeatedly there are studies that show the effects of warming and changes on some of these Arctic populations — some of them positive and some of them negative," Don Kraege says. "This may be one that has probably benefited from the better weather conditions during the breeding season."
Kraege and the visiting Russian scientist hesitate to make a definitive connection between global warming and the rising goose numbers. Baranyuk says Wrangel Island had a period of localized warming in the 1930s.
Farmers' Frustrations
Snow geese are quickly wearing out their welcome with some landowners. Dairy farmer Fred Folkertsma is sure the goose population is costing him. A few weeks ago he had a "nice green field" of grass behind his dairy. Now, he says there is as much goose droppings as there is grass.
"Well, [the grass] should be 4 or 5 inches tall and it's not even an inch tall," Folkertsma says. "The geese devoured it in a matter of days... right down to the dirt."
Folkertsma tried to chase away off the huge flocks on his four-wheeler, with noisemakers and scarecrows, but to no avail.
"I have to make up for it by buying more hay at $180 a ton," Folkertsma says. "I figure it costs me several thousand dollars."
Dairy farmers appear to be the most put out. But geese also nibble on winter wheat and rye. "Flying rats" spat one seed farmer. Folkertsma calls the birds "MiGs" after the Russian fighter planes, since the birds fly from Russia.
There is no provision to compensate farmers for crop damage. But Washington, California and Canada are talking about possibly extending the hunting season. There's high hunter interest. A special snow goose hunt lottery in Washington drew four times as many entries as there were available permits.
"Hunters come and, like I say, they'll shoot 10, and 10,000 come to the funeral, so to speak," Folkertsma says. "As soon as the hunters leave, they're back again. You can't win."
Tom Banse reports for member station KUOW in Seattle, Wa.