Satirical Song Pokes Fun at Graduation Speeches
Satirical Song Pokes Fun at Graduation Speeches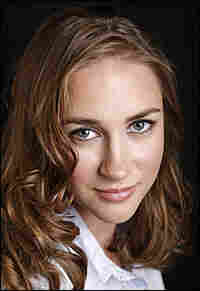 Eric Long/Photo Courtesy of Tara Tisch-Wallace
A couple of weeks ago, Barry Levy, a doctor who moonlights as a musical satirist, sent a CD to NPR. It contained the music and lyrics of a graduation-speech satire he wrote. It was set to the music of Mozart.
NPR asked former intern Tara Tisch-Wallace to try her hand at singing his lyrics. She is graduating from The Barrie School in Silver Spring, Md. This fall, she will attend the University of Illinois at Chicago, where she plans to study acting.
The One-Minute Graduation Speech Song
You guys are the best, I am so impressed. You've written ev'ry paper, read each book, and passed each test. You have forded ev'ry river, you have conquered ev'ry hill.
Each and ev'ry grad, thank your mom and dad. Thank each teacher, coach, and mentor that you've ever had. Give it up for all those people cause you know they love you still.
You have mastered all the art of science. You have mastered the science of the arts. You have demonstrated self-reliance. And your sum is greater than your parts.
Now you're on your own, but your debt has grown. All your working life you will be paying off that loan. As you pick up your diploma, pay your past-due bill.
JFK said you should ask how it's best to serve your nation. Dr. King said he had a dream that everyone was free. Margaret Mead said a few of you could bring big transformation. Gandhi said you can be the change that you would want to see.
Go with style and grace, you will find your place. Ev'ry challenge in your life you're now prepared to face. Don't forget your alma mater when you write your will.
Lyrics by Barry Levy, to the tune of Alla Turca by Wolfgang Amadeus Mozart.