Karachi Mayor Tries to Clean Up City, Politics
Karachi Mayor Tries to Clean Up City, Politics
The Urban Frontier:
About the Series
This year, according to the U.N., half the world's population lives in cities, and the proportion will only increase. Morning Edition begins an occasional examination of the world's cities with a series of profiles from Karachi, Pakistan's economic powerhouse.
Essay: 'Karachi Calling!'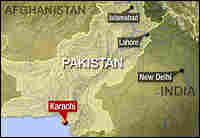 As many as half of the Pakistani city's 15 million or so residents live in squatter homes, even as foreign firms pour money into luxury developments. Morning Edition host Steve Inskeep writes about the contradictions of Karachi.
The mayor of Karachi, Pakistan, is a player in a brutal political game: the fight for control of one of the world's most crowded cities.
Syed Mustafa Kamal says he wants to reshape his sprawling, dirty city once known for its green, leafy parks. Since the population exploded, it has become better known for neighborhoods that stretch for miles in every direction.
To do so, he must overcome a legacy of bad government — and violence.
'Showing We Care'
Karachi is Pakistan's financial capital and its major seaport. The equivalent of billions of dollars move through the city, yet public services are so sporadic that the electricity goes out daily in hot weather, and many residents have had to dig their own sewers.
When he took office in 2006, Kamal says he warned his staff that ordinary Karachi residents believed that officials — themselves included — were corrupt.
"We have to show by our actions to the people of Karachi that we care for them," says the 36-year-old mayor.
Kamal ordered the city to speed up construction of highways and bridges. Now, he says, 600 new cars hit Karachi's roads each day.
Even critics have praised the mayor's effort, though a recent study by an independent group questioned whether traffic really is easing.
Karachi Development: Modeled on the World
New construction projects abound in the city, including a brand new office tower next to the municipal government building. Giant development firms have flocked to Karachi from Dubai, one of the most rapidly developing cities on earth.
Kamal says he wants Karachi to be a model for development, and that he is "cutting and pasting" ideas from different parts of the world.
For example, rains often flood Karachi's streets during the monsoon season. So the mayor went around London videotaping storm drains. Trash is also an issue in a place as dense as Karachi — "My city is a dirty city, it's not clean. Garbage is the main problem," Kamal says — so he studied the way it is collected in Shanghai, China, and plans to implement a similar system this summer.
Violence Overshadows Political Party
It might be easier to clean up the city's streets than to clean up its politics. Karachi has a history of political violence, including gun battles between rival parties in 2007.
Those firefights in the streets killed dozens of people, including an ambulance driver. Gunmen nearly killed a second ambulance driver.
According to a witness in one incident, the gunmen came from Karachi's ruling party, the Muttahida Qaumi Movement. They thought the driver belonged to a rival ethnic group.
When asked about the violence, Ishrat Ul Ebad Khan, the provincial governor and a top official in the MQM, acknowledges that members of his party, and others, got out of control, despite his efforts to prevent it.
The governor's statements were unusually frank for the Muttahida Qaumi Movement, which has prospered in Karachi's violent political culture.
Last week, the newspaper Dawn listed a dozen recent murders of political leaders from several parties. The MQM and its founder, Altaf Hussein, say accusations that the party has a hand in such violence are a conspiracy by opponents.
Hussein says they blame the MQM and accuse them of being terrorists involved in violence. In fact, he says, "the preaching and ideology of the MQM is entirely different."
Exiled Party Leader's Influence Is Everywhere
A one-time student activist, Hussein founded the MQM to defend Karachi's biggest ethnic group — Muhajirs — and he dominates Karachi.
Kamal says that before Hussein and the MQM selected him as its mayoral candidate, he was "nobody." Hussein wields that kind of power, even though he hasn't seen the city in years. He is in self-imposed exile in London and speaks to meetings and rallies in Pakistan by telephone.
Hussein says he remains in London because of security threats. In the 1990s, Pakistan's military rounded up and killed thousands of his supporters and took away several of his relatives. The MQM opposes any military intervention in Pakistani politics.
It may be surprising to note that the party gained almost total control of Karachi by forging an alliance with Pakistan's president, Pervez Musharraf, who resigned as head of the army last year.
That cleared the way for Hussein's party to gain power in Karachi — and for the new bridges and real estate deals. Musharraf's government paid for many of the improvements.
This has benefited Karachi's mayor, Kamal. And he is seizing other opportunities. He has set up a computerized call center to take complaints. Dozens of cameras have been set up to monitor crime in the city.
For Karachi, he says, the key is to maintain the rule of law.
But his comments came just days after a politician from a rival party was slain on a city street — a crime in which the mayor's own party has denied any involvement.