Amid Threats, Activist Fights Karachi Development
Amid Threats, Activist Fights Karachi Development
YouTube Video
Essay: Karachi Calling!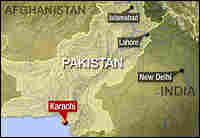 Morning Edition host Steve Inskeep writes about the contradictions of Karachi. As many as half of the Pakistani city's 15 million or so residents live in squatter homes, even as foreign firms pour money into luxury developments.
The Urban Frontier: About the Series
This year, according to the U.N., half the world's population lives in cities and the proportion will only increase. Morning Edition begins an occasional examination of the world's cities with a series of profiles from Karachi, Pakistan's economic powerhouse.
Karachi, one of the world's most crowded cities, is debating its future. And those political debates keep returning to one subject: real estate. Developers are flocking to the Pakistani city, which has been profiled this week on Morning Edition as part of a series called "The Urban Frontier" about the world's expanding cities.
Foreign developers are drawn to Karachi for at least two reasons. The first is demand. Pakistan may be a poor country, but many of it citizens are well off and developers believe they will pay a lot of money for expensive waterfront condos.
The second factor is a ready supply of investment capital in the Persian Gulf. To Dubai developers, for example, Karachi seems like a great investment.
A video from a Dubai development company features plans for a new city beside the old, with a new harbor, new parks and a nearly 2,000-foot tower that commemorates the year of Pakistan's independence.
When the company brought its proposal to Pakistan, there was a meeting in the capital city of Islamabad. Word leaked out to Amber Alibhai, general secretary of an environmentalist group called Shehri.
"Somebody sent us all the minutes of the meeting that took place in Islamabad in the mail," Alibhai says. "We have ... our silent eyes and ears there."
As soon as she saw what had been discussed, Alibhai questioned what impact the proposed development would have on Karachi's environment.
You don't have to know her very long to think that if you're developing the waterfront in Karachi, you might think twice about a battle with Alibhai.
'Only for the Rich'
"All the housing that you see, all the development that you have seen in my city, what I have witnessed, is it's only for the rich," Alibhai says. "If you have apartments, they're for the rich. If you have houses, they're for the rich.
"Does Karachi need a golf course for God sakes? In a city of 11 million people, who the hell, how many of those people are going to be able to own a golf club and take membership into a golf course. This is madness. I don't have drinking water and I'm going to be watering the turf?"
After 17 years, Alibhai is still enthusiastic about her work. She's just been dealing with what she called a false complaint filed against her in court.
The electricity is out in her office, a frequent occurrence. She has a water bottle on her desk because the tap water is contaminated.
"I know four people in my immediate surrounding [who have] come down with typhoid," she says. "It's bad water."
Alibhai's voice is among those in a rich debate over Karachi's priorities and its future.
That debate continues even in a city that has trouble with law and order.
Development Opponents Face Threats
Asked whether her work is dangerous work, Alibhai says, "Of course it is. Anything that you're going to stand up for is dangerous. We get threats."
Last year, when Shehri was trying to save a park in an area called Kidney Hill, she says, she was threatened. "They were all after my blood, the blood of my family, and we had a lot of threats," Alibhai says, adding that this time around is no different.
Such threats aren't unusual.
Arif Hasan, a Karachi architect and urban planner, says that fortunes are at stake in the city's development. He's often heard of people threatened, even killed, if they stand in the way.
But when asked about specific stories of people killed, he is hesitant to answer.
"It depends on how you use this information," Hasan says with a laugh.
Karachi is a place where people speak carefully. After a moment, he tells the story of one instance a few years ago in which he says a local leader fought against the construction of an expressway that threatened to displace thousands of people.
"He was threatened regularly and his 21-year-old son was found dead," Hasan says. "He had been thrown off a six-story building. This I can give you as one case."
But those cases don't stop or slow down the debate, he says.
Cases like that didn't stop Alibhai. A few years after the expressway battle, her group sued to stop a subdivision from being built on an area designated years ago as parkland.
Her husband started receiving threatening calls from a man he didn't know.
Alibhai says, "And he told my husband, 'Look, this is your daily routine and these are the names of your children and these are their ages and this is where they study, right? And this is the name of your father-in-law and this is his age and this is where he goes for a walk in the evening. And I have a photograph of all three of them in front of me, and do you want me to fax it to you so that you understand what I am saying to you?'"
'You Really Want to Kill Me?
Alibhai sought out a citizens' organization that helps with law enforcement and had the phone numbers traced. In time she called back.
"And then I rang up those people and I said, 'Listen, I'm fed up of this cat-and-mouse game. Stop threatening. You really want to kill me? I'm standing on the road outside my house with my children and you come and kill us and you get it over with.' Because we were fed up of it.
"Let me tell you that my city is run by gangsters," Alibhai says. "My city is run by the mafia."
Alibhai's husband urged her to leave the country. She refused, complaining to officials until somehow, the threats stopped.
Newspaper columnist Ardeshir Cowasjee wrote about the story. And readers who lived near the open land stepped forward to join the lawsuit, which is still pending in Pakistan's courts.
Given all of Karachi's problems, it may seem a luxury for people to file a lawsuit or mount a protest. But Alibhai insists it's worth fighting for what she describes as the rule of law when it comes to development.
Not everyone shares her view. On Thursday, Morning Edition reports from Karachi on people who have built thousands of homes outside the law.