As Primary Race Ends, Next Contest Is in Full Swing
Barack Obama collected enough delegates Tuesday to claim the Democratic Party's presidential nomination. The Illinois senator is making history as the first black presumptive presidential nominee of a major party. But Hillary Clinton has yet to concede defeat and says she's open to filling the vice presidential slot on the party's ticket.
RENEE MONTAGNE, host:
This is MORNING EDITION from NPR News. Steve Inskeep is in Karachi, Pakistan. I'm Renee Montagne at NPR West.
Barack Obama has made history. He collected enough delegates to secure the Democratic nomination for president, which would make him the first black presidential nominee of a major party. Last night, he locked up the 2,118 delegates he needs at the party's convention in August.
For her part, Hillary Clinton congratulated Obama for his accomplishments, but did not concede defeat. She said she would not make any decisions about her future right away, but she did say she was open to the vice presidential slot on the ticket.
NPR national political correspondent Mara Liasson reports.
MARA LIASSON: After five months and 56 contests, a triumphant Barack Obama appeared before 20,000 supporters in Minnesota.
Senator BARACK OBAMA (Democrat, Illinois; Democratic Presidential Candidate): Tonight, I can stand here and say that I will be the Democratic nominee for the president of the United States of America.
(Soundbite of cheering)
LIASSON: That meant his next task was to reach out to his opponent.
Sen. OBAMA: She has made history, not just because she's a woman who has done what no woman has done before, but because she is a leader who inspired millions of Americans with her strength, her courage and her commitment to the causes that brought us here tonight.
LIASSON: There were few policy differences that divided Obama and Clinton in the campaign. It was demography, not ideology, that caused the biggest rift. Even in South Dakota last night, Clinton to win big margins among white voters without college degrees, while Obama, once again, fared better with upscale, affluent Democrats.
But now the primaries are over, and Obama must unify the party. To do that, he needs help from Clinton. She spoke to her supporters in New York City, congratulating Obama but not conceding defeat, and she raised a very pertinent question.
Senator HILLARY CLINTON (Democrat, New York; Democratic Presidential Candidate): You know, I understand that a lot of people are asking what does Hillary want? What does she want?
LIASSON: Apparently, one thing she wants is to continue making her case that she would be the stronger nominee.
Sen. CLINTON: In the millions of quiet moments in thousands of places, you asked yourself a simple question: who will be the strongest candidate and the strongest…
(Soundbite of cheering)
Sen. CLINTON: Who will be ready to take back the White House and take charge as commander-in-chief and lead our country to better tomorrows?
LIASSON: And she repeated her claim to having won more votes.
Sen. CLINTON: Nearly 18 million of you cast your votes…
(Soundbite of applause)
Sen. CLINTON: …for our campaign, carrying the popular vote with more votes than any primary candidate in history.
(Soundbite of applause)
Sen. CLINTON: Even when the pundits and the naysayers proclaimed week after week that this race was over…
(Soundbite of booing)
Sen. CLINTON: …you kept on voting.
LIASSON: Now, said Clinton, the question is where do we go from here?
Sen. CLINTON: Given how far we've come…
(Soundbite of cheering)
Sen. CLINTON: …and where we need to go as a party is a question I don't take lightly. This has been a long campaign, and I will be making no decisions tonight.
(Soundbite of cheering)
LIASSON: In the coming days, Clinton said she would be consulting with supporters and party leaders to determine how to move forward. In a conference call with the New York congressional delegation yesterday, she said she would be open to the vice presidential spot, but the vice presidency is something the Obama camp is not interested in talking about just yet and may never be interested in offering to her.
While Clinton considers her future, Obama will be keeping his focus firmly fixed on John McCain. Last night, he made a quick pivot from honoring Clinton to attacking the man he will run against this fall.
Sen. OBAMA: While John McCain can legitimately tout moments of independence from his party in the past, such independence has not been the hallmark of his presidential campaign.
LIASSON: Obama's goal is to convince voters that John McCain is now a carbon copy of President Bush, who is deeply unpopular and a big drag on Republican fortunes this year.
Sen. OBAMA: So, I'll say this: There are many words to describe John McCain's attempt to pass off his embrace of George Bush's policies as bipartisan and new, but change is not one of them.
LIASSON: As one race ended, the next was in full swing, with the major nominees often crossing paths. On Monday, McCain spoke to the American Israeli lobby, AIPAC, attacking Obama's approach to Iran. Today, Obama addresses the same group, and - it's worth noting - so does Hillary Clinton.
Mara Liasson, NPR News, Washington.
NPR transcripts are created on a rush deadline by Verb8tm, Inc., an NPR contractor, and produced using a proprietary transcription process developed with NPR. This text may not be in its final form and may be updated or revised in the future. Accuracy and availability may vary. The authoritative record of NPR's programming is the audio record.
Obama Claims Nomination, Making History
NPR Special Coverage: Obama Clinches the Democratic Nomination
Analysis
NPR Senior Washington Editor Ron Elving says Hillary Clinton's supporters are now likely to look for scapegoats to explain her loss. Who Did This to Hillary? he asks in his column, "Watching Washington."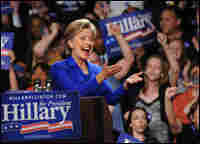 Stan Honda/AFP/Getty Images
Emmanuel Dunand/AFP/Getty Images
Stan Honda/AFP/Getty Images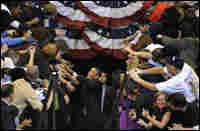 Emmanuel Dunand/AFP/Getty Images
Sen. Barack Obama stood before a cheering crowd in a Minnesota convention hall Tuesday night, declaring himself the Democratic presidential nominee. His speech marked the end to what has been, at times, a bruising five-month-long campaign that history will remember as resulting in the first African-American to win a major party's nomination.
Obama called it "a defining moment for our nation."
A few hours earlier, his main rival, Sen. Hillary Clinton, refused to acknowledge Obama's clinching of the nomination during a speech to a boisterous crowd at Baruch College in New York City. Clinton said she was not ready to make any decisions about her campaign's future. At the same time, the New York senator said she was "committed to unifying our party."
Obama secured more than the 2,118 delegates needed to win the Democratic Party's nomination after two final primaries on Tuesday — in South Dakota and Montana — which resulted in a split decision. Clinton won South Dakota, where she and former President Bill Clinton had made several campaign appearances in the past week, while Obama captured Montana.
Obama, appearing on the same stage in St. Paul, Minn., where Arizona Sen. John McCain will accept the Republican Party's nomination in September, wasted no time pivoting to the general election that lies ahead. Sounding a theme that has already become familiar and will likely become more so in the weeks and months ahead, Obama said McCain "decided to stand with George Bush 95 percent of the time" in the Senate last year.
Eyes on General Election Battle
Obama charged that McCain "offers four more years of Bush economic policies that have failed to create well-paying jobs, or insure our workers, or help Americans afford the skyrocketing cost of college."
And turning to Iraq, Obama said, "It's not change when [McCain] promises to continue a policy in Iraq that asks everything of our brave men and women in uniform and nothing of Iraqi politicians — a policy where all we look for are reasons to stay in Iraq, while we spend billions of dollars a month on a war that isn't making the American people any safer."
The Obama campaign estimated some 17,000 supporters were inside the convention arena. They heard Obama give the kind of rousing speech that has become his trademark in the campaign.
"America, this is our moment," the 46-year-old Illinois senator and one-time community organizer said. "This is our time — our time to turn the page on the policies of the past."
McCain took advantage of the focus on the Democratic primaries to deliver a speech in New Orleans in which he criticized Obama for voting "to deny funds to the soldiers who have done a brilliant and brave job" in Iraq.
The 71-year-old Republican said Americans should be concerned about the judgment of a presidential candidate who has not traveled to Iraq, yet "says he's ready to talk, in person and without conditions, with tyrants from Havana to Pyongyang."
Standing before a green banner that said "a leader we can believe in," a play on Obama's campaign slogan "change we can believe in," McCain said, "The choice is between the right change and the wrong change, between going forward and going backward."
The Clinton Question
The biggest remaining question at the end of the lengthy primary season: What are Clinton's plans for going forward? During her speech Tuesday night, Clinton indicated she continues to believe that she would be the stronger candidate in the general election against McCain. But a parade of previously uncommitted superdelegates marched into the Obama camp Tuesday, closing off that option.
Obama lavished praise on his erstwhile rival during his speech in St. Paul, asserting that the Democratic Party and the nation "are better off because of her," and that he is "a better candidate for having had the honor to compete" with Clinton. One course of action would be an Obama-Clinton ticket, a possibility Clinton encouraged in a conference call with the New York congressional delegation on Tuesday, saying she was "open to it."
But the Obama campaign is thought to be cool to the notion of Clinton as a running mate, leaving unanswered the question the candidate herself posed Tuesday night: "What does Hillary want?"