Writer Remembers the Death of RFK
Writer Remembers the Death of RFK
Forty years ago at the Ambassador Hotel in Los Angeles, journalist Pete Hamill tried to wrestle the gun away from Sirhan Sirhan, Robert F. Kennedy's assassin. Hamill discusses a new book about RFK on the anniversary of his last day.
ALEX CHADWICK, host:
This is Day to Day. I'm Alex Chadwick.
MADELEINE BRAND, host:
I'm Madeleine Brand.
Today, we're remembering Robert Kennedy because it was on this day 40 years ago when he won the California Democratic primary, only to be fatally shot after giving a speech at the Ambassador Hotel in Los Angeles.
CHADWICK: Among the people with Senator Kennedy that night, the writer and journalist Pete Hamill.
Mr. PETE HAMILL (Writer and Journalist; Friend of Senator Robert Kennedy): I was his friend, and it was a mistake to have done that. It's the only time in my long, now, career that I was ever really a friend of a politician.
CHADWICK: It was a mistake, Pete Hamill says, because he lost some of the objectivity he needed for journalism. But for Pete Hamill, the son of Irish immigrants, there was something visceral that drew him to Robert Kennedy.
Mr. HAMILL: Trying to define a friendship is always difficult, but I felt connected to him in a way. I think that had something to do with the kind of Irish fatalism that was in him.
CHADWICK: Kennedy had plenty of reasons to be fatalistic: seeing his brother John shot down in Dallas, watching a war in Vietnam spin out of control, witnessing cities burn after Martin Luther King's assassination two months earlier. And on that evening, here in Los Angeles 40 years ago, there was an aura of hope mixed with the fatalism.
Robert Kennedy was running to secure the Democratic nomination for the presidency. Pete Hamill was with the Kennedy campaign that night as they waited for the results of the critical California primary. He says it's hard for young people to understand now, but there were no cell phones, no email, just a lot of people going in and out and bringing bits of news from here and there with them. Bobby Kennedy sat in his shirtsleeves, waiting to learn his fate.
Mr. HAMILL: And he had that fatalistic look still. I think he was prepared to lose, and he was prepared to win. And we were there for a while and finally on the screen came the news that he look - apparently had won the California primary. And he got up to get dressed and get a necktie, and then we all went down in a freight elevator down to the kitchen. And he went out and he did an off-the-cuff speech that was wonderfully - talking and funny, and he hoped that Don Drysdale, the pitcher from the Dodgers, was going to part of this team since he had pitched his sixth straight shutout, which is incomprehensible to the modern baseball. And he made a joke about Sam Yorty not being able to come - who was the mayor of Los Angeles and hated Kennedy. Among other things, he wouldn't provide police protection.
And after thanking everybody and his wife and the usual people, it was time to leave. And I was in the kitchen, suddenly, along with other reporters, Rosey Greer and George Plimpton, people like that. And he turned at one point because three Mexican chefs or assistants or busboys or something were standing on his left, my right, and he turned to shake hands with one of them - a young guy named Juan Romero (ph). And as he was turned, bang, bang, bang, bang, bang came the shots. Not loud. Not 45s. It was a small- caliber pisto, and then it was just chaos. And there was a struggle with Sirhan for the gun - his arm being lowered enough that the people behind Kennedy were shot in the legs.
CHADWICK: Were you struggling for that gun?
Mr. HAMILL: Yeah. I was one of the guys - I didn't have that - my hand on the gun, but I threw a good punch over the shoulder of somebody. And then the reporter instinct took over again, and I was just watching every detail. Looking at everything. Look at the reaction, writing the sounds. And I knew somehow that I'd never talk to him again. He had this smile that was almost accepting, as if to say, OK, this is it. That it had been there all along - again, that fatalism. Don't count on November, you might not get through June. And they took him away. And we all went out to the hospital. My brother Brian (ph) had a car and was driving us and we waited all night; he was still alive.
We kept getting bulletins about being alive, and he lived for 24 hours and died, again in the early hours. And it was appalling for it to have happened again. It was something that I - maybe some of us including me, might have said, gee, what if this happens again? But we didn't count on it, it didn't seem possible, although the killing of Martin Luther King made you worry about it all the time. And then here it was. And we left around just before dawn. My brother Brian, who's a photographer, and somebody else. We dropped someone off. Off we went. I was living in Laguna Beach, and we drove all the way home. I had two young daughters, 5 and 3.
CHADWICK: Read that last paragraph, would you?
Mr. HAMILL: Sure. "Flocks of birds were rising from the darkness. We'd reached the house and I went in and turned on the television set and looked at the latest bulletins. I sat facing the set and the sea. Brian and I drank some whiskey, and then he went off to sleep. I looked up and saw my daughter Adrianne (ph) staring at me in a baffled way. My face must have been a ruin. She came over to me, tears in her eyes, and touched my face. I started to weep for her, for her sister, for my Irish parents, for my friends, for America. Out there, sea to shining sea. I held her tight, wondering what would become of all of us."
CHADWICK: Pete Hamill, I don't know how you could bear to write that.
Mr. HAMILL: Or read it. Forgive me. But that was the feeling, and I think a lot of people had it. A lot of people I knew stopped investing any kind of hope in politics. There were a lot of discussions later - what if this hadn't happened, what if he had been president instead of Nixon. There would have been no Watergate, the war would be over fast, etc. But they were all the great what ifs of history.
Today, there are people who are 40 years old walking past me on 42nd Street who never heard of Robert Kennedy. He was a great "perhaps" as far as our politics was concerned. And yet the voice for some of us echoes across those decades, and we still worry about the people who run and about our country. I mean, one of the things that was true of the Kennedy campaign was that you could oppose a president, oppose his policies, not because you hated America, but because you loved America. And I think the love they had for America is finding new form now. People who are saying, we're better than this. And if that happens, then the spirit of Kennedy might be alive among people who'd never heard of them.
CHADWICK: Writer Pete Hamill. He's written the introduction to a new book, "A Time It Was: Bobby Kennedy In The Sixties," by photographer Bill Eppridge. Pete Hamill, thank you.
Mr. HAMILL: Thanks for having me.
NPR transcripts are created on a rush deadline by Verb8tm, Inc., an NPR contractor, and produced using a proprietary transcription process developed with NPR. This text may not be in its final form and may be updated or revised in the future. Accuracy and availability may vary. The authoritative record of NPR's programming is the audio record.
RFK Assassination Sparked Secret Service Change
RFK Assassination Sparked Secret Service Change
Who Was Bobby Kennedy?
Read a brief snapshot of his life and accomplishments and listen to excerpts from some of his speeches and interviews.
Library of Congress/U.S. News & World Report
Library of Congress/U.S. News & World Report
Audio Extra
Special Agent Jerry Parr was with President Ronald Reagan during his attempted assassination in 1981.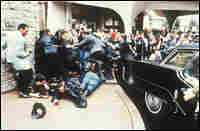 Mike Evens/AFP/Getty Images
The U.S. Secret Service came into existence nearly 150 years ago, but the agency as it's known today was essentially created June 5, 1968 — the night Sen. Robert F. Kennedy was shot at the Ambassador Hotel in Los Angeles.
Kennedy had several bodyguards with him, including football star Roosevelt "Rosey" Grier, as he addressed a crowd gathered to support his bid for the White House. But there were no Secret Service agents present because before 1968, their services weren't afforded to presidential candidates.
That policy changed after Kennedy's assassination.
The Secret Service wasn't always in the business of protection. It was created in 1865 as part of the Treasury Department, and it had one mission — to prevent counterfeiting of U.S. currency. Then, in 1901, President William McKinley was shot and killed by an anarchist in Buffalo, N.Y., and Congress changed the agency's mandate.
"We then stepped up and began to protect the president," says Special Agent Edwin Donovan. "And then, of course, in 1968 with the assassination of a major presidential candidate, we began to protect all the major presidential candidates."
Total Security Package
Donovan has been in the Secret Service for 17 years. He helped guard Bill Clinton and Steve Forbes in their bids for the White House and describes the protection the agency provides as "incredibly thorough."
"They get 24 hours, seven days a week protection from Secret Service at their residence, all the campaign stops, all the places they go, the vehicles they drive in, the planes they fly in [and] we check their mail," Donovan says. "We just provide total security package for that person."
After Kennedy's death on June 6, the Secret Service was hurriedly called upon to protect the men who were still running for president in 1968.
"We only had 547 agents at that time," Donovan says. "We already had the president and the vice president and their families to protect, so that made it even a smaller number of agents to draw from."
The large number of candidates overtaxed the agency's resources, according to Jerry Parr, one of the special agents assigned to protect Hubert Humphrey — a sitting vice president as well as a presidential candidate — in 1968. Parr says it was a violent, volatile time and that protecting candidates wasn't easy.
The situation was exacerbated because there were no criteria for choosing who else would receive Secret Service protection.
Parr says the agency also assigned agents to prominent figures including Georgia Gov. Lester Maddox and Shirley Chisholm, the first black woman elected to Congress. The many assignments took a toll on the Secret Service. In 1968, agents put in more than 270,000 hours of overtime.
Tougher Rules
The decision of who gets protection has gotten more stringent. Today, a presidential candidate has to have some degree of prominence in opinion polls to warrant Secret Service presence, Donovan says.
"They have to be actively campaigning and entered in at least 10 state primaries," he says. "They have to be seeking the nomination of a qualified party. They have to have qualified for matching funds in the amount of $100,000 and received contributions totaling $2 million."
Even if a candidate meets those requirements, he or she may refuse the agency's services. Republican Sen. John McCain of Arizona, for example, resisted Secret Service protection until just a few weeks ago.
Oppressive and Impressive
Democratic strategist Joe Trippi has worked on several presidential campaigns, ranging from Sen. Edward Kennedy's in 1980 to former Sen. John Edwards' in 2008. He says that while Secret Service protection can be quite oppressive, it can also be impressive to the media and to voters because it can give a candidate a presidential aura.
"I mean it's sort of the same feeling people would have if they were near a president of the United States," Trippi says. "So it helps in that regard, but it hurts particularly in the early states like Iowa [and] New Hampshire, where mingling with voters ... is pretty important."
Unless a candidate is an incumbent and therefore already being protected, the Secret Service often isn't around for early contests like those in Iowa and New Hampshire. The law says candidates are required to have protection within 120 days of the general election. In an election year, that means people in the suits and dark glasses usually start showing up in July.
However, this year is anything but usual. Illinois Sen. Barack Obama has been under Secret Service protection since May 3, 2007 — the earliest point in a campaign that such protection has been given to a presidential candidate.
Rival Democratic Sen. Hillary Clinton had Secret Service protection long before she announced her candidacy because she's the spouse of a former president. And for that same reason, the New York senator is the only one who'll be guaranteed protection after the party selects its nominee, regardless of who wins.