Next for Clinton: Vice President? Senate? Governor?
Now that Barack Obama is the presumptive Democratic presidential nominee, questions are swirling about what Hillary Clinton will do next. Clinton hasn't conceded to Obama — yet the New York senator has said she'd be open to being his running mate. There's also speculation of Clinton returning to Capitol Hill to take a powerful position in the Senate, or possibly running for the governor of New York.
Host Renee Montagne talks to historian Doris Kearns Goodwin about Clinton's options.
Democratic Leaders Press for Party Unity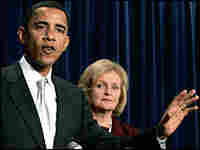 The day after Sen. Barack Obama sewed up the Democratic presidential nomination, his Senate colleagues on Capitol Hill were straining to pull together their deeply torn party.
Sen. Hillary Clinton's supporters were quicker than she has been to acknowledge Obama's victory in the Democratic primary. However, they also argued for giving her more time to come to terms with having lost.
A Clinton adviser says the New York senator will announce Saturday that she's suspending actively campaigning for the presidency. But as of now, Clinton plans to retain her delegates while she promotes her agenda and considers her options.
Her campaign said in a statement that she plans to express support for Obama and call for party unity at an event Saturday in Washington.
At the helm of the effort to mend fences among Senate Democrats was Iowa Sen. Tom Harkin, who until Wednesday had not declared his support as a superdelegate for either Clinton or Obama.
"The nominee of our party is obviously Barack Obama," Harkin said. "Now what we have to do is to work together."
Wednesday afternoon, Harkin and seven other Senate Democrats, most of whom remained neutral during the primaries, issued a statement declaring that the Democratic nominee for president has been chosen and that it is time for Democrats to unite in order to win in November. The group includes Colorado Sen. Ken Salazar, whose state will host the party's August convention. He said concern for Clinton's future has also pulled the group together.
"Because we are senators, we will be working with Sen. Clinton on a continuing basis for a very long time," Salazar said. "So we can play, hopefully, a role of trying to not only unite the Democratic Party but also make sure that Sen. Clinton has her way of resolving this issue in her own way."
In a speech in New York Tuesday night following the South Dakota and Montana primaries, Clinton did not acknowledge Obama's victory. However, in a speech to the American Israel Public Affairs Committee in Washington, D.C., on Wednesday, she edged a little closer to recognizing who has won.
"I know Sen. Obama understands what is at stake here," Clinton told the AIPAC audience. "It has been an honor to contest these primaries with him. It is an honor to call him my friend, and let me be very clear, I know that Sen. Obama will be a good friend to Israel."
Obama spoke before the same audience. During a later stop at the Senate to vote on the budget, the Illinois senator confirmed reports that he and Clinton had run into each other backstage at the AIPAC conference.
"I just spoke to her today and you know, we're going to be having a conversation in the coming weeks," Obama says. "I'm very confident about how unified the Democratic Party's going to be to win in November."
Obama says that Clinton gave no indication in her conversation with him that she intended to concede Wednesday. Nevertheless, he says he is confident that Clinton will work with him to unify the party.
Some of Obama's supporters, like Missouri Sen. Claire McCaskill, were less patient.
"The right thing is to step up and say Barack Obama's going to be a terrific president," McCaskill says. "We all have to get busy and make sure not only that our heads are in it, but that our hearts are in it."
Other senators who have endorsed Clinton as superdelegates seem reluctant to switch to Obama before she takes the lead in doing so. California's Dianne Feinstein said she spoke Wednesday with both Clinton and Obama, and while she decided to stay with Clinton for "as long as she's in this," she was also realistic.
"I think that the verdict is cast in terms of the votes," Feinstein said. "I think both Sen. Obama and Sen. Clinton need some time. I think they're entitled to this time. I don't think there needs to be a rush for judgment, but it's very clear to me that Sen. Obama will be the nominee of our party."
Still, a few senators remain undeclared superdelegates and seem to be hedging their bets.
When asked whom he is going to back, Virginia Sen. Jim Webb responded by saying, "Ahh, we're sorting all that out."