As Food Prices Rise, There's No Dancing in the Aisles
As Food Prices Rise, There's No Dancing in the Aisles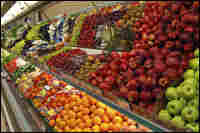 Serdar Yagci/iStockphoto.com
Anita Rhodes, a high school dropout who had a baby on her hip before she turned 20, is a hard worker who is clever with her limited finances.
In Rhodes' hometown of Oakland, Md., the Mennonites sell damaged goods at basement prices. Until four months ago, Rhodes had never been inside her local Mennonite grocery.
"The things there are all way, way past their due date, but I tried it," Rhodes says.
A single mom with three kids who makes $374 every two weeks, Rhodes realized that her grocery bill was stretching her earnings too far.
About four months ago, she decided she had no other option and went to the Mennonite store. She came home with a bag of groceries, including a couple boxes of cereal. But her experiment didn't turn out well.
"The first box I opened had bugs in it," Rhodes says.
The box of cereal had cost around one dollar. Rhodes returned the box to the store to get her money back. Some people might not have bothered to retrieve a sum so small, but Rhodes' life doesn't permit that kind of luxury. And the recent spike in food prices has made what is normally a hard situation even more difficult.
But that hardly captures it. Rhodes goes down her grocery list, ticking off the things she can't afford: no paper towels, no bottled water, no chips, no cookies, no candy and no toiletries of any kind. She says her teenagers use toothpaste on their pimples. Wherever there is room to cut, Rhodes' says, she cuts.
"We used to eat 12-grain bread, but now we're back to white," she says with a laugh.
Still, there is a drawer of unpaid bills, and every visit to the store brings fresh reason for anxiety.
Walking the aisle of her regular supermarket, Rhodes notes the weekly rise in the price of milk.
"Two weeks ago it was $2.39 a gallon — and I think it was more Monday," she says.
On May 30, it was $3.49. It's gone up again.
Rhodes says she doesn't have a plan for what she'll do if prices continue to rise. But so far, she says, her children have been understanding about their lifestyle cutbacks.
"They try to make me feel good, like everything's OK," she says. "But I was a kid once and I know there are things that they want."
Rhodes has no doubt that no matter how high food prices get, she will be able to provide for her family. She points out that she was raised in rural Maryland. She is, she says, a country girl.
"I can shoot a deer," she says. "I can shoot a turkey. So I will feed my kids one way or another."
The Retired Library Administrator
Three hours away, in northern Virginia, Amanda Rudd stands in front of a refrigerated cheese bin at Costco. Rudd is a retired library administrator wearing small round diamonds in her ears. She lives comfortably in a one-bedroom apartment close to the Potomac River.
Rudd says she started to become aware of the prices around February after sitting down and looking over a pile of store receipts.
"I just said to myself one day at home by myself, I'm really going to have to watch what I buy because my retirement hasn't changed at all," she says.
Rudd is middle class, so her cutbacks are not as dramatic as Rhodes. But she says she thinks about her finances every time she opens the refrigerator.
"I used to toss food without [thinking], but now I don't want to toss anything and some things I virtually don't buy," she says.
Rudd no longer carries home blueberries or strawberries. She is careful about the meat she buys. But perhaps one of the biggest changes in her life since February is how she does her shopping. It's no longer a matter of just hopping in the car and driving to the grocery whenever she needs food.
Instead, she sits down with a stack of local papers every Sunday and clips coupons from different stores — something Rudd hasn't done since her early married life. Then, with the precision of a NASA engineering crew, she plots out how best to organize her shopping. She goes to Costco because she has an appointment down the road. She will buy bananas and that is all. Then she will make another stop at a Giant grocer several blocks away for another single item.
Basically, Rudd will spend two hours this Monday morning inching her way through the northern Virginia suburbs, stopping every couple blocks to fill her cupboards in the least expensive way.
These are the changes she has made so far. But she worries she will have to go back to work if prices continue to rise.
And the increases are affecting more than middle- and lower-income people. In small ways, it has touched even those who are well off.
The Upper-Middle Class Shopper
Diane Krause walks the back section of the Shoppers Food Warehouse in her Virginia neighborhood, giving a tour of the prepared foods section.
"Let's see, we have breaded wings, breaded chicken, breaded potatoes," Krause says. "Breaded anything you can think of."
The selection of food is very different from the prepared foods offered at her old grocery store.
Until January, Krause was an organics devotee who shopped at Whole Foods Market. Then she had what she refers to as her Whole Foods "moment."
"I went to Whole Foods because I needed a cake and groceries, and it was my daughter's 23rd birthday," she says.
Krause quickly filled her cart with the usual items. The colorful fruit, fresh greens — and picture perfect meats that she'd been taking home without thinking since the Whole Foods Market opened in her community several years ago.
Then she got to check out and did something she hadn't done for a while.
"I started looking at the prices and what I was buying, and I realized I had $140 worth of food in the cart and I didn't have three meals," Krause says. "I realized I couldn't afford to shop there."
No one was more shocked by this realization than Krause. She didn't consider herself the kind of person who had to watch prices. After all, she lives in an affluent neighborhood and has a house on the Shenandoah River, which she bought for cash. She and her husband also own another building. They are, she felt, upper-middle class.
Still, Krause crunched some numbers when she got home and discovered she spent more than $300 a week feeding her family. Although the amount of money she and her husband made hadn't changed since the year before, they were beginning to stretch their budget. So she decided to make some sacrifices, starting with one of the things she loved most: organic food.
"I won't buy it right now; it's too expensive," she says.
That's how Krause ended up at Shoppers Food Warehouse. And she isn't alone in her social circle — she says several of her friends are doing the same thing. She relates a conversation that she had the previous weekend when she and a girl friend were getting ready for a trip.
"We were packing out to go away for the weekend and my one friend had her Whole Foods bags full of clothes, and I said, 'Wow, it's good to know that you get another use out of the bags.' And she said, 'Yeah, this is the last set.' I said, ' What do you mean?' and she said, 'I can't shop there anymore.'"
Krause said she didn't push further. She says she knew exactly what her friend meant.