Big Dogs Top Underdogs in NCAA Tournament
The teams the experts most expected to advance survive three rounds of the NCAA men's basketball tournament.
It's rare for four No. 1 seeds to be alive so deep into the tournament. But Florida, Kansas, Ohio State and North Carolina play on. So do No. 2 seeds Georgetown, UCLA and Memphis, joined by No. 3 seed Oregon.
Chicago Sun-Times sports columnist Ron Rapoport talks basketball with Scott Simon.
NCAA Tournament: Four Left in Search of Crown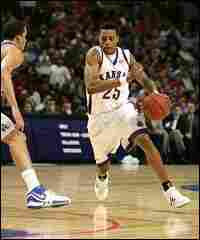 Jonathan Daniel/Getty Images
A Sweet 16 Rundown
Jonathan Ferrey/Getty Images
The tussle for the men's college basketball championship will move on to Atlanta with one of the strongest Final Four fields in recent memory.
On Sunday, defending champ Florida and resurgent Georgetown claimed the last two spots, joining Ohio State and UCLA.
Georgetown's Hoyas, down for most of the contest against North Carolina, rallied to force overtime and then went on a dazzling run in the extra session to claim a 96-84 victory.
The Florida Gators, seeking to repeat as national champions, held off the plucky Ducks of Oregon, 85-77, in Sunday's first game.
Sunday's games set up a Final Four that will have two No. 1 seeds — Florida and Ohio State — and two No. 2 seeds in Georgetown and UCLA.
On Saturday, Ohio State made a string of foul shots down the stretch to outlast Memphis, 92-76, while UCLA's choking defense was too much for Kansas in a 68-55 win.
Florida matches up with UCLA in next week's national semi-finals in Atlanta, while Ohio State will meet Georgetown victor. Both games feature a bit of a "rematch" scenario: Florida defeated UCLA in last year's championship game, while Georgetown ousted Ohio State in last year's Sweet 16 round.
The composition of this Final Four promises other great storylines:
Florida has a shot to become the first team since Duke in 1991 and 1992 to win back-to-back titles.
Ohio State could exact revenge against Florida on the court after being humiliated by the Gators in college football's 2007 national championship game. (The basketball team also lost to Florida this year, in Gainesville.)
UCLA could win yet another national crown, while making up for that lost opportunity in last year's title game.
Georgetown's John Thompson III has a shot at joining his father as coach of a national championship team.
Here's a quick look at the 16 teams who survived the first two rounds of the tournament, with updates on how they did as play continued:
They're No. 1 (Seeds)
Florida — I feel I should dislike Florida MUCH more than I actually do. After all, I'm an Ohio State loyalist, and the Gators have been singularly unkind to my Buckeyes of late. But Joakim Noah is one fascinating feller to watch. Is he playing basketball? Or is it some sort of performance art? Hard to tell, really. And Billy Donovan somehow falls into the category of ludicrously over-intense coach I am able to tolerate, among so very many I cannot abide. (It's a Potter Stewart thing: I can't define what juvenile sideline behavior is, but I know it when I see it.) Oh, by the way, Al Horford is the best player in the country who never gets mentioned among the best players in the country.
UPDATE: Against Oregon, the Gators did many of the things a national champion should do — rebound, get big efforts from unsung players (Lee Humphrey had 23 points, making seven three-point shots). But they did others things a national champion should NOT do — miss 16 fouls shots, turn the ball over nearly 20 times. In the round of 16, the Gators held Butler without a field goal for what seemed like the entire second half, and yet never fully shook the Bulldogs. Horford blocked four shots to drive the defensive effort.
Kansas — Looking at the tournament as a talent show, you would be hard pressed to vote against Kansas. But this isn't Big Dancing with the Stars or even American Hoops Idol. Teamwork, character, grit and chemistry all matter. At times, the Jayhawks look unbeatable. But with these birds, there's always a strong possibility they will lay an egg. Now, I'll concede that it's unfair to question this team based on past performance. Brandon Rush, Mario Chalmers and Julian Wright are no longer the freshmen who lost to Bucknell last year. But they are the guys who lost at HOME to Oral Roberts early this season. They are part of a roster full of players who could play anywhere in the country. But can they play well together for four more games?
UPDATE: The Hawks gritted one out against Southern Illinois in the round of 16, 61-58, as Brandon Rush was perfect from the field. But another battle with a defensive-minded squad proved a bit too much. They may have the most talented group of players in the country heading into next year's compeition.
North Carolina — After many years of admiration for the stylish Carolina teams of the past (Phil Ford, come back. Where have you gone, Mike O'Koren?) I am ambivalent about the Heels of Coach Roy Williams, who have overwhelming ability and underwhelming discipline. But I do feel sorry for Roy Williams. One of these days he will watch one of his multi-talented young players throw the ball 20 feet over another multi-talented young player's head in a key situation and his own head will just flat explode. Boom! I'm convinced of it. On the other hand, I shouldn't feel sorry for him at all. He has Tyler Hansbrough, who plays with a Larry Bird-style mean streak; he has the three-point assassin Reyshawn Terry; and point guard Tywon Lawson can dribble the length of I-95 faster than I can drive it. Williams keeps them all fresh by playing his whole bench, a likeable tactic he picked up from Dean Smith.
UPDATE: After making a furious rally to gain the Elite Eight (they were 16 points behind in the second half against Southern California), the Heels found themselves blowing a sizeable lead against Georgetown. If Carolina's stars stay in school, this team will be back. They are deep and talented.
Ohio State — Please, stop talking about Greg Oden. (Or, if you're Digger Phelps, please stop talking about someone you insist on calling "Odom"). Some day in the distant future, this outstanding young man may in fact be the next Bill Russell. All he has to do is win a couple of national championships and then maybe 10 or 12 NBA titles. But I remember when Harold Miner was going to be the next Michael Jordan, too. Please do feel free to talk about Mike Conley, Jr. He plays with will and grace, and unlike Oden, who seems bound for early entry in the NBA, Conley could be a long-running series on the campus in Columbus. Ohio State's supporting cast is nearly as impressive as the other No. 1 seeds, but not quite. And while Thad Motta is a wonder and a joy, he lacks the big-game coaching experience of counterparts Donovan and Williams.
UPDATE: Oden struggled a bit with foul trouble, and the Buckeyes were down 20 points in the first half. But they roared back, then hung on against a barrage of three-point shots from Tennessee. Mike Conley hit the winning free throw with 6 seconds left, and Oden blocked a last-second Volunteer shot. There were no last-minute heroics Saturday, although the game was much closer than the final score made it appear. The Bucks built a 10-point advantage late in the game and rode the charity stripe the rest of the way.
No. 2. Trying Harder?
Memphis — I don't know what to make of Memphis. On the one hand, they win a LOT of games. On the other hand, they play a sometimes spotty schedule in the depleted Conference USA. Coach John Calipari is a program-builder and a tremendous evaluator of talent. But he doesn't seem to appear on wish lists as major colleges go shopping for new coaches. This Memphis team has a solid chance to do some damage deep into the field, but the last time I saw their leading scorer, Chris Douglas-Roberts, he was writhing in pain under the basket. The Tigers are probably not deep enough to keep winning for long if he's unable to play at 100 percent.
UPDATE: A big offensive rebound and two clutch free throws from Antonio Anderson gave the Tigers a one-point win against Texas A&M. Memphis was riding a 25-game winning streak before running into OSU.
UCLA — Back in the day, elegance and aplomb flowed like honey from Pauley Pavilion, what with the Wilkes and the Waltons and the Alcindors and the Bibbys of my youth. Now the Bruins tend to win with hard-nosed defensive players. They play the same jarring kind of control-the-pace ball that Coach Ben Howland used to win games (but not championships) at Pitt. These Uclans have some stylish players, too, starting with Arron Afflalo (who, charmingly, was born at the UCLA Medical Center). But watching Lorenzo Mata play in the middle, I sometimes feel like I should be calling the cops to report a crime.
UPDATE: Dee-fense. Dee-fense. Before holding high-scoring Kansas to a paltry 55 points, the Bruins battered Pitt into submission. Making back-to-back Final Fours is quite an accomplishment in this day and age, even with UCLA's long history of excellence.
Georgetown — Let's go, Hoyas. Really, how can anyone not like a Georgetown team that has John Thompson III coaching and Patrick Ewing, Jr., playing? Even if you didn't enjoy the original, the sequel is a fine piece of work. Not that Ewing is the star of this team. Jeff Green is their marvelous all-around talent, though he has been oddly quiet in the first two rounds. The 7-2 center Roy Hibbert doesn't get the attention that Greg Oden gets, but he takes up just as much room on the defensive end of the floor. The Princeton-style offense that JT3 famously picked up during his Ivy League years is just unusual enough to confound teams who rarely see it. I even like the gray uniforms. And I really, really like John Thompson's sideline approach.
UPDATE: Hibbert wasn't much of a factor in the Hoyas' win over Vanderbilt, but he showed up plenty big on both ends of the court against Carolina. Green had 22 points and 9 rebounds against the Heels, including a flurry that kept Georgetown in the game late in the second half. The strength of the Princeton movement offense showed up in the box score against Carolina, with five players in double figures.
A Trio of No. 3s
Pitt — There are two ways to look at Pittsburgh's basketball team. There is the camp that says that if they couldn't win with 25-year-old point guard Carl Krauser LAST year, they're not going to keep advancing without him this year. Then there's my camp. LAST year's team relied too much on Krauser, who had laudable leadership abilities, but not quite enough talent to get the job done. This year's team benefits from similar grit in Levance Fields, a point guard straight outta Brooklyn, the defensive excellence of Levon Kendall and the great shooting of Ronald Ramon. The real key is the performance of Aaron Gray, a 7-footer who tends to play smaller. These guys have been there — sort of — and it may be that when the dust clears, they will have done that.
UPDATE: The Panthers didn't have quite enough offense to get past UCLA.
Texas A&M — I'm sorry, but I do not accept the Aggies as a No. 3 seed, I did not have them making it this far in any of the three tournament pools I have entered, and I will be stunned if I have to sprinkle Texas Pete hot sauce on my words and choke them down. And I just might have to do that, because an Elite 8 matchup with Ohio State is a distinct possibility here, folks. Acie Law is a wonderful, clutch player. And then what? This is a team that lost twice to Texas Tech, should have lost to Louisville and was scared to death for half a game by Penn, for heaven's sake. On the other hand, deep inside me stirs the realization that every tournament has a "survive and advance" team burrowing its way through the brackets. Is it this one?
UPDATE: After getting it done all year — and for most of this game — Acie Law missed a layup inside the 1-minute mark and the Aggies fell to Memphis by one point. My heart goes out to Law, who deserved better.
Oregon — The idea that the PAC-10 could win the annual "who's the best conference" argument seemed almost comical a couple of weeks ago, but the Ducks are still afloat, joined by those two teams from Los Angeles. That's 3/16ths of the Sweet Sixteen. I very much want to like Oregon, but when the first two stops on the road to the Final Four are Miami of Ohio and Winthrop, it's just possible that the real test hasn't been taken quite yet. Still, Aaron Brooks, Tajuan Porter and Bryce Taylor can fill up the hoop, and Maarty Leunen can pull in the boards. And in a tournament nearly devoid of major upsets, it has been the Ducks' luck to get a steady diet of big-hearted underdogs, which continues with No. 7 seed UNLV.
UPDATE: The 5-6 freshman Porter had 33 points against UNLV in the round of 16, then missed more than 10 shots in a row against Florida before hitting a couple of desperation three-pointers in the closing minutes. But the Ducks showed plenty of talent and plenty of heart in getting to the Elite Eight, and Ernie Kent has built an outstanding program in Eugene.
The New Underdogs
Southern Illinois — Now that we all have our brackets filled out (and in my case, many losers crossed out) I can tell you a secret: the Salukis are going to the Final Four. Or at least they were until power forward Matt Shaw had to go and sprain his ankle. But even without Shaw, Southern Illinois stifled Virginia Tech in round two. It's not accurate to say they match up well against Kansas — the Dallas Mavericks probably don't match up well against Kansas — but they are eminently capable of causing Kansas or any other team in the tournament problems. Jamaal Tatum is an absolutely loveable player to watch (with a 3.64 GPA, I might add). And I KNEW Southern would be my dark-horse Final Four pick after watching them beat Butler at Butler's historic old Hinkle Fieldhouse late in the regular season. Best game I saw this year.
UPDATE: Well, there went my bracket. The Salukis played their game against Kansas, and Tatum came up big with 19 points, but in the end Southern didn't shoot well enough to get the job done.
Butler — Here's something to chew on as you ponder the wonder of the Butler Bulldogs: There has never been an NBA player in the history of the program. And that's AFTER they went to the Sweet 16 just a couple of years back. But it's all right that pro basketball doesn't seem to be an option. Nine out of 10 players on this squad have a GPA of 3.2 or higher. Their team leader is a scrawny guard named A.J. Graves who looks like the guy you might not choose first for your pickup squad. You'd be wrong about that. Unfortunately, Butler's reward for a 29-6 season and two wins in the tournament is a third-round matchup with Florida.
UPDATE: The Bulldogs sank their teeth into Florida early and never let go, but a 13-0 run by the Gators at the end of the first half made Butler's task too tough. Graves had a rough offensive game, harrassed by Florida's rangy guards.
USC — If only I could stay up a bit later I might realize how good USC is. Instead, I had them losing in the first round to Arkansas. Frankly, I couldn't quite get past the two times I DID sit down at length (and awake) to watch them play: a loss to Arizona State that averted a WINLESS PAC-10 season for the Sun Devils, and then a bone-crushing loss to Oregon in the final of the PAC-10 tournament. I guess former NBA coach Tim Floyd was just letting them rest, because the Trojans certainly took care of Texas and its wunderkind Kevin Durant. USC-UNC promises lots of running up and down the floor. I don't know who gets to call this game, but I predict many uses of "long" and "athletic." I'll be napping, however, out of pure habit.
UPDATE: Freshman Taj Gibson was sensational on both ends of the floor against UNC. When he picked up a fourth foul midway through the second half, the roof fell in on the Trojans. But Gibson and fellow freshman Daniel Hackett give USC a truly impressive one-two combination to build upon for the future.
Tennessee — Love 'em. Just LOVE 'em. That Pat Summitt sure can coach, and that Candace Parker — oh, wait, a minute. Were we talking about the MEN's program at Tennessee? Well, I love them, too. Fantastic energy and a dangerously competitive coach in Bruce Pearl. The Volunteers do one thing that is utterly annoying: they shoot foul shots as if they had been involved in some sort of Clockwork Orange torture experiment that flashes back on them every time they go to the stripe. And they tend to be reckless. But it's the kind of reckless that can wreak havoc on an opponent that would just like to walk the ball up the floor and get into its half-court offense. Tennessee seems capable of scoring five times — or firing up five air balls — in the time it takes some teams to get the ball in play. Yes, I do have them upsetting Ohio State in two of my three pools.
UPDATE: The Volunteers tore OSU apart in the first half, with Chris Lofton and friends hitting three-pointers from distances I wouldn't attempt in a game of H-O-R-S-E. But they let the No. 1 seed up off the mat — and poor foul shooting did hurt them down the stretch.
Vanderbilt — Right there on the Sweet 16 line in ALL of my pools sits Vandy. Just a hunch, really. I saw them beat Florida at home late in the season and I liked what I saw. But they have exceeded my hopes with their performance in the tournament. Swingman Derrick Byars can flat-out play. And as for his fellow senior, center Ted Skuchas? Well, ain't it enough that it's fun to say "Skuchas?" (It's also fun to say JeJuan Brown, I might add, although as a freshman one hopes he does not prove to be JeJeune Brown on the court.) There are some teams that just smell like Sweet 16 material from the get-go — but who seem equally certain to be done after two wins. The Commodores (more fun! A great, distinctive nickname!) are one of those teams.
UPDATE: Vandy was dandy in the first half, with a 32-24 lead that could have been much bigger. But as so often happens, an early flurry of three-pointers gave way to a load of bricks as fatigue set in. Even so, the Commodores took Georgetown to the limit by taking care of the ball and avoiding turnovers.
UNLV — This isn't your Grandmama's UNLV squad. No Larry Johnson. No Reggie Theus (although it was great to see him back in the tournament, coaching New Mexico State). No Anderson Hunt. Definitely no Jerry Tarkanian. But they do have a coach in Lon Kruger, who took Florida to a Final Four a few years back. And Lon brought his son Kevin to Vegas, giving the team a talented three-point shooter. This version of the Runnin' Rebels has been overlooked most of the season, but they won 30 games and they live up to their nickname in the quick department. And they did beat a No. 2 seed, Wisconsin, to get this far.
UPDATE: Kruger and company acquitted themselves well for a team that had disappeared from the national scene for a decade. They put four players in double figures against Oregon and made the Ducks play a full 40 minutes of basketball.