Hillary Bows Out of Presidential Race
Senator Hillary Clinton has suspended her campaign for the Democratic presidential nomination and is now endorsing former rival, Barack Obama. She spoke to supporters on Saturday in Washington.
ANDREA SEABROOK, host:
From NPR News, it's ALL THINGS CONSIDERED. I'm Andrea Seabrook.
Until today Hillary Clinton was standing between Barack Obama and the White House. This afternoon she vowed to help him get there.
Senator HILLARY CLINTON (Democrat, New York, Former Presidential Candidate): As I suspend my campaign, I congratulate him on the victory he has won and the extraordinary race he has run. I endorse him and throw my full support behind him.
(Soundbite of cheering)
SEABROOK: And Senator Clinton urged her supporters to do the same. The former First Lady spoke at the National Building Museum in Washington, and NPR's David Welna was there. David, everyone was wondering whether this would be a full-throated endorsement or a sort of grudging endorsement of Barack Obama. What do you think?
DAVID WELNA: Well, Andrea, I'd say this was about as full throated an endorsement as Obama could ever hope for from Hillary Clinton. And even though she said she was suspending her campaign rather than ending it, one of her aides explained that that's merely a technicality to make sure that all her delegates can go to the convention, and also to be able to keep raising money to retire a nearly $30 million campaign debt.
But, you know, Clinton, I think, was quite unstinting in her backing of Obama, and I think that sent a very important signal to the millions of voters who backed her. You could really hear a new tone from her today. Let's listen to a bit of her speech when she talked about her one-time rival Obama.
Sen. CLINTON: I have been in this campaign with him for 16 months. I have stood on the stage and gone toe-to-toe with him in 22 debates. I've had a front row seat to his candidacy and I have seen his strength and determination, his grace and his grit.
SEABROOK: So, David, I know you got a chance to mingle with some of her supporters afterwards. How'd this pitch go over?
WELNA: Well, you know, she got a lot of applause when she praised Obama but you could also hear some people booing there. There are some Hillary Clinton supporters who clearly were not heeding her call to join her in making sure it's Obama who ends up in the White House next year. And I talked to one of those holdouts after the speech, an African-American woman from Chicago named Gloria Mitchell who said she planned to write in Clinton's name on the ballot rather than vote for Obama.
Ms. GLORIA MITCHELL (Hillary Clinton Supporter): I think the Democratic Party was willing to hijack a process, give Florida voters half a vote in order to crown him king, in order to give him the nomination. They took votes away from Hillary in Michigan to give it to him, so that makes his candidacy contaminated.
WELNA: You know, Andrea, my sense from speaking to many others in the crowd was that the thumbs down on Obama that you just heard was not at all the general sentiment. Much more typical was this college professor from Philadelphia, named Thelova Radanuchi(ph), who said she worked day and night for six weeks to help Clinton win the Pennsylvania primary.
Professor THELOVA RADANUCHI (Hillary Clinton Supporter): I am broadly disappointed as a women; I am deeply disappointed as a mother. I loved her speech. I think she personifies everything that's great about us as Americans. No question about it. But she, I think, is right. We must have a Democratic president, we must have a Democratic president and we must have a Democratic president.
SEABROOK: David, the big question now, of course, in terms of Hillary Clinton is what about her future? What does she do next?
WELNA: Well, you know, today she said nothing being about Obama's running mate, but that's clearly what a lot of her supporters were hoping to hear today. She did say that she'd work her heart out to make sure that Obama is the next president. But she also said she's just going to count her blessings and, you know, keep doing what she's been doing long before the cameras showed up: public service.
And she does, after all, have another four years left in her term as a U.S. senator from New York. And she made clear that working for universal health care coverage would be a top priority of hers.
Sen. CLINTON: This isn't just an issue for me. It is a passion and a cause and it is a fight. I will continue until every single American is insured. No exceptions and no excuses.
SEABROOK: And, of course, there's been a lot of talk about the possibility of her vice presidential chances and even a meeting between Barack Obama and Hillary Clinton a couple of days ago. But no word about that in the speech, David.
WELNA: There was nothing, and I think that she realizes that if she were to push this publicly it would put Obama in a position of looking as if he were being forced into choosing her. And I think it would've been counterproductive for her to mention it. But it certainly was being mentioned by people in the crowd.
SEABROOK: Now, let's turn to the last part of the speech. Very important - at least the last half even of the speech - was this idea of the candidacy of a woman. Let's listen to a little sound where Hillary Clinton spoke about the campaign to get a woman into the White House.
Sen. CLINTON: Although we weren't able to shatter that highest, hardest glass ceiling this time, thanks to you, it's got about 18 million cracks in it.
(Soundbite of cheering)
SEABROOK: David, she spoke a lot about this idea in her speech.
WELNA: Yes. And in fact, the majority of people, the vast majority of people in the conference were women, and many of them said that it was the fact that she was a woman and that there had never before been a woman who had gotten so close to the presidency that had cheered them on as well. And they were shattered by this, and I think she really had to sort of boost these women up and say, you know, we got to keep going; we got very close. But it's now clear that it's possible for a woman to have gotten as far as I did.
SEABROOK: NPR's David Welna, thanks very much for joining me.
WELNA: You're welcome, Andrea.
NPR transcripts are created on a rush deadline by Verb8tm, Inc., an NPR contractor, and produced using a proprietary transcription process developed with NPR. This text may not be in its final form and may be updated or revised in the future. Accuracy and availability may vary. The authoritative record of NPR's programming is the audio record.
Clinton Exits Race, Vows to Fully Support Obama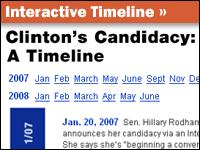 The one-time "inevitable" candidate for the Democratic presidential nomination ended her campaign Saturday with an unequivocal endorsement of her rival.
Addressing a boisterous, passionate crowd at the National Building Museum in Washington, D.C., Hillary Clinton urged her supporters to join her in helping Barack Obama win the White House.
"The way to continue our fight now, to accomplish the goals for which we stand, is to take our energy, our passion, our strength and do all we can to help elect Barack Obama the next president of the United States," she said.
Making History
It was the final pageant of Clinton's historic run for the presidency, and her supporters began lining up at dawn to see it. Some Obama supporters joined them in a show of Democratic Party unity, which was what the event was ultimately all about.
Clinton arrived about a half-hour late, accompanied by her husband, former president Bill Clinton, and their daughter, Chelsea, all three of them dressed in black. Despite the funereal attire and disappointing conclusion to her candidacy, Hillary Clinton celebrated the history she'd made.
"When I was asked what it means to be a woman running for president, I always gave the same answer: that I was proud to be running as a woman, but I was running because I thought I'd be the best president," she said. She acknowledged, however, that she did face "barriers and biases."
"You can be so proud," she told the cheering crowd, "that, from now on, it will be unremarkable for a woman to win primary state victories, unremarkable to have a woman in a close race to be our nominee, unremarkable to think that a woman can be the president of the United States. And that is truly remarkable, my friends."
Clinton likewise acknowledged the historic significance of Barack Obama becoming the first African-American to be the presidential nominee of a major party. Calling this a "turning-point election," she said, "When we first started, people everywhere asked the same questions: Could a woman really serve as commander-in-chief? Well, I think we answered that one. And, could an African-American really be our president? Sen. Obama has answered that one. Together, Sen. Obama and I achieved milestones essential to our progress as a nation, part of our perpetual duty to form a more perfect union."
Clinton was frequently interrupted by cheers. Those were accompanied by a smattering of boos when she asked the crowd to join her in supporting Obama.
Shifting allegiances was still a work-in-progress for some of them. "I'm getting there," said 61-year-old Marti Haub. She confessed she'd been "hoping for some kind of a miracle" that would get Clinton on the ticket. But she accepted that Democrats had to coalesce around Obama and said, "I'm a Democrat and always have been."
Party Unity
Clinton said the Democratic Party was like a family, and "it's now time to restore the ties that bind us together and to come together around the ideals we share, the values we cherish and the country we love."
To show the new-found good will, Clinton's campaign Web site now says: "Support Senator Obama today." Likewise Obama's Web site urges his supporters to e-mail their thanks to Hillary Clinton.
The Long Goodbye
It's been a long goodbye for the former front-runner. Clinton fell hopelessly behind in the delegate count in February when she lost 11 straight contests to Obama. Even her later victories in some large swing states like Pennsylvania and Ohio weren't enough to undo the damage.
On June 3, when the exhausting, hard-fought race drew to a close, she still was unable to acknowledge that Obama had secured enough delegates to win the nomination. That night she told supporters she was making no decision about the future of her campaign and continued to press her highly debatable argument that she'd won the popular vote. She was widely criticized for failing to support Obama as the presumptive nominee right then and there.
But by Thursday, Clinton was ready to meet with Obama one-on-one, face-to-face. California Sen. Dianne Feinstein, a Clinton supporter, lent her Washington, D.C., home for that event. There's been no word about what was said in the hour-long meeting. A joint statement from the Clinton and Obama campaigns said simply: "Senator Clinton and Senator Obama met tonight and had a productive discussion about the important work that needs to be done to succeed in November."
Looking Ahead
Obama released a statement on Saturday declaring himself "thrilled and honored to have Senator Clinton's support."
"Our party and our country are stronger because of the work she has done throughout her life," he continued, "and I'm a better candidate for having had the privilege of competing with her in this campaign. ... No one knows better than Senator Clinton how desperately America and the American people need change, and I know she will continue to be in the forefront of that battle this fall and for years to come."
For her part, Clinton gave no inkling that she was angling to be Obama's running mate, something she's previously said she'd be open to and something that many of her backers want. Instead, she urged her supporters not to think "if only" or "what if."
"Don't go there," she said. "Every moment wasted looking back keeps us from moving forward."
And to show just how much she was getting with the Obama program, she even tried to inspire the crowd with his signature slogan, "Yes, we can." Unlike the crowds at Obama's rallies, however, none of Hillary Clinton's supporters took up the chant.