Analyst: Clinton Unlikely VP Choice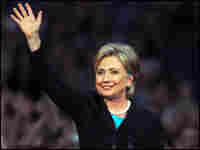 Even though Hillary Clinton is officially out of the Democratic race for president, Jim VandeHei of Politico.com says she isn't going away anytime soon. "The sky's the limit," he says.
Just don't expect to see her on the Democratic ticket as vice president.
"I'd be shocked if she was put on the ticket," VandeHei says.
Barack Obama's camp, he says, doesn't want her for a variety of reasons.
"She interferes with the idea that they're trying to bring radical change," VandeHei says. Additionally, he says, the Obama campaign has been characterized by its ability to run a tightly controlled ship with few leaks, and adding Clinton to the ticket could threaten that stability.
Instead, VandeHei says to watch for Hillary Clinton to be a prime mover in the Democratic Party. If Obama doesn't win this year, he says, she could run again in 2012. She could run for governor in New York.
Or she could become a major leader in the Senate. She's already won over lots of Republicans there, he notes.
"She could be a better senator than vice president," VandeHei says