A Woman's Struggle: Rushdie's 'Enchantress'
A Woman's Struggle: Rushdie's 'Enchantress'
The Enchantress of Florence is the latest novel by Salman Rushdie. The book tells the story of a woman trying to take control of her destiny in a decidedly male world.
MELISSA BLOCK, host:
Salman Rushdie is known for writing sprawling historical novels that blur reality with fantasy. His latest novel, "The Enchantress of Florence," is no exception. Rushdie takes us from one exotic locale to the next, from Florence at the dawn of the Italian Renaissance to the court of India's ancient Mughal Empire.
Alan Cheuse has this review.
ALAN CHEUSE: As the novel opens, we see a stranger from the West who calls himself Mogor dell'Amore, or the Mughal of Love, swindle and murder in order to gain an audience with the great head of state.
When he gets his audience with the emperor, he tells a constantly changing and embellished story. It's a story right at the center of the larger narrative Rushdie recounts of the greatness and the utter fragility of a powerful empire.
In this half-discovered world, the writer announces, every day brought news of fresh enchantments. The visionary revelatory dream poetry of the quotidian had not yet been crushed by blinkered prose fact. But actually it's fact that's allowed Rushdie to construct this great dream palace of a novel. An eight-page bibliography follows the end of the story. To build his twin tale of life in the grand city of Florence, his hero's home, and Sikri, the Mughal's capital city to which he has traveled, the novelist had to digest a library wall of volumes.
In a world in which many readers seem to crave fact after fact after fact, the tiresome legacy of our Puritan ancestors, Rushdie miraculously turns fact into something greater. Transforming clay bricks into gold, he gives facts life, telling a tale of two cities teeming with what Latin American magical realists call marvelous reality. And marvelous above all are the women, from prostitutes to empresses, real and imaginary. And the most marvelous of all the women is our hero's supposed ancestor, Qara Koz, the beautiful sorceress who makes the reverse journey from East to West. She becomes, as Rushdie calls her, a new symbol of Florence, the incarnation in human form of the unsurpassable loveliness of the city itself, the dark lady of Florence.
Poets reached for their pens, artists for their brushes, sculptors for their chisels. My guess is that as soon as he met her, Salman Rushdie started typing.
BLOCK: "The Enchantress of Florence" is the latest novel from Salman Rushdie. Our reviewer, Alan Cheuse, teaches writing at George Mason University in Fairfax, Virginia.
NPR transcripts are created on a rush deadline by Verb8tm, Inc., an NPR contractor, and produced using a proprietary transcription process developed with NPR. This text may not be in its final form and may be updated or revised in the future. Accuracy and availability may vary. The authoritative record of NPR's programming is the audio record.
Rushdie's Latest Novel Blurs Imagination, History
Rushdie's Latest Novel Blurs Imagination, History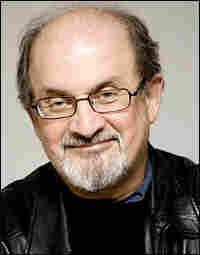 Beowulf Sheehan/PEN American Center
More on Rushdie
Salman Rushdie's days of living in hiding are long over.
Almost 20 years ago, the novelist faced death threats and an Iranian fatwa that called for his execution after his book The Satanic Verses was published. He went underground for nearly a decade.
Today, Rushdie lives and publishes openly. Some critics say his latest novel, The Enchantress of Florence, released Tuesday in the U.S., should be a front-runner for the Man/Booker Prize in Great Britain. It's a tangled work of historical fiction that spans generations of Mughal Indian emperors and Florentine aristocrats.
In a conversation with NPR's Robert Siegel, Rushdie talks about the blurring of imagination and reality to create the novel. Rushie, who studied history at Cambridge University, says he created characters based on historical figures who, in turn, imagined other characters.
"It comes out of the old Pygmalion idea of men who invent women to fall in love with who then escape them," Rushdie says. "In the case of the Emperor Akbar, who is the character in the novel who invents the queen for himself, it came out of the fact that in India today, if you ask people who was the queen of the great emperor Akbar, they all say Jodha. If you look at the historical records, she didn't exist."
Rushdie calls it a "curious legend" of the Hindu queen.
"To show his tolerance, he did not ask her to convert to Islam and indeed continued to observe her religious practices alongside his own," Rushie says. "It's a happy legend for India because it's a myth of inclusion and tolerance."
But that got him thinking about the queen's very existence.
"If she doesn't exist now but everyone thinks she did, then maybe she didn't exist then but everyone thought she did."
In creating the novel, Rushdie says he was serious about sticking to the historical record in his account of India and Renaissance Italy in the 16th century. But then he took the story a step further to give it life.
"No matter how well people are known in history, if you're a novelist, you still have to perform the imaginative act of entering their heads and working out how they would think and feel," Rushdie says. "And of course, that's the pleasure of it."
One phrase that is repeated throughout the book is this: "The curse of the human race is not that we are so different from one another, but that we are so alike."
Rushdie says the great discovery he had while writing the book was he began to find "mirrorings and echoes" that showed the similarities between the two civilizations.
"I abandoned one or two story lines as not convincing, then I found this true incident in the early career of the first emperor, Barbar, where he was besieged and had to surrender his beautiful sister to his rival warlord as the price of his own survival," Rushdie says of the Indian leader.
"The great thing about history is the stuff that's there is better than you can make up," he says. "An Uzbek warlord called Lord Wormword is just too good to be true."
Indeed, Rushdie admits that the stuff readers would think is magic realism is actually in the historical record, and the stuff people will assume is real is what he made up.
When it comes to his own personal history, Rushdie says he leads the normal life of a writer despite having lived under protective custody in a suburban Virginia hotel more than a decade ago.
But he's trying to shed the reputation that he has a dark and serious personality.
"The threat against me was arcane and theological and unfunny. There's an assumption that I must be arcane and theological and unfunny," Rushdie says. "And I think it puts people off. When I go around lecturing at colleges and so on, every single time I do it somebody comes up to me and says 'Who knew that you'd be funny?' People have this expectation of a very dark, serious kind of burdened person. I'm just trying to burst back into Technicolor."