Young Musicians Excel in Aspen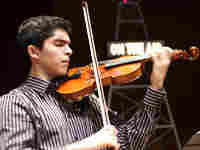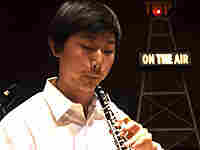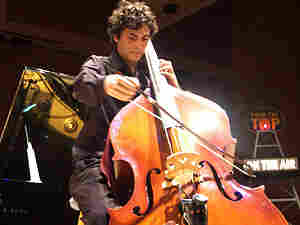 This week, From the Top comes from the Harris Concert Hall in Aspen, Colorado, where teenagers spending their summer at the Aspen Music Festival and School offer up inspired performances. Among the gifted young musicians are an oboist from China, a pianist from Ukraine, and a double bassist who plays both classical music and jazz.
It wasn't exactly love at first sight (or sound) for eighteen-year-old Nicholas Schwartz and classical music.
"I really despised it," he confesses. "When I was growing up my parents would take me to [classical concerts at] Tanglewood, and they were the worst times for me."
Later, while in a jazz ensemble, Schwartz became intrigued by the bass. "The more I got into jazz the more I thought it would be cool to play an upright bass," he says. When he started learning the instrument, his attitude about classical music started to change. These days, Schwartz enjoys playing both classical and jazz music. "I think the jazz really contributes to the classical and vice versa," he says.
Schwartz plays music from a double bass concerto by Johann Baptist Vanhal, accompanied by pianist Christopher O'Riley.
Seventeen-year-old Xuanbo Dong—known as "Kong" to his friends—hails from China and studies at Idyllwild Arts Academy in California. He loves the rustic beauty of the area, especially at night.
"When I'm done practicing and am outside looking at the moon, it makes my heart peaceful. I remember my childhood in my homeland."
Dong's first teacher was his father, an oboist. "I'm proud of my father," says Dong. "He did so much for me, and I really appreciate his efforts to make me a good man. Now I'm working hard to prove he's right." Dong hopes to become a great oboist one day, and a novelist. He plans to write three novels – one at the age of 30, one at 40, and one at 50.
Dong plays a humoresque by Carl Nielsen, with host Christopher O'Riley at the piano.
Ryan Meehan, 17, began studying violin in the first grade, but it wasn't until he met his former teacher, Amy Schwartz Moretti, that he became truly inspired.
"She was, at that time, the concertmaster of the Florida Orchestra and I went to all her concerts," says Meehan. "Taking lessons with her was an incredible experience because her demonstrations were so outrageously beautiful. Whether she was playing a Weiniawski concerto or scales, everything was beautifully musical, and it inspired me to want to express all the music I felt deep down in my soul."
Meehan enjoys playing violin so much that even practicing never feels like a chore. "It's my only interaction with music on most days, and without it, I'd feel empty," he says.
Meehan plays a movement from a violin sonata by Johannes Brahms, with Christopher O'Riley.
Dasha Bukhartseva met the From the Top crew at the Aspen Music Festival, but she comes from Odessa, Ukraine, where she lives with her mother. Bukhartseva and her mom have gone through some tough times in Odessa. When they first moved there, from a small village in Ukraine, they had no place to live so they camped out in a music school.
"It was a very tiny room," recalls Bukhartseva. "We lived there for almost half a year."
Life turned around for the fourteen-year-old pianist when an American couple, Dan and Lynne Levinson, heard her play in a concert in Odessa. They were so taken with her passion and bubbly personality that they decided to help her come to the U. S., something Bukhartseva dreamed of doing.
"We invited the head of the Aspen Music School to watch a DVD of her playing piano," recalls Dan Levinson, "and she was offered a full scholarship for the summer."
Bukhartseva is enjoying her summer in Aspen. "I like to watch the mountains through the window in the morning when I'm practicing," she says. She is excited to go home to Odessa now too, where she is living in a nice house with a new piano, thanks to the generosity of her American family.
Bukhartseva plays two short Ukrainian pieces: "Autumn Leaves" by Oleg Polevoy, and "Toccata," by Vitaly Filipenko.
The Trillium Trio—violinist Caroline Goulding, 14, cellist Alina Lim, 17, and pianist Sijing Ye, 15—was formed especially to play on From the Top's visit to the Aspen Music Festival and School. The three young women all rave about life in Aspen.
"This is my fourth summer here," says Goulding. "I couldn't imagine spending my summers anywhere else."
Although the members of the trio had never worked together before this summer, they clicked right away.
"When you have a great chamber group, you can immediately tell," says Goulding. "It's amazing working with these people." The Trillium Trio performs the first movement from the Piano Trio No.1, by Johannes Brahms.
This show originally aired December 5, 2007