Passing the Torch of Leadership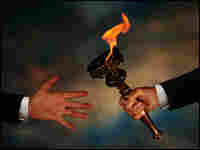 Are traditional civil rights leaders ready for a new generation to take the helm? How well do different generations work together in the African-American community?
For insight, Farai Chideya speaks with James Rucker and Charles Steele Jr.
Rucker is executive director and co-founder of the San Francisco based-organization, Color of Change. The group's projects have included Web-based organizing for protests around the Jena Six case.
Steele is national president and CEO of the Southern Christian Leadership Conference, a civil rights organization co-founded by Martin Luther King Jr.