Obama's Possible Running Mates
Watching Washington
NPR Senior Washington Editor Ron Elving looks at some of the top vice presidential prospects on the Republican side.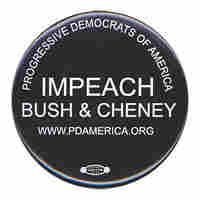 Now that Hillary Clinton has suspended her campaign and made nice with Barack Obama, we've suddenly gone from the unexpected — a history-making battle for the Democratic presidential nomination that went down to the wire — to the expected: the quadrennial Beltway blather about who will be the running mate.
At least this time it will be somewhat of a truncated ritual. In 2000 and 2004, when Al Gore and John Kerry respectively wrapped up the nomination quite early, we were left with months and months of nothing to do other than to prognosticate about their VP selections. Kerry's pick was hardly a surprise; he chose John Edwards, who competed with him for the nomination. Gore, on the other hand, was far more unconventional; he picked Joe Lieberman, the first Jew to appear on a major-party ticket and, just as interesting, a strong critic of President Bill Clinton's behavior, sending the message that Gore would distance himself from his mentor. It's a choice whose merits are still being debated.
Nothing about 2008 has been conventional, and so a conventional pick by Obama for a running mate would be surprising. Before we go through the plusses and minuses of the prospective choices, we should repeat what we've long been saying: The influence the No. 2 person on the ticket has on the election result is often overrated. Voters vote for the presidential candidate, not the VP choice. Four years ago, everyone said that Kerry's selection of Edwards was an inspired choice, but it's hard to make the case that it helped the ticket in November. No Southern state, including Edwards' home of North Carolina, voted Democratic that year. Similarly, for all the fanfare of having Geraldine Ferraro as the VP candidate in 1984 — the first woman to be part of a major party ticket — Democrat Walter Mondale still lost 49 states.
Conversely, from the moment he was chosen in 1988, Dan Quayle was a distraction, if not a danger, to the Republicans' prospects for victory. He was often made out as an object of ridicule and derision. And yet the Bush-Quayle team won 40 of 50 states that year.
But sometimes the VP choice does make a difference. Lyndon Johnson may have been what put John F. Kennedy over the top in 1960. Even if they didn't like each other — and we sure know of the antipathy LBJ and Robert Kennedy had for each other — it was a significant choice. Bill Clinton threw conventional wisdom out the window in 1992 when he picked fellow Southerner and baby boomer Al Gore. But their chemistry was apparent from day one. Contrast that with the shotgun marriage of Bob Dole and Jack Kemp in 1996. They didn't care for each other when they both ran for the GOP nomination in 1988, and the relationship was not much better when they ran together eight years later.
Having just made the argument that the selection of a running mate is overrated, let's add a caveat here. Barack Obama's nomination has left some bruised feelings in the Democratic Party. Many women still feel that sexism cost Hillary Clinton the top spot. Some have threatened to vote for Republican John McCain in November. Others have said that they will pull the Democratic lever only if Clinton is on the ticket. Whom he picks will send a signal as to how he feels he can get all the Democrats on the same page in November.
For all the excitement and heart palpitations that Obama's likely nomination has created, it should not be forgotten that he is someone with all of three and a half years' experience in the Senate. And so it will be instrumental to watch how he attempts to solidify his credentials in the selection of a running mate.
Handicapping the VP Short List
First and foremost on the list is Hillary Clinton. She seems to want it, and her supporters are demanding it. Her classy and gracious departure from the race on Saturday may have been her finest moment. If Obama limped across the finish line en route to the nomination, losing primaries in Ohio, Pennsylvania, Indiana, Kentucky, West Virginia, Puerto Rico and South Dakota, perhaps putting Clinton on the ticket — and her obvious appeal to women, Latinos, older voters and working-class whites — would be what the doctor ordered.
The problems of an Obama-Clinton "dream" pairing, however, are multiple. Yes, everyone is making nice now, but there are some truly bruised feelings in the Obama camp over how they viewed her tactics. If Obama stands for "change," what does it say about his picking Hillary, whom his supporters derided as part of the old politics (though, when you think of it, having an African American and a woman on a ticket seems to be the ultimate embodiment of change). The Republican Party still seems to be in some state of disarray, but having Clinton on the ticket could rejuvenate GOP voters. Perhaps most important, picking Hillary means you get Bill in the process. It's a variation of the "get two for the price of one" they successfully employed in his 1992 election to the White House, only this time without the pluses. The nation's premier Democrat when the race began, Bill Clinton's legacy has been severely damaged, perhaps fatally, for his comments, lecturing, blowups and finger-wagging that began in South Carolina and never let up. It may be true that Hillary would never have been a major presidential contender had it not been for Bill, but one can only wonder what her campaign would have been like without the distraction of Bill. As he became more shrill and out of control, she seemed to find her real voice, albeit too late. As it is, there are still many unanswered questions about the former president's business dealings — questions Obama is not likely to ignore.
Indeed, questionable financial transactions have already claimed one casualty in the Obama camp: Jim Johnson resigned as head of Obama's VP search committee on Wednesday afternoon. The former CEO of Fannie Mae, Johnson had come under criticism for receiving loans with the help of the CEO of Countrywide Financial — a firm under federal investigation for its role in the subprime mortgage crisis. In 1984, Johnson also led Walter Mondale's VP search committee. In picking Ferraro, that committee completely missed the dubious financial shenanigans of her husband, John Zaccaro.
(Another person on the Obama veep vetting team, Clinton administration deputy attorney general Eric Holder, played a role in helping fugitive financier Marc Rich get an 11th hour pardon from President Clinton. No criticism thus far for the third member of the team, Caroline Kennedy. But it's early.)
So If Not Hillary, Then Who?
Does Obama pick a woman to compensate for not picking Clinton? It's unlikely that Clinton's female supporters will be mollified by the presence of another woman on the ticket. Names that have been bandied about include Kansas Gov. Kathleen Sebelius, Arizona Gov. Janet Napolitano, and Sen. Claire McCaskill of Missouri. Interestingly, all three backed Obama over Clinton. Neither governor would help Obama with his lack of foreign policy bona fides, and McCaskill has been in the Senate for less than two years.
One governor who does have the resume is New Mexico's Bill Richardson. When he was running for president this year, many dismissed Richardson as someone simply angling to become Clinton's VP. He did seem deferential towards her during some of the debates. So it was a shock when he endorsed Obama in late March. A sputtering Bill Clinton, who spent Super Bowl Sunday trying to get Richardson to endorse his wife, was furious. One Clinton loyalist, James Carville, likened Richardson to Judas. Picking Richardson, who is Hispanic, might be an inspired choice, but it could anger the Clinton camp. (Still, don't rule out Richardson as the running mate.)
Looking for Foreign Policy Bona Fides
If foreign policy credentials are what Obama needs, he could do worse than Sen. Joe Biden of Delaware, who seemed to impress everyone this year — except the voters, that is — with his command of the issues and his detailed proposals for dealing with them. Biden, who stayed neutral in the Obama-Clinton battle, has been in the Senate since 1973. An agent of change? No. But Biden is a steady hand in an unsteady world. Perhaps a more likely secretary of state.
Sam Nunn's name has surfaced, which has struck us as odd. Once the preeminent Democrat on defense policy, Nunn represented Georgia in the Senate for four terms and served as Senate Armed Services Committee chairman. But he has been out of office since 1996, and he'll turn 70 this year. Surely the Democrats have someone with Nunn's national security resume without having to go that far back into the past.
That leads some to Sen. Jim Webb of Virginia. A former secretary of the Navy during the Reagan administration and a decorated war hero, Webb has a new book out and appears to be angling for the job. Webb would be a two-fer: a defense hawk from a potentially winnable state. But he can be a bit intense and somewhat quirky.
Tom Daschle's name has come up in recent weeks. The former Senate majority leader is an amiable figure who was instrumental in getting key superdelegates to board the Obama train. Two strikes against Daschle: He was defeated in his bid for re-election in 2004, and he failed to put South Dakota in the Obama win column on June 3. Plus, his state has only three electoral votes. (Though, by our calculation, it's the same amount Wyoming — home of Dick Cheney — has.)
Conventional Veep Candidates
If Obama is thinking conventional, and is concerned about key states he lost during the primaries, there's Govs. Ted Strickland of Ohio and Ed Rendell of Pennsylvania to consider. Both were Clinton supporters, and both were instrumental in her victories in these voter-rich states. Strickland has given NPR and others a Shermanesque pledge that he won't take the VP spot, and Rendell, who is notorious for speaking his mind, may be too unpredictable to add to the ticket. I have a hard time envisioning Obama choosing a running mate based on that person's ability to help carry a state. Too conventional.
Similarly, Sen. Evan Bayh of Indiana, an early Clinton supporter, may not possess the most impressive campaign skills. And he's no guarantee to bring Indiana on board in November; the state hasn't voted Democratic since Lyndon Johnson ran in 1964. But he brings a quiet confidence that could balance the rock star in Obama.
Others on the list: Sen. Chris Dodd of Connecticut, Virginia Gov. Tim Kaine, retiring Republican Sen. Chuck Hagel of Nebraska, former NATO commander and erstwhile prez hopeful Wes Clark, and another, less political ex-NATO commander, retired Gen. James Jones. John Edwards, the 2004 Democratic vice presidential nominee, has been mentioned, but he says he wants no part of it.
I have not yet wrapped my arms around a prediction; that will come soon, once I finally exhale. But who's your pick? Let me know and I'll devote an entire upcoming Junkie to it.
As for the Republican possibles, check out the April 2 column. I'm sticking with my prediction of former Ohio congressman Rob Portman as McCain's running mate. Names who were on that list and who I consider still to be among the potentials include Minnesota Gov. Tim Pawlenty, Sen. John Thune of South Dakota, former Massachusetts Gov. Mitt Romney, ex-Arkansas Gov. Mike Huckabee, and Sen. Joe Lieberman (I-D) of Connecticut — and probably in that order. Others mentioned, such as Sen. Lindsey Graham of South Carolina, and Govs. Charlie Crist of Florida, Bobby Jindal of Louisiana, Sarah Palin of Alaska, and Mark Sanford of South Carolina, may be fading.
Time for two questions:
Q: Why won't you say anything about Rep. Dennis Kucinich's (D-OH) effort to impeach President Bush? - Susan Lawrence, St. Paul, Minn.
A: There's not much to say, at least not at the moment, other than the fact that Kucinich has introduced the bill and spent five hours on the House floor the other day spelling out his 35 articles of impeachment, charging President Bush with war crimes, endangering civil liberties and lying to the public. An earlier effort by Kucinich to impeach Vice President Cheney went nowhere, as Democrats for the most part hid from the attempt. House Speaker Nancy Pelosi has repeated her position that impeachment was "off the table." If the Judiciary Committee, under chairman John Conyers (D-MI), plans to hold hearings on the bill, you will certainly hear more of Kucinich's effort.
Q: I see that New York City Mayor Michael Bloomberg is considering running for governor in 2010. Has a NYC mayor ever accomplished that feat? - Joan Harrison, Buffalo, N.Y.
None has. Ed Koch, a Democrat elected mayor in 1977 for the first of his three terms, was considered a shoo-in to become governor in 1982, when Hugh Carey (D) was stepping down. But ill-advised dismissals of the suburbs ("it's sterile") and rural life ("a joke") badly backfired on him, and he lost the gubernatorial primary to the guy he beat for mayor in '77, Mario Cuomo.
Robert F. Wagner Jr. (D), who served three terms as mayor from 1954-65, tried to win a Senate seat in 1956 but lost to GOP state Attorney General Jacob Javits. John Lindsay (R, then D), a two-term mayor from 1966-73, attempted a comeback in 1980 by also running for the Senate, but he could do no better than finishing third in the Democratic primary. He also sought the Dem nomination for president in 1972.
Of course, the quickest rise in Empire State politics may belong to Grover Cleveland, though he hailed from Buffalo, not the Big Apple. Elected mayor of Buffalo in 1881, he was elected governor of New York just a year later. And in 1884, he won the presidential election.
TUESDAY'S PRIMARIES:
Maine: Democrats nominated Rep. Tom Allen by a wide margin to take on two-term GOP Sen. Susan Collins. Chellie Pingree, the former head of Common Cause, is the Democratic nominee hoping to succeed Allen in the 1st District; she will face former state Sen. Charlie Summers (R), who recently returned from serving with the Navy in Iraq.
South Carolina: Sen. Lindsey Graham (R) disposed of Buddy Witherspoon in the GOP primary by a 2-1 margin; Witherspoon ran as an opponent of the immigration overhaul measure championed by Graham and John McCain. The Democratic contest was too close to call as of this writing. Whoever wins the nomination — attorney Michael Cone or engineer Bob Conley — will be a decided underdog against Graham in November.
Virginia: The Senate matchup had already been decided in the party state conventions. The fight to succeed retiring five-term Republican John Warner is between two former governors: Mark Warner (D), no relation to John, and Jim Gilmore (R), who had a surprisingly tough fight to win the nomination against a little known challenger from his right. It's the Democrats' best shot at a Senate pickup opportunity in November. Rep. Tom Davis (R-11th), who once had dreams of replacing Sen. Warner, is retiring after seven terms. Running to replace Davis are Gerry Connolly, the chairman of the Fairfax County Board of Supervisors who defeated former Rep. Leslie Byrne in the Democratic primary, and first-time candidate Keith Fimian, a Republican businessman.
POLITICAL POTPOURRI: Comedian and Democratic activist Al Franken wins his party's nomination for the Senate in Minnesota to take on incumbent Republican Norm Coleman in November. Franken had been on the defensive for an article he had written in Playboy magazine that was seen by some critics as lewd and misogynistic. He was also accused of having failed to pay workers compensation insurance and back taxes for businesses he has owned. Franken remains one of the best-financed challengers of any Senate race in the country.
Rep. Ron Paul (R-TX), who continues in his bid for the presidential nomination despite numbers suggesting that John McCain has it wrapped up, is planning his own "mini-convention" in Minneapolis while the Republicans are meeting in nearby St. Paul. Paul is hoping that thousands of his supporters will fill the Williams Arena at the University of Minnesota on Sept. 2, the day before McCain will formally accept the GOP nomination.
Sen. John Kerry (D-MA), whose likely Republican opponent, Jim Ogonowski, was ruled off the ballot last week because of insufficient petition signatures, will apparently get his first primary challenge since he was initially elected in 1984. Attorney Ed O'Reilly got enough votes at the Dem state convention to force Kerry into a Sept. 16 primary. The Progressive Democrats of America, which backs O'Reilly, criticizes Kerry for having "failed to filibuster on Iraq funding, take leadership on single-payer health care legislation in the Senate and pursue impeachment" of President Bush.
John Frohnmayer, an independent candidate for the Senate from Oregon — whose brother Dave was the GOP gubernatorial nominee in 1990 — has ended his candidacy, citing lack of funds and support.
Several Democratic House members — notably Dan Boren of Oklahoma and Tim Mahoney of Florida — have pointedly refused to endorse Obama for president. Boren, the lone Democrat in his state's congressional delegation, dismisses Obama as the "most liberal senator in the U.S. Senate." Mahoney, who won Mark Foley's (R) seat in 2006, hasn't gone as far as Boren, but is keeping his distance from his party's presumed presidential nominee.
ON THE CALENDAR:
June 17 - Special election in Maryland's 4th Congressional District to replace Albert Wynn (D), who resigned. Donna Edwards, who defeated Wynn in the February primary, is heavily favored.
June 24 - Utah primary.
July 10-13 - Green Party national convention, Chicago.
July 15 - Georgia primary. Sen. Saxby Chambliss (R) is seeking re-election.
CHECK OUT NPR'S SENATE MAP: All 35 seats up in 2008 are analyzed on NPR's new interactive Senate map.
POLITICAL JUNKIE EVERY WEDNESDAY AT THE NEWSEUM: For years now (I know, it seems longer), Talk of the Nation, NPR's live call-in program, has featured a "Political Junkie" segment every Wednesday at 2 p.m. ET. Now TOTN (and its Junkie sidekick) take their act each Wednesday before a live audience at the Newseum, Washington's new interactive museum dedicated to journalism. It is located at 555 Pennsylvania Ave., N.W., off Sixth Street.
Want to be part of the live audience? The tickets are free. And you get to see what Ken Rudin looks like in person, a worrisome proposition in any case. Send an email request to tickets@npr.org.
Sadly, however, some weeks are different than others. Bob Kenney of Kensington, Md., writes, "I went to the Newseum last Wednesday to see you in person, and was quite disappointed that you weren't there. Although seeing Scott (the Rat) McClellan on the show was of some interest, it just didn't make up for not seeing the 'Political Junkie' in person."
I have an excuse for this one. Some kid named Michael Rudin was graduating from high school that day. It was the first time in history that a Rudin graduated from high school, so it was indeed a special event. I assure you, missing Talk of the Nation will never happen again ... at least until I come up with another excuse.
Remember, if your local NPR station doesn't carry TOTN, you can hear the program on the Web or on HD Radio. And if you are a subscriber to Sirius radio, you can find the show there as well (siriusly).
IT'S ALL POLITICS: That's the name of our weekly political podcast. It goes up on the Web site every Thursday and can be heard here. Want to subscribe? It's easy, and it's free! Simply go to the iTunes web site, type in "It's All Politics," and you're there.
A lovely note from Chris Abraham, who writes from Germany, "I am quite addicted to Political Junkie — I catch it on the podcast as I wander around Berlin. Excellent energy there. Now, the game begins!"
Another, more worrisome note, comes from Brian Engel, an American living in Yokohama, Japan: "I love 'It's All Politics' and the Political Junkie segment on TOTN. I have a question — how can I get your job? Just kidding (mostly)."
******* Don't Forget: If you are sending in a question to be used in this column, please don't forget to include your city and state. *********
This day in political history: Gov. George Wallace (D) stands in the doorway to prevent Deputy Attorney General Nicholas Katzenbach from helping two black students enroll at the University of Alabama at Tuscaloosa, but later gives way following an order by President Kennedy to federalize the Alabama National Guard (June 11, 1963).
Got a question? Ask Ken Rudin: politicaljunkie@npr.org