Principal Gathers Prom Dresses for Texas School
An interview last month with Barbara Critchfield, a counselor at Shoemaker High School in Killeen, Texas, caught the attention of a fellow educator. David Waters, a principal at Timberland High School in Wentzville, Mo., organized a prom dress drive with the hope of sending 250 prom dresses to the Texas school.
MELISSA BLOCK, host:
I'm Melissa Block.
ROBERT SIEGEL, host:
I'm Robert Siegel. And this is ALL THINGS CONSIDERED from NPR News.
BLOCK: A follow-up now to a story that ran last month on the program. I visited Shoemaker High School in Killeen, Texas, which is home to Fort Hood. Nearly all of Shoemaker's 2,000 students have at least one parent in the military, many of them deployed in Iraq.
In that report, school counselor Barbara Critchfield described how the absence of parents is inescapable.
Ms. BARBARA CRITCHFIELD (Counselor, Shoemaker High School): We had a football game a couple of years ago, and that school sent a plant to us telling us that they were thinking about us. They had noticed the absence of parents on our side of the stadium during the football game.
BLOCK: Now here's the follow-up: I got a phone call from David Waters. He's the principal of Timberland High School in Wentzville, Missouri. He heard our story and decided he wanted to do something for Shoemaker too. He's on the phone to tell us what he's come up with. And Mr. Waters, what's your plan?
Mr. DAVID WATERS (Principal, Timberland High School): Well, we've developed a project called Dresses for Texas. We are collecting those prom and homecoming dresses that oftentimes are only worn once, and we're going to have hopefully 250 dresses collected by Easter to send to the students down there at Shoemaker High School.
BLOCK: And how many do you have so far?
Mr. WATERS: When I left work Friday we had about 110. And so we're about halfway home, and we figure by Easter we'll be in good shape.
BLOCK: Well, we also have Barbara Critchfield, the counselor from Shoemaker High, on the line. Barbara, what do you think about all these dresses headed your way?
Ms. CRITCHFIELD: It's phenomenal. I'm not sure if we've even ironed out how we're going to distribute the dresses or even, you know, how that's going to be done. I think we're still kind of working on that end of it. But it's just so nice, you know, of them to do that for us.
BLOCK: David Water, what about - you're taking care of the girls here, what about the guys?
Mr. WATERS: Well, as we gather the dresses, we are doing some fundraising on the side and we're trying to think about some ways that we might work for some of the tuxedo rental companies to help us on that end of the project.
BLOCK: And you're telling me that if this goal is met, 250 dresses, that you will...
Mr. WATERS: I will be wearing a prom dress to school on the Monday following Easter if we hit our goal of 250 dresses.
BLOCK: What's your size?
Mr. WATERS: I don't know a dress size. I've never tried one on, but I'm sure I'll have lots of help.
BLOCK: Barbara Critchfield, when we were talking about this last week, you mentioned that you have had some other offers of help coming in.
Ms. CRITCHFIELD: Oh, yeah. We've had several schools that heard the story. There's one in Virginia that wants to fly over and drop teddy bears on our school.
(Soundbite of laughter)
BLOCK: Well, what's the idea there? They'd be flying over the school, you said.
Ms. CRITCHFIELD: Yes. They are actually a military boarding school, if I have it correct, and they first are going to send postcards, I think, to all the kids here at Shoemaker. And then they want to do some type of a pen pal-type exchange. And then by the end of the year, they want to actually fly over with a helicopter and drop teddy bears.
BLOCK: So you just have to be ready and make sure nobody's on the track or something when that...
Ms. CRITCHFIELD: Yeah, I don't know where - I don't know how. We're still working on that one.
(Soundbite of laughter)
BLOCK: You know, Barbara Critchfield, all of these ideas sound really great and heartwarming, but I'm just thinking about the one thing that all the kids there were telling us, which is the one they wanted most was to know that their mom or their dad might be home for - whether it's graduation or prom or some big event coming up, and that's the one thing that you obviously can't give them.
Ms. CRITCHFIELD: Right. You know, we can't fix that. We can try to make it - in between now and then, try to make it a little easier for them, we hope.
BLOCK: Well, Barbara Critchfield and David Waters, thanks so much to you both.
Mr. WATERS: Thank you.
Ms. CRITCHFIELD: Thank you. And thank you, Mr. Waters.
Mr. WATERS: Yes. Well, Barbara, we hope that a little bit helps, and we look forward to getting them down there to you.
Ms. CRITCHFIELD: Oh, we're excited. We're ready.
BLOCK: Keep us posted on how it's going.
Ms. CRITCHFIELD: I will.
BLOCK: And we want those photos of you in that dress.
Mr. WATERS: Yeah.
Ms. CRITCHFIELD: Yeah, we would like that as well.
(Soundbite of laughter)
BLOCK: David Waters is principal of Timberland High School in Wentzville, Missouri. He's organizing Dresses for Texas to send prom dresses to the students at Shoemaker High in Killeen, Texas. That's where Barbara Critchfield is a school counselor.
NPR transcripts are created on a rush deadline by Verb8tm, Inc., an NPR contractor, and produced using a proprietary transcription process developed with NPR. This text may not be in its final form and may be updated or revised in the future. Accuracy and availability may vary. The authoritative record of NPR's programming is the audio record.
Iraq War's Effects Seen, Felt in High School's Halls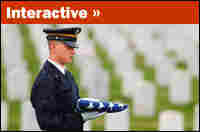 At a high school in Killeen, Texas, the imprint of the Iraq war is felt every day, by virtually every student.
Killeen is home to Fort Hood, where the Army's Fourth Infantry and First Cavalry divisions are based. The two divisions have alternated deployments through the last four years of war.
About 90 percent of the 2,000 students at Shoemaker High School have at least one parent in the military. The school's hallways are adorned with big, royal blue and silver cardboard stars. There is one for every parent who has been deployed to Iraq since the war began.
School counselor Barbara Critchfield and some colleagues had the idea for the stars soon after the war began. She recalls that they bought 80 stars with their own money, at 84 cents each.
But when they surveyed the students, they realized they didn't have nearly enough. They bought a thousand more, and then a thousand more.
And hanging above the school's entrance are seven gold stars — one for each parent who has died in Iraq. Critchfield says she often looks up as she walks through the halls.
"And a name will pop out, and I'm like, 'Oh, I need to check on him or I need to check on her,'" she says.
The absence of parents is inescapable. Once, after a football game, the opposing school sent Shoemaker a plant.
"They had noticed the absence of parents on our side of the stadium during the football game. And it struck them so hard, and they realized that our kids were doing all this without parents," says Critchfield.
Shoemaker has had four principals in three years. All the counselors are new this year, except Critchfield, who has been at the school for six years.
For students, life is filled with the usual teenage concerns: exams, football practice and young love. And yet, the war overshadows everything.
Take Eugene Daniels. The senior will play football at Colorado State next year. On a recent day, he was carrying a memory book filled with family photos. But there are just three or four pictures of his father, an Army lieutenant colonel in military intelligence.
"They're probably when my sister and me were born," Daniels says of the photos of his father. "So he's been gone quite a lot. Every time they go somewhere, he's deployed."
Since 2001, his father has been home for a year's duration just once. Many responsibilities fall on Daniels' shoulders.
"It's a lot on the students, because we're just teenagers, and I think a lot of time we forget that, because you have to grow up so fast," he says.
Critchfield says with so many parents away, school attendance has fallen. Students' grades start to slip, so fewer are graduating. The school also is seeing more discipline problems.
She also says some students worry their mothers might commit suicide while their fathers are deployed. As a result, the kids stay up all night, keeping watch.
And it's not just the students. Many teachers at Shoemaker have a spouse who has been deployed in Iraq.
Cynthia Kovach teaches art at the school, and her husband is in Iraq with the 1st Cavalry. He came home from his last deployment with what she calls "really bad" post-traumatic stress disorder.
Kovach says the longer the war goes on, the more she sees the effects on her students.
Senior Amanda Gillinger's mother is a fueler with the 4th Infantry. Gillinger's best friend is Allissa Richards, whose stepfather is a driver with the 1st Calvary and is currently in Iraq.
"What's really sad is that last goodbye could be your last goodbye — that last time you're there with that person," says Richards.
Gillinger recalls, with regret, yelling at her mother the day before she left Fort Hood for her deployment.
"We fought. I was hateful. Everything you do, you regret. You can't go back and change it. I can't say 'Mom, I'm sorry,' because she's not there. And that is devastating," Gillinger says. "You're not the same after something like that. You can't be, because it takes you and twists you and turns you, and you come out with something totally new."
Gillinger and Richards both say they don't watch the news, and they don't want to know where in Iraq their parents are deployed: They don't want to be even more frightened than they already are.
For now, the seniors at Shoemaker High are looking ahead to graduation in May. They are hoping their parents will be there, but as they've learned over the last four years, they can't count on it.
NPR's Melissa Gray produced this story.