Holy Bookworms! Superheroes Take To The Page
Quake in fear, puny humans! Spandex-clad superbeings have engineered a mass escape. From big screens and billboards, to bus ads and even bookshelves: this summer, nowhere is safe from superheroes.
To wit: Here's writer Junot Diaz explaining to the comic news site Newsarama.com why he stuffed his Pulitzer Prize-winning debut novel, The Brief Wondrous Life of Oscar Wao, with so many allusions to comic book characters:
What I'm arguing in the book, in part, is that not only are there folks that use comics and their metaphors as a way of understanding the world but that there are parts of the world, experiences in the world, that cannot be understood without the metaphors that comic books deploy.
Diaz is by no means the first contemporary writer to take funny books seriously; novelists Michael Chabon and Jonathan Lethem have famously trafficked in the uniquely American myth and metaphor of the comic book hero. And lately, writers of nonfiction have begun to explore the early history of comics, unearthing gritty tales of corruption straight out of the pulps. Meanwhile, a new generation of critics is busily deconstructing our enduring fondness for those who mete out swift justice in body-conscious, fashion-forward unitards.
So give up; resistance is futile. Surrender your will — or at least a summer afternoon — to smart, satisfying, slyly surprising reads like these:
The Man Behind The "Mwah-hah-hah!"
Soon I Will Be Invincible, by Austin Grossman, paperback, 318 pages
Debut novelist Austin Grossman takes a stock comic character — the mad scientist bent on global extortion — and imbues him with a richly available inner life. Sounds like a gimmicky, one-joke premise, you say? Insolent fool! Grossman's writing is deft and insightful!

Which is why, for all the surface sizzle of its prose (which is considerable), the real joy of this impressive novel lies in following the author's imagination as he adds emotional, palpably human dimensions to the goofy, 2-D logic of comic books: "There's a fine line," his narrator notes wistfully, "between a superpower and a chronic medical condition."
Avengers, Assemble! Thematically!
Who Can Save Us Now? Brand New Superheroes and Their Amazing (Short) Stories, edited by Owen King and John McNally, paperback, 320 pages
Superhero tropes turn up in every short story of this new anthology, but its 22 authors eschew the tidy duality of hero/villain to stake out moral territory where the lines between good guys and bad fade to obscurity. As a result, Who Will Save Us Now? is a surprisingly varied read, by turns funny, creepy, melancholic and joyous.

Editors Owen King and John McNally organize the collection around timeworn conventions — the origin story, the secret identity, etc. The strongest tales focus on supporting characters long denied an inner voice: the plucky girl reporter, the faithful butler, the sidekick — even the townsfolk who spend their days ducking the flying rubble of superbrawls. A standout, Will Clarke's "The Pentecostal Home for Flying Children," about a town under siege by the teenage offspring of an alien superhero, feels at once uncanny and utterly, hauntingly real.
Truth, Justice And The American Gay
Hero by Perry Moore, hardcover, 428 pages
This young adult novel, about a high schooler who begins to manifest superpowers just as he's coming to terms with his sexuality, might seem like something with decidedly niche (within a niche within a niche) appeal. But because author Perry Moore has a keen eye — and, it must be said, a generous heart — everything about the plight of young Thom Creed is immediately recognizable.

Hero never focuses so closely on its putative subject (will our young do-gooder qualify for the superteam?) that it neglects the true subject underlying its metaphor: the universal, often perilous quest to find someone with whom we can share our most secret identity.
Secret Origin Of The Superhero Novel
Superfolks by Robert Mayer, paperback, 240 pages
Robert Mayer's 1977 novel Superfolks, now back in print, represents the first time the capes-and-cowls set came in for the "literary" treatment. Mayer's tale of a faded superhero who returns to active duty when someone starts offing the world's few remaining costumed crime fighters is filled with raunchy humor and pop-culture references by the cubic ton, but it's also a carefully crafted work of fiction that locates the human in the superhuman.

The book's dryly ironic, introspective tone inspired a generation of comic-book writers to take a more realistic look at their superheroic charges. But you'll also catch echoes of Superfolks in the work of Chabon, Lethem and others, because Mayer stumbled upon a powerful truth over 30 years ago: To write a novel about superheroes is to write a novel about America in full — its noble ideals, its brutal violence, its garish spectacle.
Does The Justice League Have Good Dental?
Third Class Superhero by Charles Yu, paperback, 174 pages
In this collection's mordantly funny title story, underpowered hero Moisture Man ("I am able to take about two gallons of water from the moisture in the air and shoot it in a stream or a gentle mist.") faces off against such diabolical villains as depression, self-doubt and a faceless superhero bureaucracy that keeps denying him health benefits.

Yu is fascinated by forms — the comic book, the television series, game instructions — and uses his playful, innovative fiction to find something subtle and human at their core. In "Problems for Self Study," his narrative takes the form of a series of word problems in which the protagonist, "A," unsuccessfully attempts to reduce the world, and his romance with "B," to variables and vectors. ("A and B are sliding down a frictionless inclined plane. They are accelerating toward the inevitable.") Yu's prose, even at its most spare, is tinged with sadness and humor — often both at the same time.
Sometimes A Death Ray Is Just A Death Ray
From the Notebooks of Dr. Brain by Minister Faust, paperback, 392 pages
Part self-help parody, part blistering social satire, From the Notebooks of Dr. Brain never slows down enough to take itself, or much of anything else, too seriously. Writing in the voice of superhero shrink Dr. Eva Brain-Silverman, author Minister Faust documents the exploits of "the world's most dysfunctional super-team" as they undergo an exhaustive and exhausting series of group therapy sessions. Oh, that old plot.

The novel's satiric targets are many and varied — racists, Wall Street, psychobabble — but Faust's aim is true, and guided by a white-hot sense of outrage that'll leave your eyebrows singed. There's also joy to be found in the writer's fondness for metaphors so gleefully tortured ("From this distance, Cyclo-Tron's twirling lights resembled an ultramassive Ferris wheel, but only for a carnival of destruction in which the cotton candy is made of pink insulation and the corndogs have sticks of dynamite inside them,") that they'd make even Tom Robbins think: Nah, too far.
"Criminals Are A Superstitious, Cowardly Lot ..."
Men of Tomorrow: Geeks, Gangsters and the Birth of the Comic Book by Gerard Jones, paperback, 384 pages
It seems fitting that the men who created the modern American mythscape we call the superhero comic would choose to cloak themselves in myth at every opportunity. For decades, various creators and publishers attempted to commandeer the judgment of history by either inflating or disavowing their respective roles in the birth of comics, until the true history behind the earliest days of the medium threatened to vanish completely.

That truth, it turns out, is fascinating: full of sleazy racketeers and pornographers who seized a chance to go legit, and callow teenage creators with big ideas but only a feeble grasp on the hardnosed realities of business. In this exhaustively researched book, comics insider Gerard Jones collects decades of the industry's tall tales and brings them down to size. He presents a cleareyed accounting that manages to empathize with wronged creators without casting them as innocent victims, which makes their struggles all the more nuanced and compelling to read.
Scientist, No. Mad? Well ...
I Shall Destroy All the Civilized Planets! The Comics of Fletcher Hanks, edited by Paul Karasik, paperback, 122 pages
Those first superhero comics were slapped together at a breakneck pace by publishers desperate to meet a sudden, overwhelming demand. Despite hastily conceived characters, formulaic plots and crude art, many of those fledgling examples of the form retain a raw, emotional power. The comics of legendary writer/artist Fletcher Hanks retain something else as well: weirdness. Deep, deep weirdness.

Take Fantomah, mystic protector of the jungle who traipses across the veldt in peekaboo lingerie and turns her head into a glowing skull to scare the snot out of poachers. Or Stardust, the alien superscientist who uses his infinite powers to condemn petty thugs to ghastly, eternal torments. I Shall Destroy All the Civilized Planets! collects Hanks' singular work in a large format that rewards close inspection, and editor Karasik illustrates an enlightening afterword, recounting his efforts to track down the man behind these bold, defiantly bizarre creations.
The Great Comic Book Heroes, by Jules Feiffer, paperback, 80 pages
In 1965, cartoonist Jules Feiffer wrote the introduction to a coffee-table book that compiled a selection of tales from comics' Golden Age. The essay was classic Feiffer — smart, cantankerous, sardonically funny — but what distinguished it then and now is its central, two-part thesis: 1. These comics are junk; and 2. Junk is good.

Fantagraphics has reprinted this influential essay in a slim, attractively illustrated volume, and Feiffer's clear, vigorous prose retains its appeal and its power. The passages in which he tweaks Frederic Wertham, the psychiatrist whose crusade against comic books resulted in industrywide self-censorship, are a particular hoot. (For a more measured, more disquieting account of the nationwide hysteria that Wertham's book occasioned, you can't do better than David Hajdu's definitive The 10-Cent Plague: The Great Comic-Book Scare and How it Changed America.)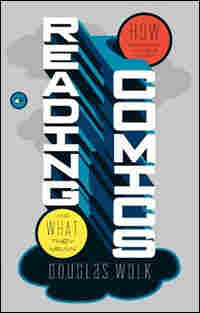 Reading Comics: How Graphic Novels Work and What They Mean, by Douglas Wolk, hardcover, 405 pages
Comic books, as anyone who's ever been cornered at a party by a zealous superfan knows, are a medium, not a genre. In Reading Comics, Douglas Wolk cites sheaves of disparate examples to make that case, albeit more articulately and more agreeably. I'm not kidding about agreeable — Wolk's such an engaging writer that he manages to invoke Kant and Simonides of Keos without coming off pedantic.

If you're already a devotee of the form, you will find yourself nodding in furious agreement with his cleareyed take on precisely why good comics are good. If, on the other hand, you've ever publicly opined that comics are crude, juvenile and/or witless, be prepared: it's only a matter of time before someone presses this thoughtful, utterly convincing book into your hands.

Glen Weldon is a writer and critic in Washington, DC. He may or may not have an Aquaman tattoo.
Books Featured In This Story
Reading Comics
How Graphic Novels Work and What They Mean
Paperback, 405 pages |
purchase
Buy Featured Book
Title

Reading Comics

Subtitle

How Graphic Novels Work and What They Mean

Author

Douglas Wolk
Your purchase helps support NPR programming. How?
The Great Comic Book Heroes
Jules Feiffer
Paperback, 80 pages |
purchase
Buy Featured Book
Title

The Great Comic Book Heroes

Subtitle

Jules Feiffer

Author

Jules Feiffer
Your purchase helps support NPR programming. How?
Fletcher Hanks
I Shall Destroy All the Civilized Planets
Paperback, 122 pages |
purchase
Buy Featured Book
Title

Fletcher Hanks

Subtitle

I Shall Destroy All the Civilized Planets

Author

Paul Karasik
Your purchase helps support NPR programming. How?