Southeastern Iowa Scrambles to Reinforce Levees
Southeastern Iowa Scrambles to Reinforce Levees
Steve Cirinna, Lee County Emergency Management coordinator, discusses how his Iowa county is preparing for a flood surge. Cirinna also warns that with fertilizer and propane in the flood water, it can be a long-term health risk.
ALEX COHEN, host:
This is Day to Day. I'm Alex Cohen.
MADELEINE BRAND, host:
I'm Madeleine Brand. President Bush says he will personally examine the flooding in Iowa later this week. Some areas, including Des Moines residents, are returning home to see just how much damage the flood waters have left. In other areas, including southeast Iowa, people are gearing up for the worst. The Mississippi River is expected to top record flood levels in the next few days.
COHEN: Steve Cirinna is the coordinator of Lee County Emergency Management. He's in the southeastern part of Iowa. He joins us now. And what is the current status of the flooding where you are?
Mr. STEVE CIRINNA (Coordinator, Lee County Emergency Management, Iowa): Actually, Alex, we're - knock on wood, we've been a lot luckier than other places in Iowa, Illinois and Missouri. We have an area of concern that we're working on. It's a levee. And there have been a number of levee breaks in the past couple of days in this area, so we're really working hard to maintain that. And that's what we call our Green Bay levee district. It's known locally as the Green Bay bottoms. It's almost pretty much the northeastern point of our county. There are a number of workers up there. They've been pushing dirt up on top of the levee, laying plastic. They put straw out, sandbagging. We've had a lot of folks up that way.
And the National Guard is here. We've had inmate labor from the Iowa State Penitentiary in Fort Madison. They've been filling sandbags at their facility. The city of Fort Madison - we have the waters rising here. We're focusing on three critical facilities here, the water treatment facility, the wastewater treatment facility, and there's a electrical substation that's on the east side of town that we're making sure that that stays up so that we don't lose power to a number of citizens here in Fort Madison.
COHEN: I'd like to ask you about the waters. I read this morning that there's been all sorts of stuff floating in that water: diesel fuel, pigs. People have been warned to steer clear of it. How dangerous is that situation?
Mr. CIRINNA: Well, it's a long-term health risk because there is a lot of stuff that gets into water in floods, any time there's a flood anywhere. Because of all this rain, the farmers were putting out fertilizer on their fields that normally would stay in the field that's getting washed in. You've got gas stations. You've got chemical plants, facilities like that. You have warehouses that store chemicals. A lot of that stuff is getting out.
We've had reports of propane, the large propane tanks, floating down the river. So there's a lot of stuff in that water. And that's - again, that's common in floods where this stuff starts to happen. And we try to keep the people out. We don't want anyone in that water. When they go in there they're protected. We try to make sure they're in boats. They've got rubber boots on so that there's no long-term health risk.
COHEN: Looking ahead to recovery, how much funding have you received, and how far will that money go?
Mr. CIRINNA: The way it works is that it's actually a reimbursement. Once the presidential disaster declaration is issued, then that's when the FEMA reimbursement will kick in. Right now, what we're doing with the response mode is - we are getting help from the state. The state is supplying its National Guard troops Department of Transportation equipment. And if they can't find some stuff, they're going out and purchasing it for us and then they're sending it in. And that's not only down here, but that has been throughout this entire flood-response effort throughout eastern Iowa.
COHEN: There have been parallels drawn between the flooding going on now and what happened after Hurricane Katrina. And there wasn't a great reputation, especially with FEMA, after that experience. What sense do you have of what might have changed since then and how things might go this time?
Mr. CIRINNA: Well, since Katrina there have been a number of changes in the way FEMA's response and in their planning for the response. In fact, when the Governor Culver was down here in Keokuk yesterday, along with Congressman Loebasack, they had FEMA representatives with them. And he was talking and making some arrangements. And they, actually, they are represented in the State Emergency Operation Center up near Des Moines. So they're monitoring the situation. Once this is over with, they will head out and help us out.
COHEN: Steve Cirinna of Lee County Emergency Management in Iowa. Thanks, and best of luck.
Mr. CIRINNA: Thank you.
NPR transcripts are created on a rush deadline by Verb8tm, Inc., an NPR contractor, and produced using a proprietary transcription process developed with NPR. This text may not be in its final form and may be updated or revised in the future. Accuracy and availability may vary. The authoritative record of NPR's programming is the audio record.
Q&A: Flood Worries Spread in Illinois, Missouri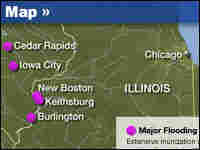 Where Do All Those Sandbags Come From?
Inmates at the Jacksonville (Ill.) Correctional Center have been working around the clock to fill truckloads of sandbags in a makeshift work area set up just outside the prison.
It's one of many locations across the Midwest where National Guard troops, civilian volunteers and prison inmates are joining in the mass sandbagging effort to thwart the rising water of the Mississippi River.
The Jacksonville inmates are working on a volunteer basis in six-hour shifts, filling about 500,000 bags with dozens of truckloads of sand. The sandbags are picked up by trucks from the Illinois Department of Transportation.
Millions of sandbags are stored and ready for use in locations throughout Illinois, from warehouses and depots to correctional facilities and civic centers, said Melaney Arnold, a spokesperson at the Emergency Operations Center in Springfield.
"We need them as quickly as possible," she says. "Time is of the essence."
At the Oakley Lindsay Civic Center in Quincy, hundreds of troops and volunteers — some from as far away as California — shovel sand from massive piles, tie bags and load them onto trucks.
"It's impressive, to say the least," says Jennifer Howsare, public affairs officer for the Illinois National Guard. "It's great to see everyone coming together."
Sandbags by the truckload arrive from California, Tennessee and other states.
"They're coming from anywhere we can procure them and get a truck out to pick them up," Arnold says. "We haven't had as big a need for sandbags since the flood of '93."
—Ashley Lau
Volunteers in Illinois and Missouri joined sandbagging operations in the frantic effort to contain the Mississippi River as forecasters predicted near-record crests from Quincy, Ill., to Winfield, Mo. In Iowa, President Bush was visiting Cedar Rapids and Iowa City, where the water is receding but families and businesses are knee-deep in the disheartening aftermath.
Storms and flooding across six states this month have killed 24 people, injured 148 and caused more than $1.5 billion in estimated damage in Iowa alone. The damage estimate is likely to increase as river levels climb in Missouri and Illinois.
An update on the situation as of Thursday afternoon:
Which communities are in danger?
The flooding first hit in Iowa, where Cedar Rapids and Iowa City were inundated. As water flows down the Mississippi River, communities in southwestern Illinois, southeastern Iowa and northeast Missouri are at greatest risk.
Federal officials predicted as many as 30 more levees could overflow this week, leaving industrial and agricultural areas vulnerable but sparing major residential centers. So far this week, 20 levees have overflowed. At least 10 have been topped in Illinois and Missouri in recent days, including two south of tiny Gulfport, Ill., that threatened to swamp 30,000 acres of farmland near the evacuated town of Meyer, Ill.
The river at Hannibal, Mo., the hometown of Mark Twain, is expected to crest Friday at or near the 31.8-foot high-water mark of 1993 — the second so-called 500-year flood in 15 years. Parts of town are under several feet of water, though government buyouts after the 1993 flood left only a few scattered homes and businesses in the flood plain. Downtown, though, is protected by a levee built to withstand a crest of 34 feet.
What's being done to help?
The Federal Emergency Management Agency says 28,000 people have registered for federal assistance in Iowa, Indiana and Wisconsin. FEMA has paid out more than $22 million, with more money to come. As he visits the region, President Bush is expected to reassure flood victims that federal disaster assistance is on the way. The president has asked Congress for nearly $2 billion in emergency money.
Missouri Gov. Matt Blunt sent 600 members of the National Guard to the northeastern part of the state, plus 100 more to the St. Louis area to help towns farther downstream. In Illinois, 1,100 Illinois National Guard troops have been sent to help flooded communities.
What's the damage so far?
The floods have caused an estimated $1.5 billion in damage in Iowa — $1 billion in Cedar Rapids alone — but the toll is expected to rise as floods spread to nearby states. About 25,000 people in Iowa were forced to evacuate last week. In Cedar Rapids, where the water is receding, residents have begun returning to their homes to inspect the damage and try to salvage some belongings. Many found their walls and furniture covered with a thick layer of mud.
In Iowa City, the University of Iowa said 16 buildings have flooded, including the art museum and chapel. The university plans to resume its summer session on Monday. It will be open for the fall semester, but many classes will have to be relocated because some buildings that were damaged won't be ready.
What caused the flooding?
The region has had unusually heavy rainfall. On the weekend of June 7, some areas of Iowa and southern Illinois got between 5 and 10 inches, and the rain continued during the week. The area "just got hammered — storm after storm after storm," said Pat Slattery, a spokesman for the National Weather Service. Slattery says a pressure system called the Bermuda high that moved slightly inland from the East Coast caused weather systems coming from the West to get stuck around Iowa. That same phenomenon caused the record flooding in 1993, he says.
How has agriculture been affected?
Iowa is the nation's leading corn and soybean producer, and the state Farm Bureau estimates that as much as 16 percent of the grain crop has been destroyed. Farmers must now weigh whether to replant a faster-maturing corn crop after the waters recede. Corn prices have soared to record levels on the commodities market. Economists say this could lead to higher prices at the supermarket for corn-based products and, because livestock farmers may be forced to pay more for feed, for meat. Prices also could rise for ethanol — a corn-based fuel that the U.S. government mandates as an ingredient in gasoline.
How has shipping and transportation been affected?
The flooding has snarled railroad, barge and truck traffic in the upper Midwest, and shippers say it will be next week at the earliest before things get back to normal. One shipping executive told The Wall Street Journal that the industry could lose more than $1 million a day. The Army Corps of Engineers has closed 11 locks on the Mississippi River, effectively stopping commercial navigation for nearly 300 miles. As many as 10 tows — each with as many as 15 barges — were believed stuck on the upper Mississippi River.
A railroad bridge collapsed in Cedar Rapids, and Union Pacific says six of its mainline tracks in Iowa are out of service. Interstates 80 and 380 have reopened to traffic in Iowa City, but dozens of other highways and bridges are still impassable in the region.
From staff reports and the Associated Press.