Vitality in Virginia: Teens Play the Classics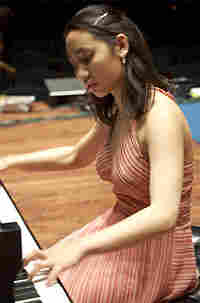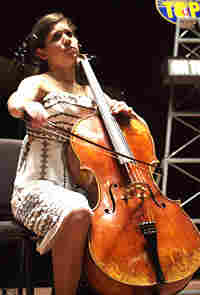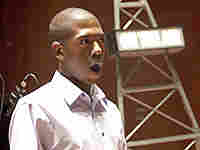 From the Virginia Arts Festival in Newport News, Va., a 17-year-old baritone sings Handel, a 15-year-old cellist plays Mendelssohn, and a teenage saxophone quartet from Chicago plays that really "cooks."
Brendon Elliott, 13, started taking violin lessons from his mom when he was three years old.
"She wanted all of her children to develop the same love and passion for music that she herself has enjoyed since she was a child," he says.
Elliott and his family play together in a chamber music quartet. He says it's fun being part of a musical family, but Elliott's ultimate dream is to become a famous violin soloist.
"You don't see that many African Americans, especially males, playing string instruments," he says. "By becoming a famous African American violinist I would be a role model and hopefully influence more young people to play."
Elliott plays the "Rondo Allegro" from Lalo's Symphonie Espagnole, accompanied by pianist Christopher O'Riley.
Pianist Priscella Chan is a multi-talented 16-year-old: she's a gifted pianist, plays the flute in the Pasadena Youth Symphony Orchestra and is a serious competitive figure skater.
"I really like keeping busy, and it always helps when you're doing something you like," she says.
Chan plays a set of variations based on a theme by Paganini called Desperate Measures, by Robert Muczynski.
Seventeen-year-old baritone Elliott Hines, a Jack Kent Cooke Young Artist, recalls that one of the most upsetting days of his life was in the seventh grade when learned that he would be "stuck" taking choir.
But Hines discovered that he loved singing, and was inspired by the director's enthusiasm and knowledge. When Hines's mom, a pianist, noticed how strong her son's sense of pitch was, she enrolled him in private voice lessons.
Now Hines's ultimate goal is to be a choir conductor.
"I love how it's possible for people from so many backgrounds to come together and focus on one goal — to make something beautiful," he says.
Hines sings "Si tra I ceppi" by George Frederick Handel, with Christopher O'Riley, piano.
Jennie Brent may look exceptionally graceful playing cello, but once she exits the stage, it's another story entirely.
"I fall down the stairs at least two or three times a week," she admits. "I'm one of the clumsiest people you'll ever meet."
Brent is not completely uncoordinated, however. She's an excellent dancer, having studied ballet for eleven years. "Still," she says, "I'd always exit the stage after dancing and fall right down the stairs."
One of the hardest decisions the 15-year-old has ever had to make was to quit studying ballet in order to spend more time practicing the cello.
"I loved studying dance," she said, "but everyone I danced with was serious about wanting a ballet career, and I was serious about wanting to be a professional musician. The amount of time I was spending on dance was taking away from my practice time."
Brent plays the Song Without Words in D, Op. 109, by Felix Mendelssohn.
Members of the What's Cookin' Saxophone Quartet — Amanda Peterson, Mira DeJong, Kateri Tumminello, and Joshua Plotner — are all students at the Midwest Young Artists music school in Chicago.
"We call ourselves 'What's Cookin" because you don't see a lot of saxophone quartets out there, and we needed to find a name as unique as we are," explains Peterson, who plays soprano sax. The name is also in tribute to their coach, Susan Cook.
Being in a Saxophone quartet has its challenges for the teenagers.
"The saxophone is naturally an out-of-tune instrument," explains DeJong, who plays alto sax. "There are a few notes that are really troublesome."
"It also helps to know all the tendencies of your particular instrument and the 'cheats' around making your notes more in tune, so it's easier to play in an ensemble," adds Peterson.
Rounding out the quartet are Tumminello on tenor saxophone and Plotner on baritone saxophone.
What's Cookin' plays a movement from the "Quartet for Saxophone" by Elliot Del Borgo.
This program originally aired on June 18, 2008