Warren Vache on Piano Jazz
Set List
"Louisiana" (Johnson, Razaf, Schafer)
"Etude #2" (Charlier)
"A Nightingale Sang in Berkeley Square" (Maschwitz, Sherwin)
"The Very Thought of You" (Noble)
"These Foolish Things" (Maschwitz, Strachey)
"Corcovado (Quiet Nights)" (Jobim)
"Strike Up the Band" (G. & I. Gershwin)
"Melancholy Mood" (McPartland)
"Royal Garden Blues" (C. Williams, S. Williams)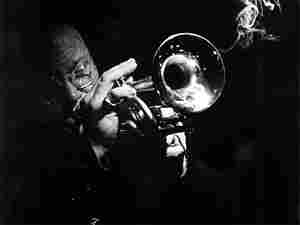 Warren Vache Jr. was born and raised and still resides in Rahway, N.J. Music was an integral part of his upbringing: His father, Warren Sr., was a professional jazz bassist as well as a jazz writer and critic, though he made a living as an electrician. His mother was a secretary at Decca Records.
Vache started out playing piano, but switched to the cornet in fourth grade in order to play with the school band, and in high school played in the school dance band. He also had many opportunities to sit in with his father's group as it gigged around southern New Jersey. Vache continued his music studies at Montclair State College, picking up as many extracurricular gigs as he could.
Through his father's connections in the music business, Vache met and began studying with big-band veteran Pee Wee Erwin. Erwin became a musical mentor to Vache, encouraging him to complete his education — which he did — and helping him to launch a professional career.
By the mid-'70s, Vache's career was in full swing, as he joined Benny Goodman's band. He traveled the world with the group playing alongside jazz legends such as Hank Jones, Zoot Sims, and Slam Stewart. When not on the road with Goodman, Vache worked with the house band at Condon's with such notable musicians as trombonist Vick Dickinson and trumpeter Roy Eldridge. He also started his own trio, which featured John Bunch at the piano.
In the late 1970s, Vache began a long-lasting recording career with Concord Super Band, an all-star big-band group that recorded for Concord Records. Vache appears on more than 20 of these recordings, many of which feature him in a lead role. In his 40-year career, Vache has released more than 35 albums as a leader, and has appeared on numerous recordings as a sideman. He's played festivals, clubs, and concert halls around the world.