Cedar Rapids, Iowa, Recovers From Floods
In Iowa, the Cedar River is still running high and not expected to fall back below flood stage until Sunday. But the city of Cedar Rapids is already jump-starting the recovery of its flooded neighborhoods. At the height of the flooding this week, 25,000 people evacuated from the city.
ROBERT SIEGEL, Host:
From NPR News, this is ALL THINGS CONSIDERED.
I'm Robert Siegel.
MELISSA BLOCK, Host:
And I'm Melissa Block.
The Mississippi River has not been kind today. In western Illinois, flood waters overwhelmed two more levees, inundating thousands of acres of farmland. With a record amount of water making its way south, the federal government said another 30 levees are in danger. In Iowa, the Cedar River is still running high and it's not expect it to drop below flood stage until Sunday. But that hasn't stopped the city of Cedar Rapids from jumpstarting the recovery of its flooded neighborhoods.
NPR's Martin Kaste reports.
MARTIN KASTE: The rough estimate right now is that these floods will cost Iowa a $1.5 billion, a billion of that just here in Cedar Rapids.
(SOUNDBITE OF RIVER FLOWING)
KASTE: The downtown is already humming with pumps and generators as disaster recovery companies try to dry out the office buildings along the river. Eric Johnson is with one of those companies, TC3. He's heard the billion dollar estimate.
KASTE: A billion dollars?
ERIC JOHNSON: Yes.
KASTE: That's being realistic?
JOHNSON: That's probably light. Downtown is virtually devastated on the first floor.
KASTE: Ericsson's company is just one of many cleaning out the buildings downtown. He's not impressed by some of the work being done by his competitors, especially when it comes to the fine art of pumping river water out of an office building.
JOHNSON: The basements have four drains, so it's connected to the sewer. And so if you pump to fast, all you're going to do is pull in sewer water. One of our neighbors is doing that right now. He's pumping sewage. Well, his level is lower that everybody else so he's getting all the sewage. He's not smart enough to shut his pump off but that's another subject.
KASTE: Things are moving more slowly in the residential neighborhoods. All told, 25,000 people were forced to evacuate last week.
Unidentified Man: Oh, just on the boots, trying to keep the pants from getting soaked. Who knows what was in this water.
KASTE: Now Penny Davidson(ph) and Chrissie Anderson(ph) are coming back for their first look at the mud-encrusted contents of their house. They think they'll have to throw away almost all of it.
CHRISTIE ANDERSON: Beds, collectibles that we've collected over the years, some photos that we're not going to be able save, wedding dresses, my life.
(SOUNDBITE OF LAUGHTER)
KASTE: They're probably going to have to gut their house. Davidson says they'll take it all down to the studs, just the way people did in New Orleans.
PENNY DAVIDSON: The insurance man is actually on his way here to take a look at it, but previously on the phone they told us nothing's covered.
KASTE: Their insurance doesn't cover floods because their house is in the 500-year flood plain and they just assumed it wasn't a risk. Davidson says he doesn't see how they'll rebuild without government help. Government officials have set up a temporary command center in this community college on high ground. FEMA says 14,000 Iowans have already registered for federal assistance and the agency has paid out $7 million, with more money to come. But these are grants, meant to cover immediate expenses. For rebuilding or replacing homes, the government offers low interest loans.
Richard Hainje - FEMA's regional administrator - says if that's not enough, there are other resources.
RICHARD HAINJE: The faith-based and the non-governmental organizations, they actually come in in a very large way, and they can bring a lot to the table.
KASTE: As to the bigger picture, washed out roads, damaged bridges and so on, Hainje says the situation is bad but not dire.
HAINJE: That will not be a crippling factor for the Iowa economy because, you know, you can still get across the Mississippi River and you can get across the Cedar River - I don't know - untold numbers of places. It's coming back online.
KASTE: That doesn't mean recovery won't be expensive. The state is still assessing how many bridges and roads and railroads need repair. Hainje says the estimate of a billion plus dollars in damage in Iowa is probably not far off the mark.
Martin Kaste, NPR News, Cedar Rapids, Iowa.
NPR transcripts are created on a rush deadline by Verb8tm, Inc., an NPR contractor, and produced using a proprietary transcription process developed with NPR. This text may not be in its final form and may be updated or revised in the future. Accuracy and availability may vary. The authoritative record of NPR's programming is the audio record.
Q&A: Flood Worries Spread in Illinois, Missouri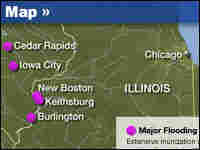 Where Do All Those Sandbags Come From?
Inmates at the Jacksonville (Ill.) Correctional Center have been working around the clock to fill truckloads of sandbags in a makeshift work area set up just outside the prison.
It's one of many locations across the Midwest where National Guard troops, civilian volunteers and prison inmates are joining in the mass sandbagging effort to thwart the rising water of the Mississippi River.
The Jacksonville inmates are working on a volunteer basis in six-hour shifts, filling about 500,000 bags with dozens of truckloads of sand. The sandbags are picked up by trucks from the Illinois Department of Transportation.
Millions of sandbags are stored and ready for use in locations throughout Illinois, from warehouses and depots to correctional facilities and civic centers, said Melaney Arnold, a spokesperson at the Emergency Operations Center in Springfield.
"We need them as quickly as possible," she says. "Time is of the essence."
At the Oakley Lindsay Civic Center in Quincy, hundreds of troops and volunteers — some from as far away as California — shovel sand from massive piles, tie bags and load them onto trucks.
"It's impressive, to say the least," says Jennifer Howsare, public affairs officer for the Illinois National Guard. "It's great to see everyone coming together."
Sandbags by the truckload arrive from California, Tennessee and other states.
"They're coming from anywhere we can procure them and get a truck out to pick them up," Arnold says. "We haven't had as big a need for sandbags since the flood of '93."
—Ashley Lau
Volunteers in Illinois and Missouri joined sandbagging operations in the frantic effort to contain the Mississippi River as forecasters predicted near-record crests from Quincy, Ill., to Winfield, Mo. In Iowa, President Bush was visiting Cedar Rapids and Iowa City, where the water is receding but families and businesses are knee-deep in the disheartening aftermath.
Storms and flooding across six states this month have killed 24 people, injured 148 and caused more than $1.5 billion in estimated damage in Iowa alone. The damage estimate is likely to increase as river levels climb in Missouri and Illinois.
An update on the situation as of Thursday afternoon:
Which communities are in danger?
The flooding first hit in Iowa, where Cedar Rapids and Iowa City were inundated. As water flows down the Mississippi River, communities in southwestern Illinois, southeastern Iowa and northeast Missouri are at greatest risk.
Federal officials predicted as many as 30 more levees could overflow this week, leaving industrial and agricultural areas vulnerable but sparing major residential centers. So far this week, 20 levees have overflowed. At least 10 have been topped in Illinois and Missouri in recent days, including two south of tiny Gulfport, Ill., that threatened to swamp 30,000 acres of farmland near the evacuated town of Meyer, Ill.
The river at Hannibal, Mo., the hometown of Mark Twain, is expected to crest Friday at or near the 31.8-foot high-water mark of 1993 — the second so-called 500-year flood in 15 years. Parts of town are under several feet of water, though government buyouts after the 1993 flood left only a few scattered homes and businesses in the flood plain. Downtown, though, is protected by a levee built to withstand a crest of 34 feet.
What's being done to help?
The Federal Emergency Management Agency says 28,000 people have registered for federal assistance in Iowa, Indiana and Wisconsin. FEMA has paid out more than $22 million, with more money to come. As he visits the region, President Bush is expected to reassure flood victims that federal disaster assistance is on the way. The president has asked Congress for nearly $2 billion in emergency money.
Missouri Gov. Matt Blunt sent 600 members of the National Guard to the northeastern part of the state, plus 100 more to the St. Louis area to help towns farther downstream. In Illinois, 1,100 Illinois National Guard troops have been sent to help flooded communities.
What's the damage so far?
The floods have caused an estimated $1.5 billion in damage in Iowa — $1 billion in Cedar Rapids alone — but the toll is expected to rise as floods spread to nearby states. About 25,000 people in Iowa were forced to evacuate last week. In Cedar Rapids, where the water is receding, residents have begun returning to their homes to inspect the damage and try to salvage some belongings. Many found their walls and furniture covered with a thick layer of mud.
In Iowa City, the University of Iowa said 16 buildings have flooded, including the art museum and chapel. The university plans to resume its summer session on Monday. It will be open for the fall semester, but many classes will have to be relocated because some buildings that were damaged won't be ready.
What caused the flooding?
The region has had unusually heavy rainfall. On the weekend of June 7, some areas of Iowa and southern Illinois got between 5 and 10 inches, and the rain continued during the week. The area "just got hammered — storm after storm after storm," said Pat Slattery, a spokesman for the National Weather Service. Slattery says a pressure system called the Bermuda high that moved slightly inland from the East Coast caused weather systems coming from the West to get stuck around Iowa. That same phenomenon caused the record flooding in 1993, he says.
How has agriculture been affected?
Iowa is the nation's leading corn and soybean producer, and the state Farm Bureau estimates that as much as 16 percent of the grain crop has been destroyed. Farmers must now weigh whether to replant a faster-maturing corn crop after the waters recede. Corn prices have soared to record levels on the commodities market. Economists say this could lead to higher prices at the supermarket for corn-based products and, because livestock farmers may be forced to pay more for feed, for meat. Prices also could rise for ethanol — a corn-based fuel that the U.S. government mandates as an ingredient in gasoline.
How has shipping and transportation been affected?
The flooding has snarled railroad, barge and truck traffic in the upper Midwest, and shippers say it will be next week at the earliest before things get back to normal. One shipping executive told The Wall Street Journal that the industry could lose more than $1 million a day. The Army Corps of Engineers has closed 11 locks on the Mississippi River, effectively stopping commercial navigation for nearly 300 miles. As many as 10 tows — each with as many as 15 barges — were believed stuck on the upper Mississippi River.
A railroad bridge collapsed in Cedar Rapids, and Union Pacific says six of its mainline tracks in Iowa are out of service. Interstates 80 and 380 have reopened to traffic in Iowa City, but dozens of other highways and bridges are still impassable in the region.
From staff reports and the Associated Press.