Excerpt: 'The Thin Place'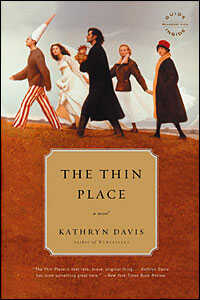 More Recommendations
See all of Nancy Pearl's recommendations.
The Thin Place
By Kathryn Davis
Paperback, 304 pages
List Price: $13.99
There were three girlfriends and they were walking down a trail that led to a lake. One small and plump, one pretty and medium-sized, one not so pretty and tall. This was in the early years of the twenty-first century, the unspeakable having happened so many times everyone was still in shock, still reeling from what they'd seen, what they'd done or failed to do. The dead souls no longer wore gowns. They'd gotten loose, broadcasting their immense soundless chord through the precincts of the living.
At the lake the trail branched right and left. Right to the town beach, a grassy plot with six picnic tables, two stone grills, a pit toilet, a trash can, and a narrow strip of lumpy gray sand. Left to the Knoll, where the overlarge houses of the rich nestled among shade trees and tasteful redwood play structures—and then back to town. Straight ahead was the boat ramp and the Crocketts' chocolate Lab, Buddy, going down shoulder-first on a dead fish. Beyond the ramp was the water.
The sky was the palest blue and fluttered over the girls' heads like a circus tent at the apex of which the sun was pinned. It was a Saturday in mid-May, the sun only just starting to heat up, it being the northern latitudes, but even so Mrs. Kipp had made sure they all wore sunblock. You couldn't be too careful. Like many objects of worship, the sun had grown impatient with its worshipers, causing some of them to sicken and die. As she larded on the sunblock, Mrs. Kipp informed them that these days only stupid people had tans.
When they got to the beach, the three girls came to a halt. A very large man, dressed in a pair of khaki shorts and not much else, was lying on his stomach in the sand with his head facing the lake. From where the girls stood, they could see the bottoms of the man's feet, which looked smooth and white. Almost as if he were a baby, observed Lorna Fine, not only the tallest and least attractive but also the most fanciful of the three. The older Lorna got, the prettier she would become, but for now she was like a bespectacled monkey wearing red-and-yellow plaid seersucker pants and the vintage Ramones T-shirt she'd found in the back of her brother's closet under a stack of dirty magazines, so she was sure he wouldn't ask for it back.
Sunny Crockett let out a loud sigh Lorna knew was meant to be overheard by anyone inconsiderate enough to be hogging the entire strip of sand when obviously there were other people who wanted to use it.
"It's Mr. Banner," said Mees Kipp.
"Who?" Lorna asked.
"Mr. Banner," said Mees, "from Sunny's church." She walked around to the man's right where she planted herself, a small round thing in a pink tracksuit, in the sand next to his face. Mr. Banner's eyes were loosely shut, and his black eyeglasses were shoved up so the left lens was wedged over the bridge of his nose, which was bruised and bleeding. His mouth was partly open, and a little foamy drool was coming out of it; there were several blackfly bites, the first of the season, on his bald head, and four long fine hairs were growing out of the middle of his nose halfway between the bridge and the nostrils.
Noon. The sun shone down; Mees leaned closer. Mr. Banner smelled like perspiration but also sweet like cotton candy, and there was something about him, about the way he lay there so perfectly still yet with a sense of something enormously alive inside him, something almost insanely teeming with slumberous hidden vitality deep inside, that made her feel like she was looking at a cave full of sleeping bats.
"Don't," said Lorna, when Mees reached out a finger. "Don't touch him."
"Germs?" guessed Sunny, but Lorna, a great fan of Agatha Christie, shook her head.
"I don't think he's breathing," she said. "Look at his chest." Tentatively she held her hand near the man's nose. "I think he's dead." The sand was coarse and gritty, the entire beach hard as a rock. If there were any footprints, Lorna couldn't make them out, though despite the trash can, there was a lot of trash on the ground, including cigarette butts and a beer bottle. Molson. Canadian.
"We should do something," said Sunny. "We should get help."
"You get help," said Mees. "I'm staying here."
"It's not like he's going anywhere," Lorna pointed out, but once Mees had made her mind up, forget it. "Just try not to touch anything," Lorna added sternly. "Okay?"
Of course Lorna knew perfectly well that the minute she and Sunny were out of sight Mees would do just that—it had been so obvious, her hand visibly itching to touch the man's cheek.
"Sure," Mees said. She nodded her small round face, a face that, no doubt due to its exceptionally round dark eyes and full bow lips, its fringe of dark hair and pronounced widow's peak, tended to remind people of a pansy. Such a sweet little flower, with such a fierce expression!
Mr. Banner, Mees was thinking. Mr. Banner Mr. Banner Mr. Banner Mr. Banner.
Think of me. That was what Pansy said in The Language of Flowers.
The Thin Place
Paperback, 13 pages |
purchase
Buy Featured Book
Title

The Thin Place

Author

Kathryn Davis
Your purchase helps support NPR programming. How?