NASA Lander Touches Ice on Mars
Scientists are now confident that NASA's Phoenix lander, which touched down on Mars last month, is standing on a vast plane of ice, making this the first mission to actually come into contact with frozen water.
Researchers had been watching some chunks of white material that the lander had dug up with its robotic arm. A photo taken four days later showed the chunks had entirely vanished, the way snow can on a sunny, dry day.
"It is with great pride and a lot of joy today I announce we have found the proof that we've been seeking that this hard, bright material is water ice and not some other substance," said Peter Smith, the team's lead investigator. Some researchers had speculated the white material might be salt of some kind.
Satellite measurements had indicated that something containing hydrogen lay below the surface, possibly H20 — water ice. That's why this landing site was picked. The first photos taken after Phoenix touched down last month showed a dusty dry landscape. Scientists were relieved to find out ice lay beneath.
"It's just amazing," Smith said. "If you were to get a broom and sweep this off, we're on an ice sheet."
He said this means a full quarter of the planet's surface — near the planet's poles — may be covered with ice.
In the near future, scientists want to have the Phoenix lander scoop up some of the ice and load it into a small oven. By heating it and analyzing the vapors, they should be able to tell what's mixed in with it.
"I think the big story is that we can reach out and touch it," said Mark Lemmon, a researcher on the project from Texas A&M University. "We can use instruments to taste and smell it."
The big question is whether Mars has the basic ingredients for life. That includes not just water, Smith said, but also "food" in the form of organic molecules.
"We don't eat rocks," he said. "We have to have carbon ... chain materials that we ingest into our bodies. ... That's what has to be there if we're going to have a habitable zone on Mars."
The team hopes to have an answer this summer. A future mission could go and actually look for life.
NASA's Phoenix to Look for Ice on Mars
Phoenix Mission, University of Arizona
Past Blasts to Mars
There have been 39 separate missions to Mars, and more than half have failed.
Get the highlights of these Earthly attempts to film, circle and touch the cold Red Planet.
Phoenix Mission Tools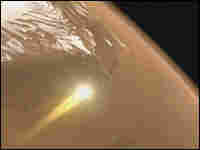 Phoenix Mission, University of Arizona
An emissary from Earth has landed on Mars. NASA's Phoenix probe touched down near the Martian North Pole on Sunday shortly before 8 p.m. ET.
Unlike the successful rover missions that continue to roll around on the Martian surface, Phoenix will stay in one place for its 90-day mission. But it has brought sophisticated equipment that will help determine whether Mars could once have harbored life.
Phoenix is in a part of Mars no lander has yet explored. Peter Smith from the University of Arizona is the scientist in charge of the mission. He says all the landing missions to date have gone to the dry, equatorial zone on Mars, where much of the landscape hasn't changed in billions of years.
"By landing on the northern plains, we're looking at active processes that are taking place today," says Smith. Scientists know that there is water in the form of ice at the Martian poles. "And these active processes have to do with the expansion and contraction of that ice," he says. "We're going to see climate change written into the soils."
In addition to several cameras, Phoenix has onboard chemistry labs that will allow scientists to see what kinds of chemicals and minerals are in the polar soil. While the labs can't detect life, they can tell if conditions were once favorable to life, whether the water in the ice was too acidic or too salty for life to exist.
The Phoenix mission is intended to last 90 days. It may last a little longer, but not much. When the sun drops below the horizon during the Martian winter, there will be no way to recharge the lander's batteries. Once they drain completely, the mission is over.