Talented Teens Shine at Ravinia
Talented Teens Shine at Ravinia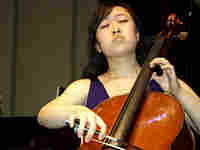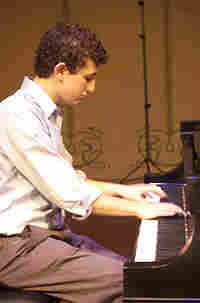 This week's From the Top comes from the Ravinia Festival in Highland Park, Illinois, where an 11-year-old violinist from Seattle plays introspective music by Ernest Bloch, a 17-year-old Chinese-born percussionist delivers a sparkling marimba solo, and a passionate 18-year-old pianist from Berkeley, California, plays Schumann.
When she was only two years old, Simone Porter fell in love with the violin at an instrument petting zoo. She began playing violin when she was three. Porter, now 11, has developed into an extraordinary musician, and recently soloed with the Seattle Symphony. Porter is obsessed by the Harry Potter books, which play a significant role in her music making.
"When I perform, my goal is to take the audience to another place or help them feel another emotion — just like a book does," she says.
Porter plays "Nigun" from Baal Shem by Ernest Bloch, accompanied by pianist Christopher O'Riley.
Seventeen-year-old cellist Mindy Park is a goal-setter.
"I set goals for everything — school, cello, basically everything I do," she says. One of Park 's goals was to perform on From the Top, and she accomplishes this by wowing the audience with Paganini's Variations on One String on a Theme by Rossini, with Christopher O'Riley at the piano.
When marimba player Jingchen Sun first came to the Juilliard School's Pre-College Division to study music, there was so much competition to play the school's instruments, that she could never get in enough practice time. Sun's father found a remarkable solution. He sold their house in China to buy his daughter a marimba so she could practice at home in New York.
Sun, a Jack Kent Cooke Young Artist, plays "Michi" by Keiko Abe.
Pianist Daniel Walden, 18, has actually had to work at toning down his naturally passionate playing style.
"I used to get too involved and over-play at times," he explains, "but my teacher has been helping me to pull back. It's kind of like being an actor; you have to maintain a bit of distance so you don't get carried away and forget your lines — or in this case, forget your notes."
Walden plays the first movement of Schumann's Piano Sonata in G Minor.
The members of the Vesta Trio (violinist Krista Stewart, cellist Jimmy Kang, and pianist Christina Naughton) have been playing together for years.
"It's kind of like we're a family because we've grown up together," explains Naughton. Sadly, they will soon be saying farewell to go their separate ways this fall. Kang will be entering the Colburn Conservatory, Naughton will be at Curtis Institute, and Stewart will be continuing her pre-med studies at the University of Wisconsin. The trio's performance of the "Presto" movement from Paul Schoenfield's Café Music on From the Top, was their last official performance together.
This program originally aired November 14, 2007.