U.S. Downplays Human Rights in Vietnam Leader's Visit
Vietnamese Prime Minister Nguyen Tan Dung is being received at the White House Tuesday. There are calls on Capitol Hill for President Bush to make human rights a focal point of talks, but the administration is playing up economic cooperation.
ROBERT SIEGEL, host:
Vietnam's prime minister, Nguyen Tan Dung, is in Washington this week looking for some advice. He's set to meet with President Bush tomorrow at the White House where they'll discuss trade and investment.
Vietnam is one of the fastest growing economies in the world, but it's showing signs of overheating. Inflation there is skyrocketing and its stock market is heading in the opposite direction.
NPR's Michael Sullivan reports from Hanoi.
MICHAEL SULLIVAN: Three years ago, a prime ministerial visit to Washington was big news in Vietnam, the lead item on state-run television and in state-run newspapers, but not anymore.
(Soundbite of newscast)
Unidentified Man: (Speaking foreign language)
SULLIVAN: Prime Minister Nguyen Tan Dung's departure yesterday barely rated a mention on the evening news on in this morning's papers. An indication perhaps of how quickly the relationship between the two former enemies has matured.
Michael Michalak is the U.S. ambassador to Vietnam.
Mr. MICHAEL MICHALAK (U.S. Ambassador to Vietnam): The difference between now and some of the earlier visits is the degree to which Vietnam has become more and more integrated into the international, not only economic, but social and political system. So even though we will have some very significant discussions on economics and commercial areas much the same as we did in the past, this time, the whole visit is about going to another level. And going to another level means we've got a much broader relationship.
SULLIVAN: Education, the environment, Vietnam's current seat on the U.N. Security Council all are on the agenda this week, Ambassador Michalak says, and all are new issues that he says go far beyond the usual economic and commercial discussions. Not that there won't be plenty of those with Prime Minister Dung keen on attracting more foreign investment to Vietnam. Two-way trade between the U.S. and Vietnam was worth more than $12 billion dollars last year, a figure Vietnam hopes to surpass this year.
But Vietnam's reputation as the new China with lower wages and a skilled workforce is now under threat as its booming economy overheats. Inflation last month hit 25 percent, the stock market has lost more than half its value this year, and the country has been hit with a series of strikes by workers demanding higher wages to keep up with inflation.
Professor CARL THAYER (Political Science, Australian Defense Force Academy): The Communist Party which bases its legitimacy on delivering economic goods has now begun to stall and the prime minister is taking the hit for that.
SULLIVAN: Professor Carl Thayer is a Vietnam watcher at the Australian Defense Force Academy in Canberra.
Prof. THAYER: The government that has sat back and watched economic growth go on has now got to do harder management of the economy, and everybody thought Dung had the economic credentials to do so. And now he's got to show his guts and knowledge of how to manage the economy and the political power.
SULLIVAN: The U.S. ambassador to Vietnam, Michael Michalak, says the prime minister's visit provides a good opportunity for Dung to reassure foreign investors his government can weather the current economic storm and continue to provide the cheap labor and political stability that have made Vietnam so attractive to investors.
Prime Minister Dung is scheduled to meet with former Fed chief Alan Greenspan later this week to seek his advice on how to make that happen.
Michael Sullivan, NPR News.
NPR transcripts are created on a rush deadline by Verb8tm, Inc., an NPR contractor, and produced using a proprietary transcription process developed with NPR. This text may not be in its final form and may be updated or revised in the future. Accuracy and availability may vary. The authoritative record of NPR's programming is the audio record.
Mending Ties: The United States and Vietnam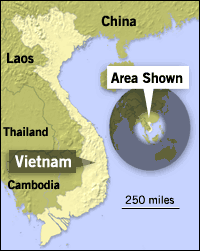 Profile: Nguyen Minh Triet
The Vietnamese president is the first to visit the United States since the end of the Vietnam War. He is also seen as a reformer. Read more about him.
This week's visit of Vietnamese President Nguyen Minh Triet marks another milestone in relations between these two former enemies. It's the first time a Vietnamese head of state has stepped foot on American soil since the end of the Vietnam War. Reconciliation, though, has taken three decades, and has been fraught with difficulties and setbacks. Here's a look at some of the main issues the two nations have wrestled with over this time:
Missing in Action
The issue of American servicemen missing in Vietnam has been both a point of contention, and also an opportunity for dialogue. For years, it was essentially the only issue that American and Vietnamese diplomats discussed. The U.S. accused Vietnam of withholding information that could help determine the fate of the missing Americans. Vietnam, meanwhile, raised the issue of its missing soldiers from the war, which it says is far higher than the number of missing Americans.
In 1988, the U.S. and Vietnam conducted the first joint field operations to search for information about the American MIAs. In the 1990s, as the U.S. moved to normalize diplomatic ties with Vietnam, some veterans groups protested. The U.S., they argued, needed to maintain pressure on Vietnam on the MIA issue, and Vietnam should not be "rewarded" with the granting of full diplomatic relations. But other Vietnam veterans favored the normalization of ties, including Sens. John McCain and John Kerry, and then-Sens. Bob Kerrey and Charles Robb. Today, there are an estimated 1,800 American military personnel still listed as missing in action in the Vietnam War. About 10 times a year, the Pentagon sends teams to Southeast Asia to search for information that might help bring light to their fates.
Agent Orange
Agent Orange, or dioxin, was an herbicide used by the United States military as a defoliant. (It got its name from the 55-gallon drums marked with orange bands where it was stored.) An estimated 70 million gallons were dropped on South Vietnam during the war in an attempt to destroy crops and forests believed to be harboring Vietcong and North Vietnamese fighters. Rainforests and wildlife were wiped out, and water sources contaminated. Decades later, much of the forest has not regenerated, the environmental group the World Wildlife Fund says.
The impact of Agent Orange on human health is more controversial. Vietnamese officials claim that more than three million people were disabled by dioxin over three generations — citing conditions including lymphoma, diabetes and birth defects. The U.S. has compensated American soldiers who were exposed to the herbicide, but it has long hesitated to help Vietnamese victims. This week's visit of Vietnam's president coincides with the opening of a hearing at a federal appeals court in New York, where the Vietnam Agent Orange Victims Association will seek permission to sue the U.S. firms that made the herbicide.
Diplomatic Relations
The United States broke off all diplomatic relations with Vietnam after the fall of Saigon in 1975. Since then, the two nations have slowly restored ties. Little progress was made in the 1980s, after the Vietnamese invasion of Cambodia—an action that was condemned by the United States and much of the world.
In 1991, though, the Pentagon opened an office in Hanoi to help search for MIAs. At that time, the United States also presented Hanoi with a roadmap for phased normalization of relations. In 1995, the two nations officially restored full diplomatic relations, and then-Secretary-of-State Warren Christopher traveled to Hanoi to open a U.S. embassy there.
High-Level Visits
The year 1995 saw a flurry of high-profile American visitors to Vietnam, including former President George H.W. Bush and former Defense Secretary Robert McNamara. The breakthrough visit, though, came in November 2000 when President Bill Clinton made a historic and emotionally charged visit to Hanoi. Clinton was the first U.S. president in office to visit Vietnam since the end of the war. He was greeted by cheering crowds. "I think it is time to write a new chapter here," Clinton said at the time.
In 2005, Vietnamese Prime Minister Phan Van Khai met with President George W. Bush at the White House, and last year, Bush visited Hanoi. Bush's visit, part of an Asia Pacific Economic Cooperation (APEC) summit, was more perfunctory and subdued than Clinton's. He did, however, attend an ecumenical church service in an effort to underscore the need for greater religious freedom.
Flights
One of the turning points in U.S.-Vietnamese relations came on Dec. 11, 2004, at 10:06 p.m. That's when United Airlines Flight 869 touched down at Tan Son Nhat International Airport in Ho Chi Minh City, formerly Saigon. The flight from San Francisco was the first direct flight between the two nations in nearly 30 years. Prior to this point, the last U.S. commercial carrier to leave Vietnam was a Pan American flight that took off out of the former South Vietnamese capital of Saigon just before it fell to the communists in 1975. Today, such flights are routine, and each year, thousands of American tourists visit Vietnam.
Trade
Immediately after the fall of Saigon in 1975, the United States imposed a trade embargo on the newly unified Vietnam. The embargo stood intact until 1992, when the U.S. allowed commercial sales to Vietnam for humanitarian needs. In 1993, American firms were allowed to bid on development projects financed by international banks. Finally, in 1994, President Clinton announced the lifting of the trade embargo. American firms were free to do business with Vietnam. Today, the United States is Vietnam's largest trading partner, with nearly $10 billion in annual two-way trade. With U.S. backing, Vietnam joined the World Trade Organization early in 2007.
Fred Brown, of the Johns Hopkins School of Advanced International Studies, argues that the sanctions against Vietnam worked. After the collapse of the Soviet Union, Vietnam lost its main patron, so it turned to the United States out of economic necessity.
"The Vietnamese are cosmically practical," Brown says. "They knew exactly where their bread was buttered. They needed the U.S., so the process of reconciliation moved very quickly in the 1990s."
Like China, Vietnam is still controlled politically by the Communist party, but economically it has moved toward a free-market system. It began that process—called "doi-moi"—in 1986. Today, Vietnam is one of the world's fastest-growing economies. The country's national airline, for instance, recently ordered several planes from Boeing. Some business leaders, both Vietnamese and American, would like to see the two countries sign a free-trade agreement in hopes of further increasing economic partnership.
Human Rights Issues
The United States has long voiced concerns about human rights abuses in Vietnam, particularly the treatment of political dissidents and members of the Christian minority. Citing "significant improvement towards advancing religious freedom," the State Dept. removed Vietnam last year from a list of nations blacklisted for egregious violations of religious freedom. However, in recent months, Vietnam has arrested or sentenced at least eight pro-democracy activists, including two human rights lawyers and a dissident Catholic priest. The crackdown led to denunciations in Congress and the White House, and at one point threatened to derail President Triet's visit. In recent weeks, Hanoi responded by releasing three high-profile political prisoners.