Despite New Details, Torture Debate Continues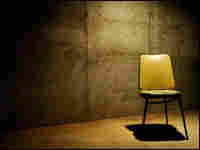 Waterboarding was used during a "good cop/bad cop" interrogation of Khalid Sheikh Mohammed, the alleged mastermind of the Sept. 11 attacks, the New York Times reported over the weekend in an article about Mohammed's capture and questioning.
Although the use of waterboarding and other harsh techniques on Mohammed had already been reported, the Times story provided a wealth of new specifics and details about the interrogation, says journalist Mark Bowden, who has himself written extensively on interrogation and the military. The Times report, which named Mohammed's interrogator, also cited Poland as the location of Mohammed's imprisonment and gave details of his capture through an informant.
But Bowden says that more information about the government's actual use of torture is unlikely to end the fierce debate.
"Ultimately, even when the transcripts of this interview are released, you probably won't find people on either side of this argument budging their position, because you can always argue that he would have been as cooperative if he didn't have to deal with the pain and discomfort of the dark side of the interrogation process," Bowden says.
Martinez: 'Good Cop'
According to The Times report, Deuce Martinez, Mohammed's lead interrogator, was the "good cop," brought in to talk to Mohammad only after CIA "knuckledraggers" had roughed him up, subjecting him to repeated waterboarding — as many as 100 times over a two-week period.
The Times reported that Mohammed opened up to Martinez, offering significant information about al-Qaida's organization and planning, and even showing warmth and friendliness to Martinez, whose career before 2002 had been focused on narcotics interdiction. At one point, he even wrote a poem to Martinez's wife.
Bowden says he personally believes the waterboarding and other harsh techniques played a role in getting Mohammed to talk. "My opinion is that it probably was very helpful in changing his attitude," he says. "The fact that he warmed up to Deuce Martinez and the other interrogators probably had a lot to do with avoiding the other side of the hall."
Bowden, however, says that using harsh interrogation techniques against suspects like Khalid Sheikh Mohammed is very different from using it against others, like Iraqi and Afghan detainees. "I've never felt that the interrogation of key figures like Mohammed ought to be conducted according to the FBI sort of civil rules of civil interrogation," he says.
Abu Ghraib: 'Nightmare'
At the same time, Bowden says that the type of abuse endured by prisoners at Abu Ghraib was a nightmare: "That's just an outrage," he says. "It's foolish and illegal and has done more harm to our cause than anything since we've gotten involved in this war."
But he does say that there may be exceptions. "The world is not constructed clearly along the lines of our moral considerations," he says. "The ticking bomb scenario is one that's always employed that would drive the most decent person in the world to employ coercive methods against someone to get information."
If torture is employed, says Bowden, everyone ought to understand that it's illegal. "It ought to be very rare," he says. "And the person who does it has to be exposing themselves to punishment or prosecution."