Christie's Auctions Pop Culture Artifacts
Christie's Auctions Pop Culture Artifacts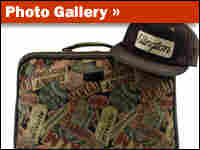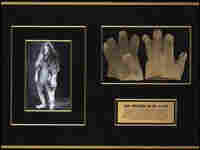 Tony Soprano's clothes, Marilyn Monroe's checks and Jack Kerouac's ashtray are on sale today at the Christie's pop culture auction in New York.
The auction features over 300 items dating back as far as 1933, but it's clothing from the popular HBO series The Sopranos that is drawing the most attention.
"It just shows the power of the media today and pop culture and how quickly something can be iconic," says Simeon Lipman, head of Christie's popular culture department. "Where as it took a Marilyn Monroe or James Dean 50 years of this iconic worship, here we have something that is only a few years old, and it is already worthy of the cover of our catalog."
Lipman says Tony Soprano's bathrobe is especially popular. "I can't tell you how many people have asked me 'what size is the bathrobe? I want to wear the bathrobe if I buy it,' " says Lipman. "You never know why people want this stuff. They just do."
Other items on sale at the auction include a rare handwritten letter from legendary bluesman Huddie "Leadbelly" Ledbetter, a pop quiz taken by then-schoolboy Robert De Niro, and a cape from Superman III.