Shearwater: Gone to the Birds, Happily
Listen Now: Shearwater at WNYC
Watch footage from Jonathan Meiburg's trip to the Falkland Islands as part of an ornithological survey team: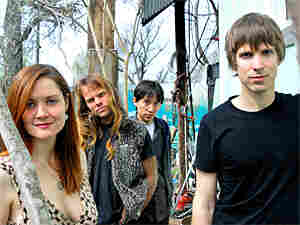 More than 150 years ago, a birdwatcher on a trip to the Falkland Islands scribbled down some notes about the behavior of a winged creature that sailors called the Johnny Rook. He described it as "tame and fearless" and "very mischievous and inquisitive, quarrelsome and passionate."
That birdwatcher, Charles Darwin, was one of the first to write about the Johnny Rook, but he wouldn't be the last. The Austin-based band Shearwater named its new album after the bird of prey. Frontman (and part-time ornithologist) Jonathan Meiburg spoke to Soundcheck host John Schaefer about Rook and led the band in performance at the WNYC Studios.
Throughout Shearwater's history, bird imagery has been a constant for the band. Meiburg actually had the opportunity to travel to the Falkland Islands in search of the Johnny Rook, and his ornithological obsessions come with him on tour.
"I had an amazing experience in D.C.," Meiburg says. "I went into the Natural History Museum and called up a scientist who works there who a paper of his I'd read 15 years ago about specimens of a giant, flightless, extinct bird of prey that he had discovered, basically. And sure enough, he was there, and he came down, and I talked to him about it for about 45 minutes. It was fantastic."
And that was an amazing experience?
"Oh, it was magical," Meiburg says. "I got to see the bones."
In fact, there's a broader naturalist streak running through Shearwater's work. Meiburg says he's trying to paint a picture of the wild world that existed before human settlement overtook the planet — though it's not necessarily a political statement.
"Of course, I'd like for people to care about endangered species, and this kind of thing," he says. "But really, I'm talking about the world as it was before we were the dominant force. And that's just not something that's going to continue, whether we save animals, whether we save habitat or not. I mean, [human] influence continues to expand, and there's no reason to think it's going to shrink any time soon."
Having originally grown out of the Austin indie-rock band Okkervil River, Shearwater completes its final transformation into a distinct unit with Rook. Meiburg just formally resigned his post in Okkervil River in order to commit to Shearwater, though he says he doesn't see the move as a big change.
"No, that was sort of acknowledging what had been a fact, really, for kind of a long time," he says. "But we've been really excited to get out on our own, and really be seen as something very different from Okkervil, which we are. I think that if you compare this record with the most recent Okkervil record, they're not even similar."
Related NPR Stories
Web Resources