Kill Switches Coming to a Gadget near You
Kill Switches Coming to a Gadget near You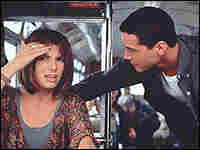 New technology will allow police to take control of your car, a public bus or a plane by pressing a kill switch. Some theaters will want them so they can shut off cell phones.
Imagine if Keanu Reeves had a kill switch to turn off the hijacked bus in the movie Speed?
Actually, it's not so much about turning off your devices as it is about gaining remote control of them, says security specialist Bruce Schneier.
OnStar is working on technology that will enable police to turn off your car. If the car is stolen or in a chase, they could simply disable it so that it coasts safely to a standstill. Buses are already beginning to install remote controls, not so much to stop them, or even for security purposes, but to help in scheduling and traffic.
Microsoft has just applied for technology that would help enforce "digital manners," Schneier says. In other words, devices that are enabled with new applications could also be disabled. Those devices would include cell phones, which could be turned off remotely in theaters or hospitals.
The kill switch raises many questions. While it might be more enjoyable for a theater to remotely disable cell phones, what if an audience member really needs to get a call? "If a movie theater shuts off cell phones, and there's a doctor in the audience who doesn't get an important call, is there a legal liability there?" Schneier asks.
Schneier says that the government is very interested in kill switch technology for security purposes; security experts are also concerned about vulnerabilities that could be exploited by terrorists or other countries. He says the Pentagon is worried that other governments or organizations might put surreptitious kill switches in weapons or other products sold to the U.S.
"What happens when the bad guys get control?" asks Schneier.
But it's not just traditional bad guys we should be scared of, he says. The new kill switch technology will raise all sorts of questions about who has the authority to limit our devices' functions or to exert control over how we use them. More control over the devices they sell means more potential revenue streams for companies, in addition to more potential intrusion into private lives. The possibilities are endless, says Schneier, and very dangerous.