Teenage Lumberjack Swings for Glory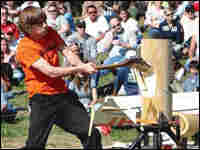 Matt Slingerland is a natural-born hatchet man. His father, Mike Slingerland, has won 22 world titles in competitive lumberjacking. Now, the son is following in his dad's chips-strewn footsteps.
The high school senior from North Carolina hacked his way through the Stihl Timbersports U.S. Championship, held June 27-29, placing second overall in the Columbus, Ga., showdown. Events include the underhanded chop, the stock saw and the single buck — the last of which the 17-year-old won.
The championships are meant for college students, but Matt Slingerland qualified by taking a college course in spreadsheets. He was the youngest competitor.
Competitive lumberjacks use specialized equipment, sometimes retrofitting power saws with engines from snowmobiles. At this competition, Matt Slingerland faced athletes who play on organized college teams. That kind of backing makes a difference, he says, especially when it comes to a steady supply of timber for honing skills. Independent athletes often have to scrounge for wood. "I don't get to practice nearly as much as I'd like to," he says.