Road Trippin': Perspectives at the Pump
Road Trippin': Perspectives at the Pump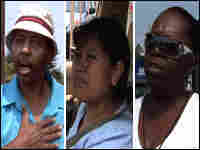 Our week-long series, Road Trippin', is focused on the causes and impact of rising gas prices. For more, Farai Chideya speaks with a psychologist, a taxi driver, and a car dealership owner to get their firsthand accounts.
According to Wayne Hochwarter, it's also affecting moods. He's a professor of management at Florida State University's College of Business. Hochwarter talks with Chideya about how $4-per-gallon gas brings out the worst in people.
Then, we hear from Carolyn Robinson, a taxi driver in the nation's capital. She shares how the soaring price of gas is impacting her bottom line.
And with fuel prices moving beyond the $4 mark nationally, sales of large vehicles are hitting a sharp bump in the road. Norris Bishton is feeling it; he owns Airport Marina Honda, a car dealership in Southern California. He explains why he can't offer a good trade-in value for an SUV.