California Driving: Footloose And Hands-Free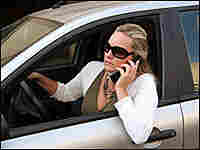 Luis Pedrosa/iStockphoto.com
Californians woke up to a new reality on Tuesday when the state's new hands-free cell phone law went into effect.
In June, Gov. Arnold Schwarzenegger held a press conference at which he said the purpose of the law is "getting drivers' hands off the cell phone and onto the steering wheel." A change in this behavior will save almost 300 lives a year in California, he said.
To that end, the state has aired public service announcements on radio and television. Huge signs are plastered on bus stops in many cities. And freeway drivers are often greeted with big electronic signs that read "Hands Free July 1. It's the Law."
So far, the law doesn't address text messaging, personal grooming, eating or reading while driving. Multitasking, per se, isn't illegal in the state, unless you're holding your cell phone, but these distracting behaviors may give the California Highway Patrol ample reason to issue a citation under the state's safe-speed law.
Sgt. Rhett Price, a California Highway patrolman, says the law gives officers discretion for when to cite drivers. Vehicles that are moving erratically, too slowly or are otherwise a hazard on the road are typically the ones the CHP singles out to pull over. Price says some people could avoid citations just by exercising some common sense.
One sign that drivers are catching on is the pace at which hands-free adapter kits are flying out of stores.
"This is all I have left," says Greg Carter, the general manager of Costco in Hawthorne, as he points to a 6-foot-high pallet of hands-free kits. "I had four more of these just a couple weeks ago." The store has perhaps helped boost sales by hanging a large yellow banner over the kits that explains the new hands-free law.
Costco sells kits priced between $40 and $60. That one-time expense may spare drivers the price of a ticket. A first-time citation is $20, but if there are court expenses, that could rise to $76. Subsequent offenses could cost drivers as much as $192. And it gets increasingly expensive after that.
Some safety experts argue that it's not the holding, it's the talking that's the major problem. Research has shown that drivers' attention to the road deteriorates significantly when they're talking — even when they're wearing headsets. A University of Utah researcher, David Strayer, told The Los Angeles Times that trying to talk while driving makes those drivers worse than people who drive while drunk. He tells the paper that his research has demonstrated that "it doesn't get any better with practice."
For drivers younger than 18 this is a purely theoretical discussion. The new law bars them from talking on the phone and driving regardless of whether they're hands-free.
That's making a lot of parents — including Schwarzenegger — pretty happy. Two of his four children are driving age, and he's already laid down the law to those daughters: "I told them that if I catch them driving with cell phones in their hands, making any calls, the car will be gone and the cell phones will be gone."
It's unclear whether the law will be uniformly enforced across the state. Local authorities have said they'll pull cell-holding drivers over to emphasize that the law is now in effect. First-time offenders in some places may get off with a warning.
But the California Highway Patrol says the grace period is over for residents and visitors alike since the state already put a lot of effort into educating people about the law.