The Twisted Journey Of 'Napoleon's Privates'
The Twisted Journey Of 'Napoleon's Privates'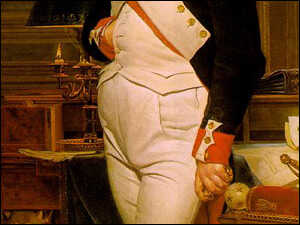 "Whenever someone implies that history is boring, I bring up Napoleon's penis," writes Tony Perrottet, author of the new book, Napoleon's Privates: 2,500 Years of History Unzipped.
It really draws attention, says Perrottet, who says he knows more about the French emperor's body part than is probably healthy. But then again, Napoleon's penis has been an object of rumor and fascination for almost two centuries.
"It's sort of a symbol to me of everything that's interesting about history," Perrottet says. "It sort of combines love and death and sex and tragedy and farce all in this one story."
When Napoleon died in exile on the island of St. Helena in 1821, his doctor surreptitiously took his penis during the autopsy and gave it to a priest, who smuggled it to Corsica. The priest was killed in a bizarre blood vendetta, says Perrottet, but passed it along to his family. They kept it until 1916, when a British collector got hold of it.
Perrottet says it was put on display once, in New York in 1927, and crowds turned out to see it. "It was described as being like a piece of leather or a shriveled eel," he says.
'A Bit Like Beef Jerky'
"The penis had taken on quite a mythic status," Perrottet says. "It was in a little leather presentation box, and it had been dried out in the air. It hadn't been put in formaldehyde so it was rather the worse for wear, a bit like beef jerky."
Perrottet says the French government had been given the opportunity to buy what might have been the most famous sexual organ in European history. France not only wouldn't purchase it, the government wouldn't even admit its existence, he says: "They didn't touch the penis. They wouldn't have anything to do with the penis."
But a man Perrottet calls "perhaps the leading collector in the U.S. of strange relics" was very interested in the penis. Interestingly, he was a urologist.
Dr. John Lattimer possessed Abraham Lincoln's bloodstained collar and a treasure trove of items from his own idiosyncratic relationships to some of the most important historical events of the 20th century. He was an attending urologist to Nazi prisoners at the Nuremberg trials and had acquired Herman Goering's suicide vial. He worked on the autopsy of John F. Kennedy and possessed upholstery from the president's limousine in Dallas.
An Object Of Derision?
Lattimer bought Napoleon's penis to take it out of circulation, says Perrottet: "He thought that fun was being poked at it, that it was an object of derision." Lattimer put it in a briefcase and stored it under his bed at his home in New Jersey. He refused inquiries from people who wanted to see the penis, including Perrottet.
But after Lattimer's death, Perrottet finally got the opportunity, when one of Lattimer's daughters showed it to him when he wasn't even expecting it.
"It was kind of an amazing thing to behold," he says. "There it was: Napoleon's penis sitting on cotton wool, very beautifully laid out, and it was very small, very shriveled, about an inch and a half long."
"It was like a little baby's finger," he says.