Palestinian Kills 3, Wounds 40 In Jerusalem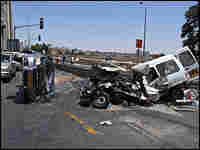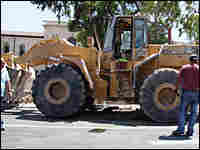 Three Israelis were killed and more than 40 people were wounded in Jerusalem on Wednesday when a Palestinian construction worker driving a bulldozer smashed into cars, buses and pedestrians in one of the busiest parts of the city. The driver of the bulldozer was then shot dead by an off-duty Israeli soldier.
A witness, Shai Rahmanov, said he rushed into the street from a nearby sandwich shop and saw the bulldozer smashing into a car, crushing its driver with a giant mechanical shovel.
"The minute the driver saw people running towards him, he moved into oncoming traffic and rammed that silver car with the shovel of the bulldozer straight into her windshield," he says. "She didn't have a chance."
The bulldozer driver — Hossam Dwayyat, a Palestinian from east Jerusalem — then overturned a city bus and tried unsuccessfully to run over people gathered on the sidewalk. Panicked pedestrians ran for cover.
A main stretch of the busy commercial area of west Jerusalem was littered with crushed and wrecked cars, debris and skid marks from the rampaging bulldozer. Ambulances evacuated the dead and wounded.
Israeli police spokesman Mickey Rosenfeld said investigators believe the attacker was making his way toward the crowded Ben Yehuda market area when an off-duty Israel soldier climbed onto the bulldozer and shot the driver in the head at close range.
"He moved to the side and opened fire, shooting and killing the terrorist at the scene preventing him from making his way into the marketplace," Rosenfeld said.
A child's jacket, a stuffed animal and a crate of eggs lay on the ground amid broken glass near the overturned city bus.
"When we realized the driver was down, we ran to the bus and started pulling people out and helping," Rahmanov said.
Three militant Palestinian groups claimed responsibility for the attack, including the Galilee Brigade, the same group that claimed responsibility for the March shooting rampage at a religious school in Jerusalem that killed eight Jewish students. The claims could not be independently verified.
It was not immediately clear what prompted Dwayyat's attack. The 30-year-old construction worker and father of two had a criminal record, but as yet no known association with any militant Palestinian factions. Family members at his home Wednesday said they were shocked, but refused to say more to reporters.
And despite claims of responsibility from militant groups and assertions by Israeli security officials that this was a "terrorist attack," Israeli police chief Dudi Cohen said investigators believe, so far, that Dwayyat acted alone and spontaneously.