Blind Ambition: The Ultimate Braille Challenge
Linked by Code: Into the Braille Challenge
Media no longer available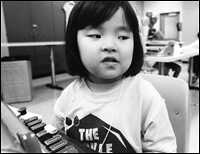 The content of Seventeen magazine in Braille is exactly the same as Seventeen in English. There's no footnote breaking down what exactly is meant by Miley Cyrus' "look" nor extra explanation describing the makeover before-and-after images.
This is perfectly fine with 14-year-old Kyra Sweeney of Santa Monica, Calif., who keeps a copy on her ultra-organized desk.
"I get it for the articles," she explains, before acknowledging she's never come across a publication specifically for blind teens like herself. "I rely on my friends to tell me what to wear."
A little over a week ago, Kyra had just finished her last day of eighth grade. But the academics were not over. On the following Saturday, she would compete in the competition to top all competitions for blind and visually impaired students: the Braille Challenge. Finalists from across the United States and Canada had worked their way through local and regional contests to make the cut. Lucky for her, it was to be held just across town at the Braille Institute of Los Angeles.
The event is more intense in some ways than a spelling bee. Students compete in up to four categories — including the dreaded "speed and accuracy" test, which requires typing hundreds of words correctly in Braille. Dangling over Kyra's head were thousands of dollars in potential prizes plus the opportunity to add yet another gold star to her resume.
Standing in her family's living room, Kyra recites a weekly schedule that reads like a newspaper's music section: lessons and recitals for choir, piano, flute, chamber orchestra. The week before, she spent her one "day off" performing for thousands at the Hollywood Bowl, alongside superstar flautist James Galway.
"A lot of blind musicians have perfect pitch. I'm one of them, which is cool, I guess," she says and laughs.
The bios of all the Braille Challenge participants — who range from first-graders to 12th-graders — are similarly impressive. Nine-year-old Cricket Bidleman was 4 when she was adopted from China. She learned English in a month, and Braille in three months. Nicole Torcolini, 18, created a computer program to make the periodic table of the elements accessible for the blind. And according to test proctors, last year, one participant was moonlighting for the FBI.
"I liken it to Harvard's freshman class," says Dr. Stuart Wittenstein, superintendent of the California School for the Blind. "Most of these kids have never lost a competition." Consequently, Wittenstein often finds himself consoling parents. "It's often the first time that's happened, and we really have to talk about how the world is a tough place."
Finding 'Normal'
At the reception the night before the contest, however, conversations reveal that many of these kids are more concerned with appearing "normal" than "special." All but a few are the only blind student at their schools back home; being in the majority is a rare indulgence.
"It's easier in some ways to be around blind kids than sighted kids," one girl confesses, "because you don't have to constantly prove yourself."
This draws "yeahs" from four other girls, including Kyra and long-time pal Megan Bening of Minnesota, a vivacious, Diet Coke addicted blonde.
Making friends at school is a struggle, Megan says, which is hard to believe, given that she keeps the people around her constantly laughing.
The problem isn't that sighted kids are mean, she says matter-of-factly; it's that they are too nice. Paralyzed by political correctness, people often pretend that they haven't noticed she's blind, which adds a saccharine veneer to interaction.
"It doesn't do any good to dance around the elephant in the room. It eats up too many brain cells," she advises.
PC matters aside, Megan confesses that the main issue that has her nervous about starting ninth grade in the fall is her looks. Her "one honest friend" at school confessed to her that she doesn't have many "in" clothes: It's one of the first times she has come across a problem that she's not clear how to fix.
Dirty Rumors
Around the same time that Playboy in Braille temporarily went out of print in the 1980s, a nasty rumor began to circulate: Braille was going to die. It had nothing to with Hugh Hefner; rather, like radios and beepers, new technology was expected to undermine Braille's relevance. Blind and visually impaired individuals would soon carry around devices that could read and write for them, the thinking went, undermining the need for Braille.
The rumors died down as it became apparent that technology and Braille are natural partners, according to Wittenstein, an outspoken advocate of Braille literacy. But questions about Braille's relevance lingered. In many ways, the National Braille Challenge represents an effort to refute those doubts.
The contest is an opportunity for talented blind students to compete and get to know each other. But it's also a way to boost Braille's profile by tying its public image to achievement. Braille is used by only a small percentage of blind and visually impaired individuals, according to the stats.
Sometimes, it's the parents who show reluctance to embrace Braille, Wittenstein says.
"If you introduce your idea of Braille to them, it says, 'My child is blind, and maybe I have to start thinking of my child in a different way.'"
Blind people are terrifying to the sighted world, says Wittenstein — who has full sight, but spends most of his time with blind students and friends — because they make people think, "If I lost my vision, how would I get around? How could I do my job?"
For kids, however, he says the biggest obstacle is not the loss of vision — they find their own way of doing things — but the loss of the sighted world's expectations.
The Competition
The day of the competition, parents huddle in the hallways, straining to see their children through the windows in the doors of each testing room. One mother attempts to enter the classroom — perhaps to offer a final good luck squeeze — but is sternly asked to step back.
At the signal of "go," the rapid click-clack-swoosh of Perkins Braillers takes over the building. It's a simple sort of typewriter, with a key for each of the six dots that make up the Braille code. Students rapidly type whatever the proctor or audio tape tells them. Five minutes in, pages covered in the raised bumps of the Braille code start streaming from the Braillers to the floor.
Throughout the day, participants rotate through challenges that test some combination of spelling, reading comprehension, proofreading and graph-reading abilities.
Although the atmosphere can be tense, the event lacks the cut-throat precision of the National Spelling Bee on ESPN. A girl runs out of paper during the speed-writing contest and taps her fingers impatiently as the moderator takes almost a minute — potentially costing her dozens of lost points — to offer her a new sheet.
In another room, Cricket, last year's first-place winner in the youngest category, draws inquiries from confused room monitors.
"Something is wrong with that girl," a sighted monitor tells the test proctor. "She's not typing."
Another monitor inspects the situation and returns with an assessment: "No, she's just working so fast that you didn't see it."
And the Winners Are ...
Good friends Kyra and Megan sit huddled together in the giant ballroom following a full day of competition.
"We're hoping we split first place. We'll cut the PAC Mate in half," Kyra jokes, referring to the digital Braille computer system awarded to winners in each age group. The PAC Mate is a sort of digital Perkins laptop, complete with GPS, Internet hookup, and the ability to immediately translate between Braille and text.
All eyes are on the pair as the announcer (actor Mark Hamill of Luke Skywalker fame) begins: "And the third-place winner in the Junior Varsity category is .... Kyra Sweeney." Kyra floats up to the stage. Megan does not place.
Cricket, who at age 9 stands about half as tall as most of her competitors, takes second place in her age category. As she fields praise from her fans, her one hand keeps reading the ceremony program.
How did it feel to win?
"Normal," she says, matter-of-factly.