Big Talent Lights Up Big Sky Country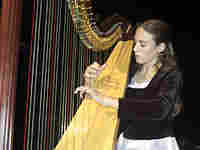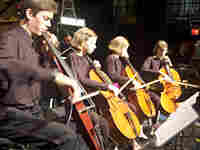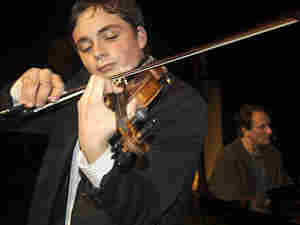 This week, from Bozeman, Montana, an 18-year-old from Butte turns in some pianistic fireworks, a quartet of cello-playing siblings offers a unique take on Boccherini, and a teen violinist from Majorca captures the essence of Spain, playing Sarasate.
Violinist Francisco Garcia Fullana comes from Majorca, Spain, but for over a year the 17-year-old has been studying at the Juilliard School in New York City. So far, Fullana is greatly enjoying life in New York, but the faster pace of the city took some getting used to because, "things are earlier and more punctual," he says.
Fullana performs "Zapateado" from Spanish Dances by Pablo de Sarasate. After winning a major competition in Madrid, Fullana once had the opportunity to play Sarasate's actual violin.
"It was scary at first, having this rare, multi-million dollar Stradivarius on my shoulder," he recalls. "It was amazing how powerful and strong the sound was."
Twelve-year-old harpist Tess Michel's musical life began at the age of five with piano lessons, but by then she already had her heart set on playing harp.
"I wanted to play ever since I heard harp music on my Peter Rabbit videos," she says. Michel started learning on a lever harp when she was six, and got a pedal harp when she was ten.
Most of Michel's nine brothers and sisters play instruments, and three of them play harp. The family lives on a farm in Helena, with two roosters, a hen, six rabbits, two goats, three llamas, and assorted cats, dogs, parakeets and horses. Michel performs a Sonatine by F. J. Naderman.
All four members of The Werner Cello Quartet are siblings — 18-year-old Hélène, 16-year-old Lucien, 15-year-old Mariel, and 13-year-old Andrée. They live in Montana but their teacher, Richard Aaron, lives across the country in Michigan. Surprisingly, this unusual arrangement involves no travel, because the teenagers take lessons via a video conferencing machine.
"After every lesson it feels like Mr. Aaron has been in the room with us," Mariel says. "We feel so lucky to study with a teacher who has the imagination and patience to show how effective music study can be in this medium."
Lucien arranges a lot of their music. The Quartet performs his arrangement of Luigi Boccherini's sixth cello sonata. Their encore — also arranged by Lucien — is a medley of classic rock standards.
Flutist Lauren Osaka celebrates her 17th birthday with her appearance on From the Top's radio show, where she performs the third movement from Aaron Copland's Duo for Flute and Piano, accompanied by Christopher O'Riley.
After spending a summer at Boston University's Tanglewood Institute, Osaka says returning to high school was challenging because she missed being around so many other musicians.
"It was really hard with no one around to rant with about how cool Mahler or Tchaikovsky is," she says.
In addition to her passion for music, Osaka has a passion for cooking and describes herself as a serious "foodie." Recently her mom decided that everyone in the family should make dinner once a week, a project Lauren relishes because she enjoys trying out recipes and reading about cooking.
At age 18, pianist Emily Stearns is both an accomplished pianist and a hardcore environmentalist.
"I don't throw anything away," she explains. "I recycle anything I can — even the little strips of paper from Hershey's Kisses!" Stearns also is extremely health conscious. She eats a vegetarian diet, drinks a lot of green tea, and is positively "addicted" to yoga.
Most mornings, Stearns wakes up with just enough time to eat some breakfast, get dressed, and practice the piano for an hour before school starts.
"I usually get to class about thirty seconds before the bell rings. It's perfect!" she says. Even though Stearns has a knack at getting things done just in the knick of time, she admits that she procrastinates too much and needs to be more punctual and organized, because she's going to college next year.
Stearns is a recipient of the Jack Kent Cooke Young Artist Award. She will receive an award of $10, 000 to help her continue her music studies and assist with her music-related needs. She plays Feux d'artifice, by Claude Debussy.
This program originally aired on December 12, 2007.