Mexico Border Fence To Divide Farmer's Land
Mexico Border Fence To Divide Farmer's Land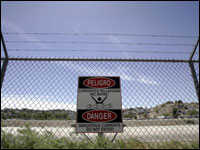 The Department of Homeland Security is putting up about 700 miles of fence along the U.S.-Mexico border. Environmental groups have challenged it in vain. So far, more than 330 miles have gone up in California, Arizona and New Mexico.
In Texas, where construction is scheduled to begin this month, building the fence is especially tricky. The fence is supposed to cross through private land in south Texas, and while some landowners have joined a class action suit to stop it, most have been negotiating with the federal government.
Farmer Paul Loop decided to negotiate, but despite coming to an agreement with the government over the fence, he's left with more questions than answers about what the fence's impact will be. Loop and his brother grow corn and soybeans on 2,400 acres of land just outside of Brownsville, Texas. When the fence is built, roughly half of the farm will be on the north side; the other half will be on the south.
The only thing that appears certain to the Loops is that the fence will bisect their property. Despite months of surveying, planning and negotiating, Loop says he doesn't really know how the fence will work.
There will be some kind of gate, but "they have not told us exactly how they're going to work these gates," he says. Loops says the government has told him that he'll have perpetual access, but no one has told him how he's going to get that access.