GOP Hold On Cuban-Americans Slipping?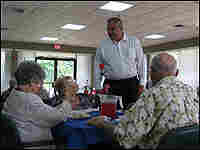 Among Latinos in the U.S., there is no group that has been more reliably Republican than Cuban-Americans.
In South Florida, the solid Republican voting bloc is represented by three Cuban-American members of Congress. But this year, Democrats have mounted tough challenges against all three — evidence that the political preferences of Cuban-Americans may be shifting.
The fight in the 21st Congressional District is the marquee attraction in South Florida. It's a battle of political heavyweights: In one corner, Republican eight-term incumbent Rep. Lincoln Diaz-Balart. Facing off in the Democratic corner is another tough-fisted battler and an icon of the Cuban-American community — longtime Hialeah Mayor Raul Martinez.
Diaz-Balart, is the face of Republican Cuban-American politics in Washington. He was active in trying to help Elian Gonzalez's relatives gain custody of the then-6-year-old in 2000 before the boy's father took him back to Cuba. He also has been a strong supporter of the Cuban trade embargo, Radio and TV Marti, and other U.S.-led efforts to undercut the Castro regime.
For decades, Cuban-Americans as a group have made such anti-Castro efforts their single most important issue in deciding which candidates to support. Diaz-Balart says he expects that will be the case this election as well.
"If they sense you are not solid on the issue of freedom for our brothers and sisters in Cuba, you better believe that's important," he says. "And it becomes important in the context of the election."
But like everyone, Diaz-Balart says, Cuban-Americans are also concerned about the economy and gas prices. In this, Democrats think they see an opening. For the first time in years, they recently passed Republicans in Florida as the party with the most registered Hispanics. They've even been gaining ground in Cuban-American neighborhoods.
The Democrats also have a strong candidate for the House in Martinez, who is a rare breed in Miami: a successful Cuban-American Democrat in a region controlled by Republicans. He also is not reluctant to court controversy.
Rethinking The Bush-Era Cuba Restrictions
Martinez supports lifting the restrictions on travel and remittances to Cuba put in place by the Bush administration in 2004. Polls show it is a position shared by younger Cuban-Americans — a group of voters he is counting on.
"They're basically saying enough is enough. Don't hurt the families, don't hurt the people there. Because, why do the same thing, why do the same thing that Castro does?" Martinez says.
That stance has not helped Martinez with hard-line members of the community, who often vilify him on Spanish-language talk radio. But he is used to the attention. He was first elected mayor of Hialeah in 1981 and went on to serve for more than two decades.
But there was a six-year hiatus.
In 1990, Martinez was indicted on corruption charges and later convicted, but he won a new trial on appeal. Two subsequent trials ended with hung juries; eventually, the Justice Department dropped the charges. Today, Martinez calls it "six years of hell."
"The government could not ever prove its case," he says, adding, "It was all political. And I say it today, and I've said it before, and I will confront anybody who was there, because it was all about politics."
In some places and for some people, a federal indictment and three prosecutions would spell political death. But not in Hialeah, and not for Martinez. After the charges were dropped, he was again elected mayor, serving another 12 years.
Today, city hall and one of Hialeah's main streets are named after him.
Martinez Master Of Retail Politics
At a recent Miami luncheon for senior citizens at the St. Dominic Gardens retirement village, Martinez seems to know nearly everybody.
Olga Sorondo says she admires Martinez because she saw what he did for Hialeah — how he built parks and affordable housing and improved the town. Still, she says she feels divided about which candidate to support.
Polls show it's a close race. The Democratic Congressional Campaign Committee has targeted Florida's 21st and 25th districts for fundraising and other help under the party's Red to Blue program. Republicans have reciprocated.
The GOP recently announced it would send resources to help both Lincoln and Rep. Mario Diaz-Balart, who are brothers.
At stake is the control of some congressional seats — and maybe something else. It's an election that could help determine whether Cuban-Americans continue as a bedrock Republican voting bloc.