Getting A Handle On Octopuses' Dominant Arms
Getting A Handle On Octopuses' Dominant Arms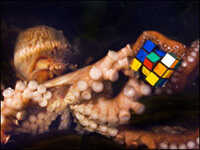 Some people are righties and some are lefties. But what about octopuses? Do they have a dominant tentacle, or are they, shall we say, octidextrous?
Researchers have actually been trying to answer that question — by getting octopuses to play with Rubik's Cubes.
Octopuses are highly intelligent creatures, says Claire Little, a marine biologist at the Weymouth Sealife Center in southwest England. "They're probably the most intelligent invertebrate that we're aware of," she says. "They are classed as intelligent as the general home pet dog."
"Though," she adds, "it depends on how clever your dog is, really."
Octopuses apparently become interested in the plastic moving parts of the Rubik's Cube. Little says she knew one that took apart a Mr. Potato Head and put it back together, though he didn't necessarily put the pieces in the correct holes. She says they can stick Lego bricks together as well.
Can your dog do that?
The Weymouth center is currently trying to expand on tentacle research done by the University of Vienna."The study in Vienna showed that only 49 different combinations of tentacles were used rather than the possible 448," says Little, "so they did favor some particular combinations."
So far, the octopus Little is working with has not shown any preferences. "At the moment, the octopus that we have on site is more interested in the fact that we've given her a toy that she's not played with before," Little says.