Roger Rasnake: A Bristol Boy At Home
Listen Now: Roger Rasnake On Mountain Stage
Set List
"Cold Hard Business"
"The Hero"
"I Believe It Could Happen Any Day"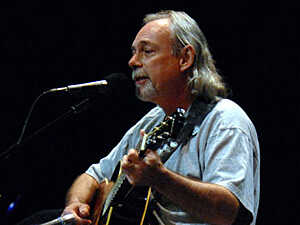 A gifted songwriter and guitarist, "Bristol Boy" Roger Rasnake has a knack for turning powerful life experiences into poignant melodic stories.
A well-respected veteran of the music scene in Bristol, Tenn./Va., Rasnake earned his stripes through frequent performances at local clubs and festivals. He's also scored a handful of higher-profile songwriting credits: Alison Krauss & Union Station's chart-topping album I've Got That Old Feeling features one of his compositions, and acclaimed Doc Watson sideman Jack Lawrence recorded four of Rasnake's songs on his solo album I Don't Need The Whiskey Anymore.
When Mountain Stage descended upon his hometown of Bristol for a special broadcast, Rasnake was there to perform a set of original music.