How Mars And Mercury Are Shaping Up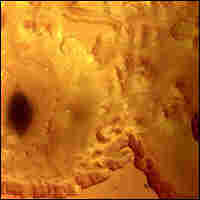 Results of a close flyby of Mercury earlier this year were recently published in a suite of 11 papers examining the planet. Among the findings: The planet appears to have an iron core, it has volcanoes larger than the state of Delaware, and it appears to have shrunk over time as it cooled — and cracked during the process.
On Mars, meanwhile, the Phoenix lander has successfully identified water ice crystals in a soil sample scooped up by the lander. The scientists running the mission are now using onboard instruments to perform a more complicated analysis of the Martian soil and its contents.
Peter Smith, principal investigator for NASA's Phoenix Mars Mission and Lunar and Planetary Laboratory senior research scientist at the University of Arizona, talks with Ralph McNutt Jr., project scientist for the MESSENGER mission, about the latest planetary news and what it means for those of us on Earth.