Music From Youngsters in Mechanics Hall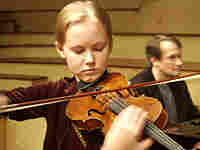 This week from historic Mechanics Hall in Worcester, Massachusetts, a 16-year-old pianist performs lively etudes by John Harbison, a 13-year-old violinist plays Brahms, and a young woodwind quintet plays Hindemith. Also, a talented teen trumpeter performs a contemporary piece.
Trumpet player Kyla Moscovich, 15, studies at the Pre-college Division of the Manhattan School of Music. In addition to being an accomplished classical musician, she loves playing jazz.
"My dad plays trumpet and I grew up going to jazz concerts and jazz clubs," she says.
Moscovich also sings, plays piano and percussion, and loves to dance and play sports. "I like to do so many things," she says, "but I hope to ultimately go in the direction of music as long as I can balance it all out." She plays "With Strength and Vigor" by Kent Kennan, accompanied by Christopher O'Riley.
Andy Zhou, 16, started playing piano when he was six, but it was not love at first encounter.
"For the longest time, it was just my mother pushing me along," he says.
Around sixth grade, Zhou started looking at the piano in a new way, and before long he was hooked. Now an enthusiastic pianist, he's a student at the New England Conservatory Preparatory School. Like From the Top's Christopher O'Riley, Zhou also enjoys making his own piano arrangements of popular songs. He plays "Parlors" and "Parties" from the Gatsby Etudes by John Harbison.
At 13, violinist Elizabeth Basoff-Darskaia is the youngest student enrolled at the Curtis Institute of Music in Philadelphia. Basoff-Darskaia started playing the violin when she was six, but had a fascination with it from the time she was three.
"I saw a picture of a violin in a magazine and I heard someone playing on the radio," she recalls. "I liked the body and I especially loved the sound."
Once Basoff-Darskaia got hold of her own violin there was no stopping her.
"Once I started practicing I wanted to practice a lot," she says. "Music is fun for me. It's like going to Disneyland."
Basoff-Darskaia is a recipient of the Jack Kent Cooke Young Artist Award. She will receive an award of $10, 000 to help her continue her music studies and assist with her music-related needs. She plays "Hungarian Dance No. 5," by Johannes Brahms.
When Patrick McGuire, 17, was little, he loved the music from the children's TV show Little Bear. So when it came time for him to choose a stringed instrument in the third grade, he recalled that it was a cello playing the Little Bear theme, and decided to take up that instrument. Now he's studying cello at the Walnut Hill School, an arts boarding school in Natick, Mass. With host Christopher O'Riley providing the "orchestral" accompaniment on the piano, McGuire plays the slow movement from Robert Schumann's Cello Concerto.
The members of the Afinado Wind Quintet are flutist Priscilla Wadsworth, 17; oboist Lauren Halyo, 16; clarinetist John Diodati, 16; bassoonist Matt Sachs; and French horn player Cynthia Simpson, 17, all of whom attended the Boston University Tanglewood Institute last summer.
"Everyone was put into chamber groups, and we just happened to be put together," says Simpson. The five players clicked immediately and became great friends over the course of the summer. Of course, it was very difficult to say goodbye to each other at summer's end, but as soon as the five musicians heard of the opportunity to audition for From the Top, they just knew they had to do it.
"When we found out we'd been accepted, all of us were so excited," says Simpson. "There was a lot of crying when we got back together." The quintet plays two movements from Paul Hindemith's Kleine Kammermusik.
This program originally aired on December 26, 2007.