Rise and Fall of Subprime Lenders Began on Wall St.
Rise and Fall of Subprime Lenders Began on Wall St.
It all started last November, when a relatively small lender — called Own-It Mortgage Solutions — defaulted on its loans to JP Morgan Chase & Co. Since then, more than 24 subprime lenders have folded, victims of rising default rates — but also of rising suspicions that the entire subprime market is teetering.
One of the nation's biggest subprime lenders, New Century Financial, is expected to file for bankruptcy any day now.
Like a lot of lenders in the subprime market, New Century specialized in zero-down and no-interest loans, which cater to people with credit problems. For years, the company was able to prosper because of the financial support of much bigger Wall Street banks.
But as the housing market has slowed, and regulations have tightened, that support has quickly dried up.
Subprime lending has long been the forgotten, low-rent corner of the mortgage business, touched by a down-market taint. But the image is deceiving, industry analysts say: Subprime lending is based on the support of Wall Street's old-line banking establishment.
"It encouraged it; it funded it," says Guy Cecala, publisher of the Inside Mortgage Finance newsletter. "Since the mid-90s, warehouse lending by Wall Street firms is what's kept companies like New Century in business."
Cecala says that at one time, companies that were in the mortgage business lent out their own money.
But in the mid-1990s, there was an explosion in mortgage-backed securities. Mortgages could now be repackaged as bond debt and sold to investors. Companies like Countrywide could now market and sell mortgages to their customers.
And that, in turn, led to spreading risk. But it also opened the door to a lack of certainty over borrowers' ability to repay loans that had been pooled together and sold to investors like mutual funds.
"These loans get sliced and diced, securitized and spread to the wind," former Federal Reserve Governor Edward Gramlich says, "and nobody has a clue who the ultimate — they know who the borrower is — but where the money comes from. It's all around the world."
Investors loved the securities, seeing them as a way to invest in mortgages when the housing market was strong. They even loved the risky subprime mortgages that came from customers with weak credit. Big banks like Wells Fargo and Citicorp started their own subprime divisions.
The big banks had another reason to like subprime lending. Keith Ernst of the Center for Responsible Lending says that many subprime companies are state-chartered, which means they aren't highly regulated.
"I certainly think this helped the volume grow as quickly as it did," Ernst says. "And I also think it's part of the reason the quality is not what anyone wishes it would be."
Ernst says that under federal law, banks have to meet certain safety and soundness regulations, so if they go out too far on a limb — by making too many questionable loans, for instance — the regulators will reel them in.
Guy Cecala echoes that view.
"What we're seeing now in the subprime market is, when the Wall Street firms get cool on the subprime market, they just cut the funding," Cecala said. "And the warehouse loans vanish overnight — and that's what puts a company like New Century out of business."
Analysts say that the upshot of the troubles in the subprime loan industry is that there will be fewer companies offering loans to people with weak credit scores — which means home ownership will get a little more elusive for low-income people.
But it should also wash a lot of risk out of the mortgage market, making it ultimately safer and more stable — at least until the next housing boom occurs.
Subprime Mortgages: A Primer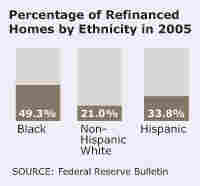 Lawmakers on Capitol Hill are demanding answers from regulators and lenders about subprime mortgages. Many worry that rising mortgage defaults and lender failures could hurt America's overall banking system. Already, the subprime crisis has been blamed for steep declines in the stock market. But just what is a subprime loan — and why should you care? Here, a primer:
What's a subprime loan?
Generally, subprime loans are mortgages given to borrowers with credit scores of 620 or below. Such low scores result from a history of paying debts late or not paying debts at all.
Because subprime borrowers are seen as "higher risk," their loans carry interest rates that are at least 2 percentage points higher than those offered to borrowers with better credit. So, for example, while a credit-worthy borrower could get a mortgage at 5 percent interest, the same mortgage would cost a subprime customer 7 percent interest or more.
About 20 percent of U.S. consumers have credit scores of 620 or below, on a 300-850 scale. But of that group, only 13 percent have mortgages, according to Experian, a credit reporting bureau.
What kinds of loans do subprime borrowers get?
The vast majority — about 80 percent — have adjustable-rate mortgages, or ARMs, says Susan Wachter, a professor at the University of Pennsylvania's Wharton School who specializes in real estate. (It's worth noting, however, that not all ARMs are subprime loans.)
ARMs typically start out with an interest rate that's lower than the rate on a comparable fixed-rate mortgage. But after the introductory period — often two or three years for subprime borrowers — is over, the interest rate goes up, which can result in payments that increase by hundreds of dollars each month.
Who are these borrowers?
"A typical subprime borrower is not someone buying a house, but someone refinancing," says Mary Moore, a spokeswoman from the Center for Responsible Lending, a nonprofit that advocates curbs on predatory lending. "A typical subprime borrower is someone who has a lot of credit-card debt, and is refinancing to pay some of it off."
Studies have found that subprime borrowers tend to live in low-income neighborhoods. They're less likely to have a college education and more likely to be a minority, especially black or Hispanic. According to Freddie Mac, about 10 percent of subprime borrowers could have qualified for a prime loan.
Where do they live?
"Historically, they have been in declining cities, the weak cities of the Rust Belt — Philadelphia, Baltimore, Detroit," Wachter says.
She says those subprime borrowers were concentrated in distressed neighborhoods, where banks felt defaults were too high. That's why lenders chose to expand to places they thought would be better risks: rural areas and small cities in the West and Southwest, she says. But now, subprime borrowers in these areas are also finding themselves in trouble.
Why do they go into default?
Most subprime borrowers take out a loan to pay off creditors, but it may not be enough to solve their financial problems. Some loans were given to people who just couldn't afford the payments — even before their rates increased — but weren't savvy enough to turn them down.
"Some of these loans require an accounting degree to understand," Wachter says.
Others' financial situations may have changed since they took out the loan — they lost a job or got divorced, for example.
Why did lenders make loans that borrowers couldn't repay?
It can make sense for a bank to underwrite an ARM for a couple with modest incomes who are moving up the corporate ladder. The expectation is that, by the time the interest rate readjusts, the borrowers will have a higher income. However, some ARMs were sold to people on fixed incomes — retirees and those on disability.
"It's legal. Right now, nothing prevents them from doing that," Moore said. "[Lenders] know that increase is coming, yet they're underwriting the loan at the start rate." She says lenders shouldn't approve borrowers unless they can afford their loans at the higher interest rate that's to come, not the low "teaser" rate.
But oversight of such loans has been patchy — "if it exists at all," adds Wachter.
Mortgage brokers are paid for writing loans, and aren't docked if those loans fail. Finance companies bundled subprime loans and sold some of them off to investors in other financial markets. But these firms miscalculated the likelihood of defaults in a housing downturn; they're now holding a bunch of bad loans that no one wants to buy.
Why are foreclosures and defaults growing among subprime borrowers?
"It's because the overall [real-estate] market has turned," Wachter says. When prices are flat, or down, borrowers can't refinance to lower their payments, because they don't have enough equity. They also can't sell to get out from under, because the house is worth less than they paid for it. The only option left is to bring in more income, or to miss payments.
Nationwide, more than 13 percent of subprime borrowers were late on payments in the fourth quarter of 2006, according to the Mortgage Bankers Association.
What does it all mean for the housing market?
If all the subprime loans currently in default were to go all the way to foreclosure, that would still be a small part of the overall mortgage market.
Even in states with the most foreclosures — Ohio, Michigan and Indiana — those foreclosures still represent just 0.5 percent of all mortgages. In regions with the most subprime lending that also have struggling local economies, foreclosures may rise to 1.5 percent or 2 percent of all mortgages, Wachter predicts.
But with lending standards now tightened, fewer borrowers will qualify for loans. That's a double whammy for housing — more homes on the market and fewer buyers. For example, in markets where home prices might have fallen 3 percent because of the general housing downturn, the presence of a lot of subprime borrowers in trouble could magnify that to a 6 percent price drop, Wachter says.
"Six percent of a $200,000 home may not sound like a whole lot," Wachter says, and it's not for a lot of people.
But for those who bought recently, and who need to move quickly, they're going to be in trouble, she says.